How to Decrypt an Encrypted WinRAR File without Password
Are you in such confused situation? Encrypted RAR/WinRAR file password forgot or lost when you just want to open and edit WinRAR archive? If it is, I think an effective way would be important if you want to decrypt encrypted WinRAR file without password at this moment.
In order to satisfy most people who encounters such problem, now two solutions to decrypt winrar file will be introduced in two situations. Hope they can help you.
Solution 1: Decrypt WinRAR File without Password Offline
As is known, WinRAR can compress files to be RAR or ZIP archives, and decompress RAR or ZIP archives. But when you want to decrypt encrypted winrar file, you could find WinRAR would ask you for password before starting extracting. So if you prepare to decrypt encrypted WinRAR archive, it is necessary to get WinRAR file password at first. The question is that whether there is a powerful password recovery tool that can do this? If not, we should consider recovering password for every kind of WinRAR file deparately.
Surely there is. For example, what I know is RAR Password Genius could work for RAR passwrod recovery and ZIP Password Genius available for ZIP password recovery. The steps of how they do are the same. So now let's see how to decrypt RAR file with RAR Password Genius.
Steps to Decrypt Encrypted WinRAR File Offline with RAR Password Genius
Step 1: Install and run RAR Password Genius on your computer.
Choose trial or full version depends on RAR file password length. Trial version recovers password no more than 3 characters, while full version could decrypt encrypted RAR files regardless of forgotten RAR password complexity and length.
Note: The rar password recovery tool used in this article is Standard version, which could recover RAR password on one computer. Besides it, there is Professional version available for fast RAR archive password recovery in LAN.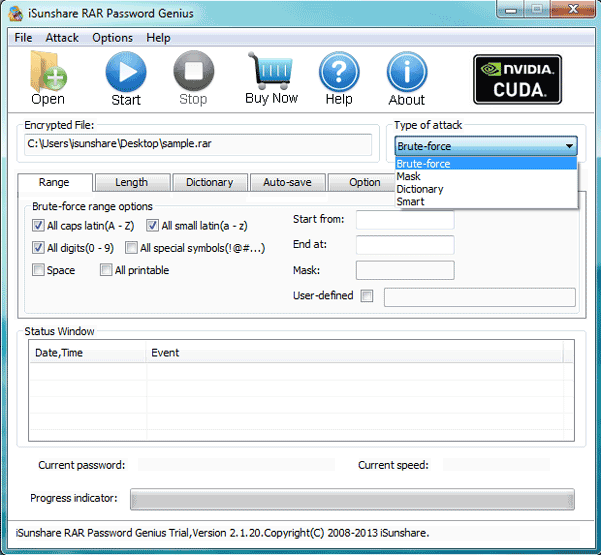 Step 2: Click Open button to browse and add encrypted RAR file from computer to RAR Password Genius.
Step 3: Select password recovery type from Type of attack and make settings.
Step 4: Click Start button to recover RAR password and decrypt RAR file in WinRAR.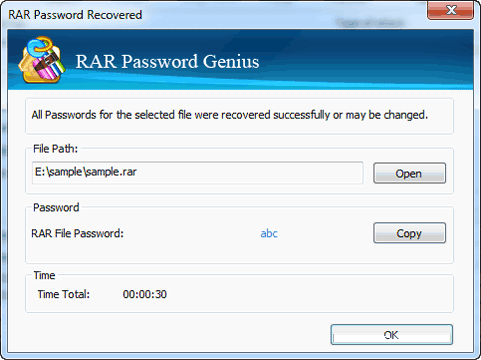 Once Start button clicked, imported RAR file password will be recovered successfully when you see a new dialog appears with a RAR file password. Then you can copy it to decrypt RAR file in WinRAR, when you are ready to open files in RAR archive or extract RAR file.
Solution 2: Decrypt WinRAR File Online with Decryption Service
From solution 1, we can see that the key to decrypt encrypted WinRAR file is RAR file password. And WinRAR file decryption service online takes place on distant servers provided by website owner, so there is no need to install additional password recovery software on computer to decrypt RAR file.
Step 1: Look for a safe website that provides WinRAR file decryption service.
Probably some websites are free, while some would ask for payment. But the most important thing to decrypt winrar archive online is the website safety. Otherwise, even though you can successfully decrypt *.rar or *.zip file online, the contents in archive file has been lost or damaged, or the archive is used by others.
(www.password-online.com/index.php)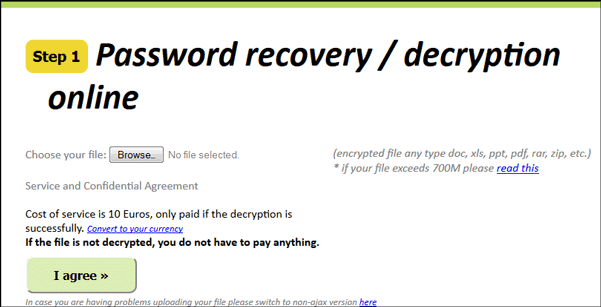 Step 2: Follow wizard on website to upload encrypted WinRAR file, and wait for WinRAR file decryption.
Until WinRAR file is decrypted successfully and confirm WinRAR archive safely, we can pay for decryption service. And download WinRAR file to open on computer.
Comprision of decrypting WinRAR file online and offline:
In a word, there are different advantages and disadvantages in offline or online decryption method. Now talk about them in following about efficiency, security and ease of use.
1. Efficiency. Archive password recovery tool promises to decrypt WinRAR file password successfully and free recover password if it is no more than 3 characters. Online method would try best to recover RAR/ZIP password first and then ask for payment. Sometimes, it probably fail without any tips.
2. Security. Password recovery tool recovers WinRAR file password offline on your computer. So security of your computer relates to the security of WinRAR file. While, if you upload WinRAR encrypted file to specified website to decrypt WinRAR file, we can't promise the WinRAR file safety.
3. Ease of use. There are operation wizards for each step during recovering WinRAR file password with RAR Password Genius, and it can work without network. However, if you take online method, network is necessary and you have to upload encrypted WinRAR file to specified website and write down your receive email.
So do you think which one is better for you to decrypt an encrypted WinRAR file without password?
Related Links: