How to Decrypt PDF File after Password after Lost
Lost PDF file password? How to decrypt encrypted PDF file without password? Maybe you feel helpless, but with two steps in this article, PDF file decryption won't be so hard you think.
Step 1: Find PDF Lost Password
There are two common ways to decrypt PDF file, removing password from encrypted PDF file directly or recovering PDF file password. In this article, I will show you how to recover or find PDF lost password, and then you can make a choice to remove or save PDF file password you known. Or use password you found to decrypt encrypted PDF document.
Tips: It is necessary to mention that password talked in this article is PDF file open password. If it is permission password restrict editing, only you know it, can you decrypt PDF file to make it editable.
Now let's learn how to find PDF lost password with an effective utility, PDF Password Genius.
1. Search PDF Password Genius in Google and download it.
2. Install and run it on your computer.
3. Import encrypted PDF file with Open button into Encrypted File box.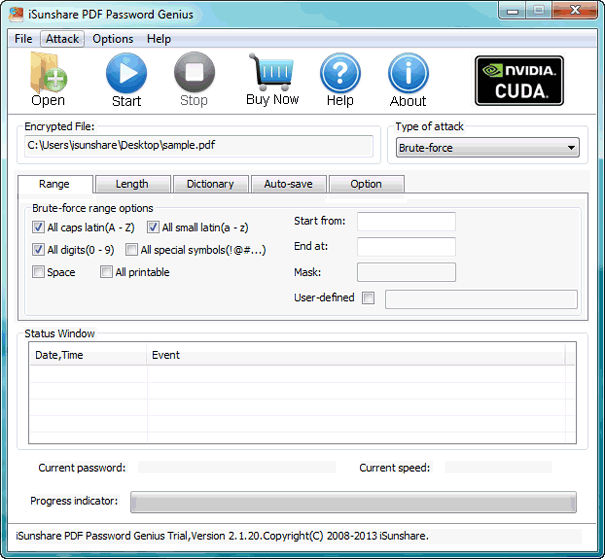 4. Choose password attack type and make password attack type settings.
5. Find imported PDF file password after clicking Start button.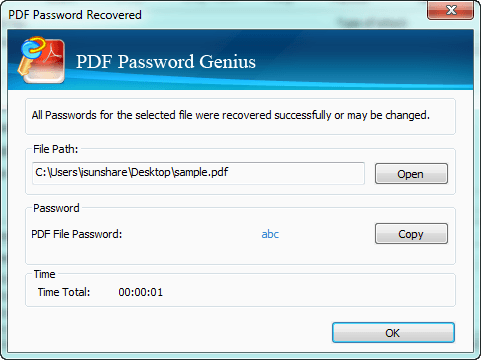 Step 2: Decrypt PDF File with Password Found
After PDF file password is found with PDF Password Genius, it is your turn to decrypt PDF file with it. On pop-up PDF Password Recovered dialog, you can copy and save PDF file password at first. Then follow the introductions below to decrypt encrypted PDF file with recovered password.
1. Right click encrypted PDF file and open it with Adobe Acrobat.
2. Copy and paste PDF password you found in the Password dialog. Click OK.

3. Turn to password button in toolbar, and click it. Choose Remove Security in the drop-down list.

4. In following message prompt dialog, click OK to make sure to remove security from PDF file.

5. Press Ctrl + S to save PDF file.
Congratulations! PDF file is decrypted now with PDF Password Genius. But it is still worth to mentioning that, important document password, including PDF/Word/Excel/PowerPoint presentation etc, is necessary to be stored on safe location. Otherwise, you would also need Office Password Genius to decrypt Office file when you forgot or lost Office password.
Related Articles: