Unable to Login with Microsoft Account in Windows 10 | How to Do
Why we cannot login into Microsoft account in Windows 10?
Besides common email address and password wrong spell, I think there are other two main reasons that make it happen. One is Microsoft account password forgot or lost. The other is Microsoft account blocked.
What can we do if unable to login with Microsoft account in Windows 10?
For common spell errors, we can try again. But what about if forgot Microsoft account password or Microsoft account is blocked? I think it should be talked about in two parts. Otherwise, we won't sign in Windows 10 again.
2 common cases to login Windows 10 with Microsoft account again:
Case 1: Reset Microsoft account login password
If you forgot password, surely you cannot login Windows 10 with Microsoft account, unless Microsoft account password can be reset.
From the article about Windows 8/8.1 Microsoft account password reset, you would learn two effective ways to reset Microsoft account password online or offline.
1. When Internet connection is available and you can offer personal email or phone number, undoubtedly the free official way is the best for you. As long as you follow introductions on password reset page to do step by step, you would be able to create a new login password for Microsoft account.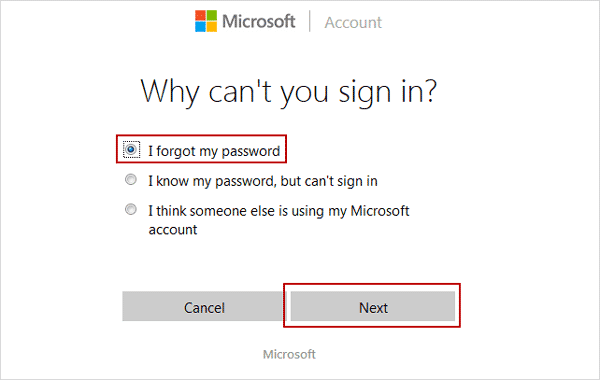 2. Also, you can try another effective third-party software iSunshare Windows 10 Password Genius to remove Microsoft account password directly.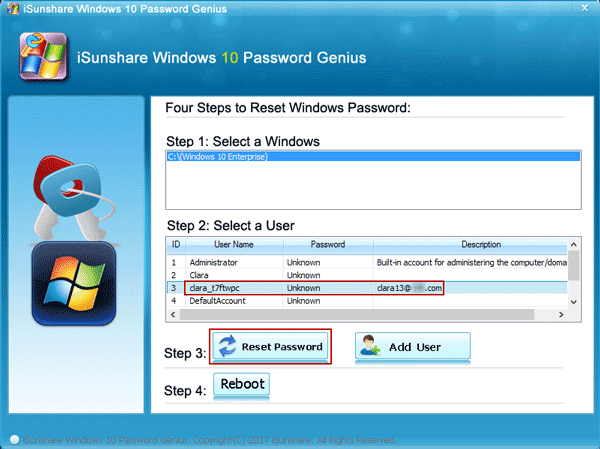 Case 2: Unblock blocked Microsoft account
This part will talk about why Microsoft account is blocked and how people can unblock Microsoft account according to the reason. In general, Microsoft account is probably blocked by Microsoft, group policy or registry etc. So if you want to unlock your account, please find the reason and follow appropriate way below.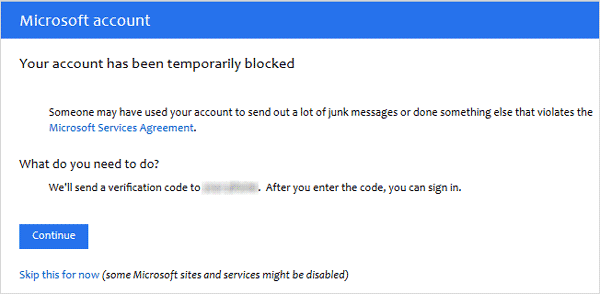 Way 1: Unblock Microsoft account online with security code
While Microsoft account is blocked by Microsoft because of unusual activity, please sign in Microsoft account on Microsoft website and get a security code to unlock Microsoft account.
1. Try to sign in Microsoft account website.
2. Receive security code via phone number or email address.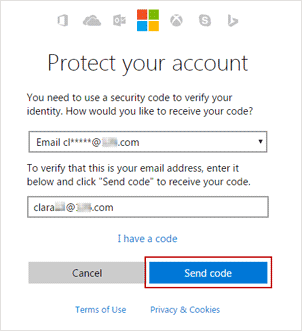 3. Enter security code online and change Microsoft account password.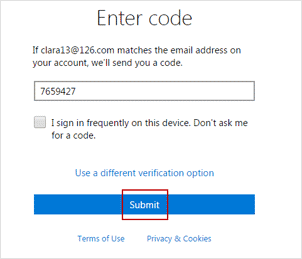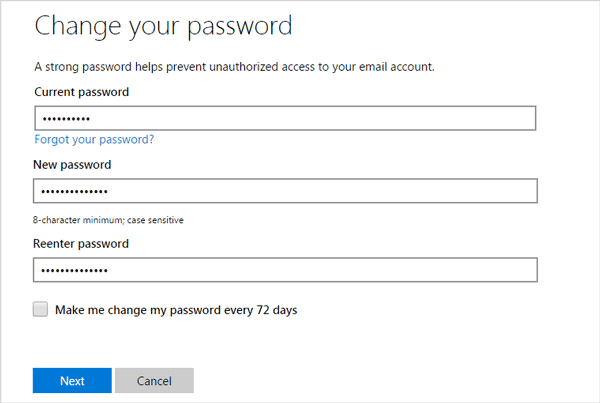 4. At last, you will be prompted that you have completed Microsoft account unlock.
This is the fastest and common way to unblock Microsoft account. But if you cannot complete the process, please check if it is because of following reasons.
1. Cannot get security code
If you cannot get security code through your available phone number or email address, click "I didn't get a code" when you're prompted for a code at sign-in, or "I don't have access to these" when you are changing or resetting your password. Then follow Microsoft instructions to do. Eventually if Microsoft account still cannot be unblocked, please fill the online form to contact with Microsoft.
2. Recently turned on two-step verification
If you've turned on two-step verification recently, probably some apps and devices will tell you your password is incorrect, because they haven't been updated to prompt you for a security code. At this moment, instead of the regular password, you'll need to use an app password to get in Microsoft account.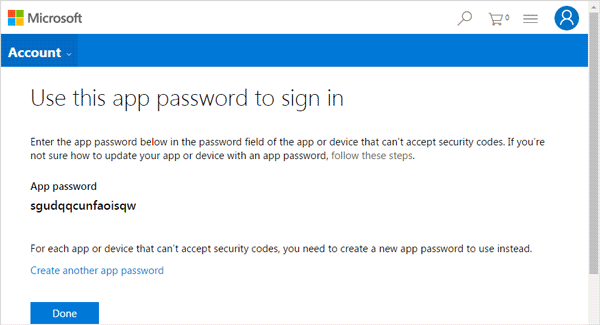 Way 2: Change group policy settings to unblock Microsoft account
This way would apply to your Microsoft account if it is blocked by a group policy. So when you are sure, follow action below to unlock your Microsoft account and you would be able to login normally.
1. Access Windows 10 with local administrator and go to Search.
2. Type "group policies editor" and open Edit Group Policies.
3. Navigate to the following path and find Accounts: Block Microsoft accounts.

Computer Configuration\Windows Settings\Security Settings\Local Policies\Security Options\Accounts: Block Microsoft Accounts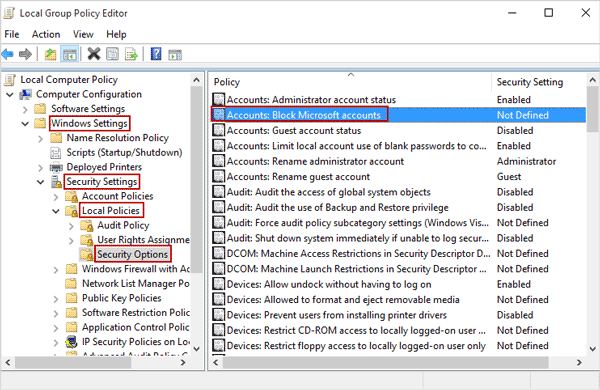 4. Right-click on it and go to its Properties. Select "This policy is disabled" from the drop-down menu.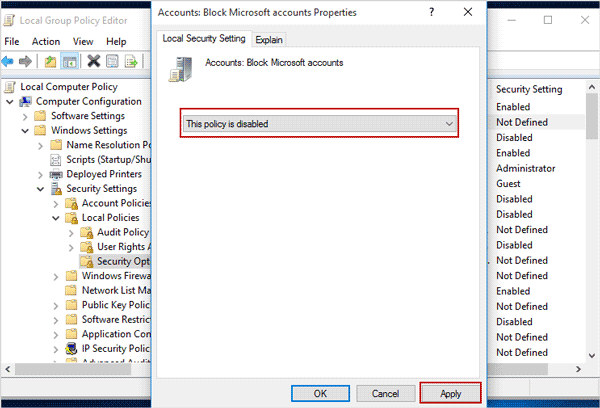 Way 3: Edit registry and add Microsoft account again to Windows 10
If changing group policy still could not help, please try to solve your problem in registry editor.
1. Go to Search, type "regedit", and open Registry Editor.
2. Navigate to the following path: HKEY_USERS\.DEFAULT\Software\Microsoft\IdentityCRL\StoredIdentities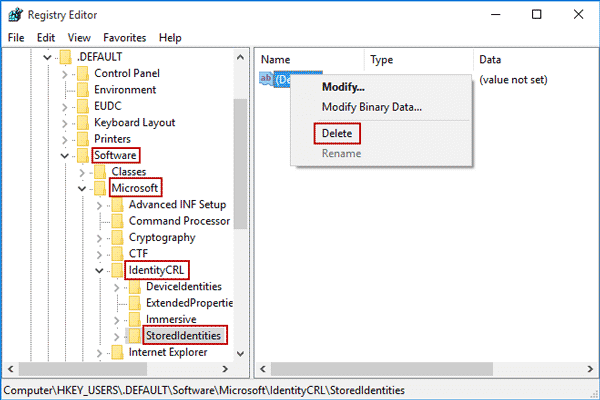 3. You'll find your account there, right-click on it, and delete it.
4. Close Registry Editor, and go to Settings > Accounts > Family & other users.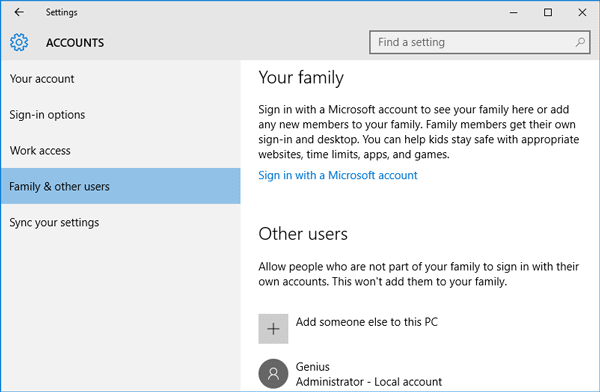 5. Try to add Microsoft account again in Windows 10 for logon.
Hope this article could help you get back an active Microsoft account to login Windows 10 successfully.
Related Articles: