Cannot Sign in with Administrator in Windows 10 | How to Fix
Have you ever encountered such problem, such as cannot sign in Windows 10 with administrator account suddenly probably because of password forgot or user account disabled or any other reasons.
If you have and get annoyed by it, please try solutions here in this article to fix.
Option 1: Choose Microsoft account to sign in Windows 10 instead
If you have Microsoft account available on Windows 10 login screen, please choose it and try whether it can help you access Windows 10 computer instead of local administrator.
Note: How to add Microsoft account for Windows 10 logon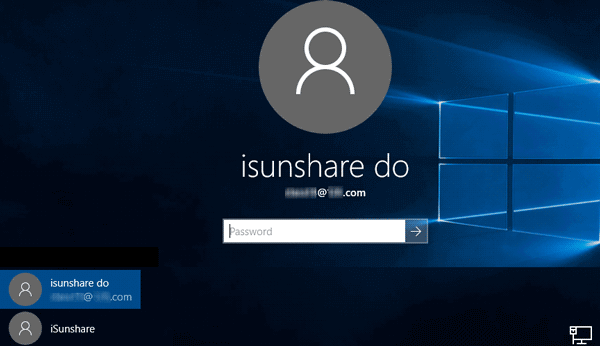 Option 2: Reset or remove Windows 10 administrator password
If you cannot find Microsoft account, please try to reset or remove Windows 10 administrator password if you cannot sign in because of password forgot.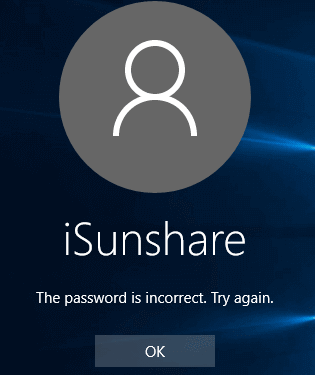 1. Plug the password reset disk created for this account with built-in Windows feature into your computer.
Note: 2 ways to create Windows password reset disk
2. While you are prompted that "The password is incorrect", click OK and Reset password button. Then follow Password Reset Wizard to reset Windows 10 admin password with reset disk on login screen.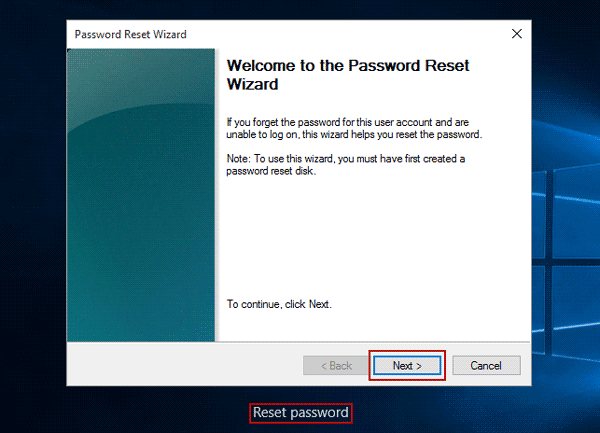 Or run locked Windows 10 computer boot from password reset disk created with Windows 10 Password Genius. And click on Reset Password button to reset Windows 10 administrator account password to be blank.
Option 3: Create new administrator account to login Windows 10
Besides forgotten Windows 10 password reset, another choice, creating new administrator on locked Windows 10 would also help you to access computer with admin account then. Compared with several command lines, Windows 10 Password Genius looks easier to use for creating new user account.
1. Burn Windows 10 Password Genius into a bootable USB flash drive.
2. While you get a USB disc, connect it with your locked Windows 10 computer, and boot computer from it.
3. Then you would see Windows 10 Password Genius runs on your locked computer.
4. With option "Add User" provided, new administrator account can be created easily for locked computer.
Want to get more details? See Windows 10 Password Genius user guide.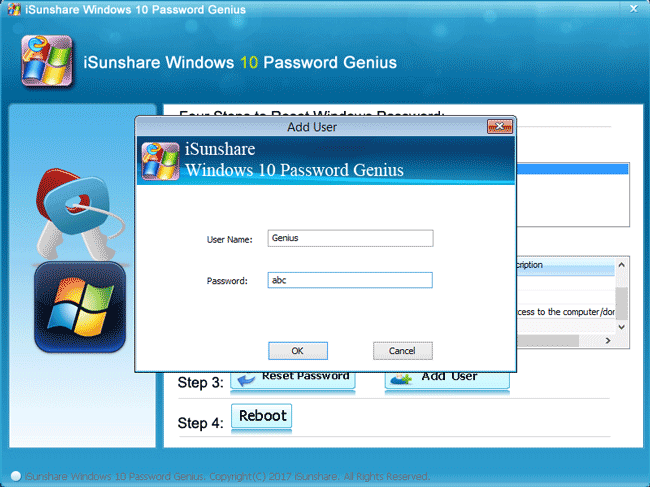 Option 4: Enable built-in administrator for Windows 10 logon
Besides the local administrator and Microsoft account in Windows 10, it is also necessary to pay attention to the built-in administrator, especially when it is disabled by default. But once it is enabled, it would work just like other admin account for your Windows 10 computer.
While Windows 10 computer is accessible, believe there is nothing difficult for you to enable Windows 10 built-in administrator. But if computer is locked, you still have ideas to make it enabled?
Actually with Windows 10 installation media in hand, you will be able to do that via command line without computer access. Just the important and difficult step you should do at first, is how to replace Utility Manager with Command Prompt. Get details about it from step 1-5 for how to enable built-in administrator on locked Windows 10.

In a word, with four solutions listed above, you would sign in Windows 10 again without data loss after lost admin rights to computer.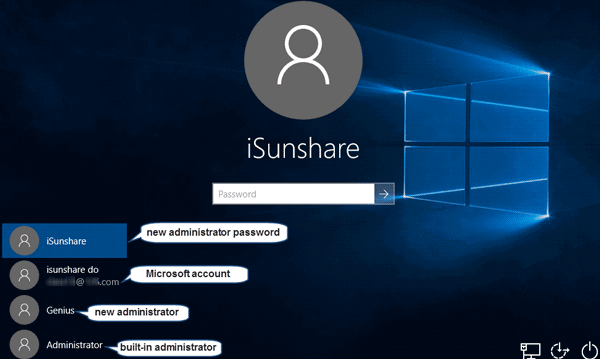 Option 5: Restore Windows 10 to factory settings
But if the problem is caused by other system problems, or corrupted hard drive, it is suggested to restore Windows 10 to default settings. And you had better have backed up your Windows 10 computer, otherwise, nothing will be left after Windows 10 factory reset.
Related Articles: