Windows 8 Security Knowledge – What you should know
Windows 8 is taken as the most particular Windows operational system, completely different from Windows predecessors. Bring PC's setting and mobile Apps together, giving computer users with new experience. Especially the newest version Windows 8.1, it bring together everything you do - from new mobile apps for your business, to Office productivity work, to searching and browsing, to accessing all your data from anywhere. However, when it provides us new functions, new adaptation to Windows 8 appears in front of us at the same time, such as how to protect Windows 8 in safe state.
Therefore, let's learn some new regulations on Windows 8 security.
1. Windows 8 Logon with Password – Picture, PIN, Windows Live ID
Password logon is the first protection for Windows 8. Picture password is image with three specify gestures. It is easy to remember and login Windows 8. PIN code consists of 4 characters. When you are trying to login Windows 8 with administrator account, but unfortunately you forget Windows 8 password, now you can change to sign in Windows 8 with PIN code. If you are afraid of forgetting it, you can set it with your lucky numbers.
What's more, Windows Live ID, also called Microsoft account, provides another kind of account to access Windows 8. So with this new feature, you can easily lock and unlock Windows 8.
How to change these password and account:
After sign into Windows 8, move the mouse to the top-right side of the window, click Setting > Change PC Settings > Users.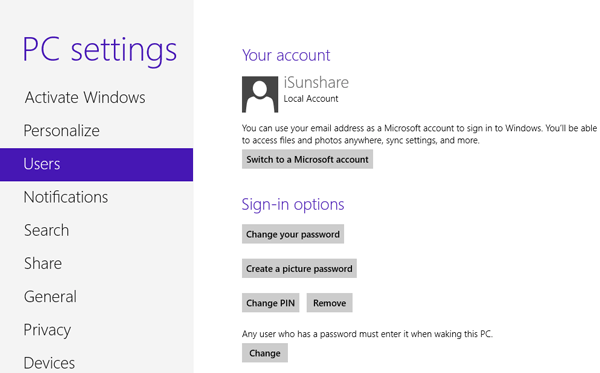 2. Reset and Refresh Windows Options
Of all the Windows security options, reset and refresh Windows options is a way to protect Windows 8 thoroughly. Refresh Windows 8 will reinstall Windows 8 with the user's personal data, most settings, and Metro-style apps remained. If you want to experience your computer like new one in no time or you prepare to sell your computer to another, this helps you so much.
Reset Windows option will remove all your personal data and all the previous settings. It will clear your computer and Windows and restore to factory settings. This way also used to reset Windows 8 forgotten password when you have no any other methods.
How to enter Reset and Refresh Options? Please turn to reset Windows tablet, detailed operational introduction shows there.
About Windows 8 security, there is still other knowledge you have to learn, such as boot device. And these are two important aspects you may experience directly and usually.
Related Articles: