Reset Windows 8 UEFI Password with UEFI Bootable CD/USB Drive
Lost or forgot administrator password on Windows 8 UEFI/GPT computer? Probably most of password recovery boot disk ever available for BIOS/MBR computer have not booted normally any more when dealing with UEFI BIOS. Fortunately, iSunshare Windows Password Genius is still compatible with UEF/GPT computer. It enables you to reset lost or forgotten Windows 8 password with a UEFI bootable CD or USB drive.
Step 1: Create a UEFI bootable CD or USB drive.
There are four versions for iSunshare Windows Password Genius, Standard, Professional, Advanced and Raid. But Raid version is designed for raid server and Standard/Professional version only could reset Windows password for BIOS/MBR computer. So now only Windows Password Genius Advanced could help to create a bootable CD or USB drive for Windows 8 UEFI password reset.
You can download it to have a try or directly purchase full version of Windows Password Genius Advanced, you will get its exe file.
After double-click the exe file to install and run Windows Password Genius Advanced on another accessible computer, you can burn Windows Password Genius ISO image into a blank CD or USB drive. Then you will get UEFI bootable CD or USB drive.
Note: 5 steps to create a bootable USB for windows password reset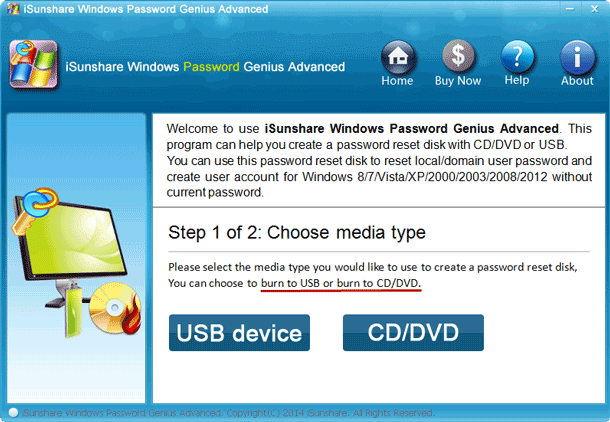 Step 2: Boot Windows 8 locked PC from CD/USB drive.
1. Plug bootable CD or USB drive into locked Windows 8 UEFI/GPT PC.
2. Start locked computer and press hot key (like F12) to enter Boot Menu.
3. Select the appropriate boot option and press Enter.
Windows Password Genius Advanced will automatically check SAM registry file in locked Windows 8 computer. And list all of Windows 8 users (Local user account and Microsoft account) and their password status.
Tips:
Step 3: Reset Windows 8 UEFI password.
Select administrator account or another user and click on Reset Password button. Then the program will remove Windows 8 lost password. Also, it can unlock account if the Windows user is locked out or disabled. Moreover, you can create new user account with "Add User" button.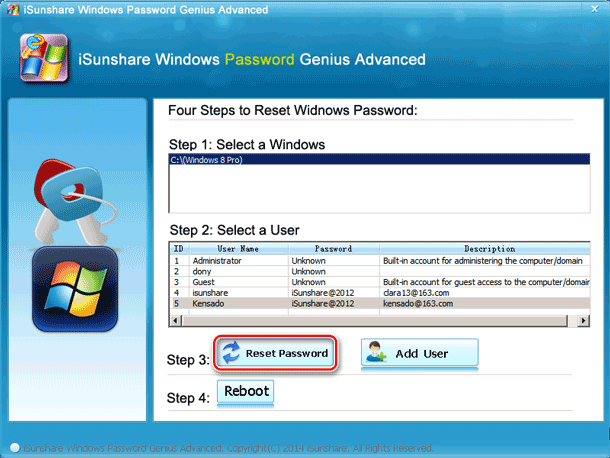 Reboot locked Windows 8 UEFI/GPT computer now and eject CD/USB drive, to login Windows 8 without password or new user and password.
Related Articles: