Disable Narrator on Windows 8/8.1 Computer | Steps and Pictures
When you play games or make other operations on your computer, you may turn on Narrator by accident. Actually, you are able to disable it if you are not in need of this function. For your better understanding, this article will list the steps to disable Narrator on Windows 8/8.1 computer and illustrate them with pictures.
Video guide on how to disable Narrator on Windows 8:
Steps to disable Narrator on Windows 8 computer:
Step 1: Open Computer/ My Computer.
On Start Menu or Desktop, you can open Computer/ My Computer by pressing WIN key and E key at the same time.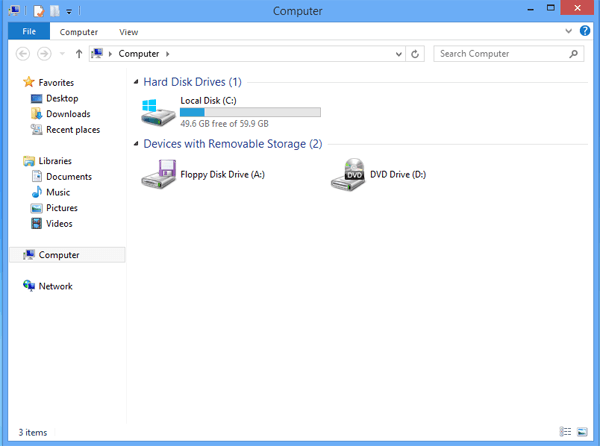 Step 2: Find Narrator in C disk.
It can be found according to the following process.
Local Disk (C:)→Windows→System 32→Narrator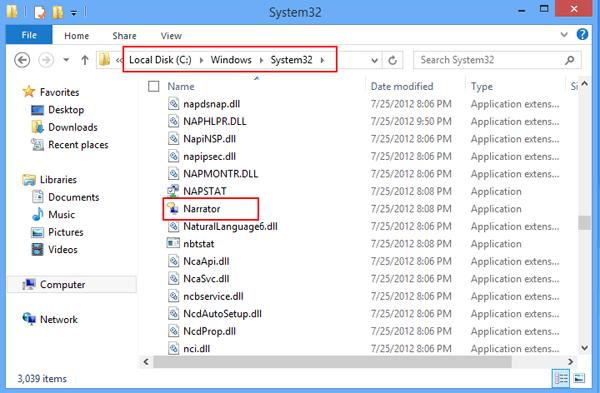 Step 3: Open Narrator Properties by right-clicking Narrator and selecting Properties in the context menu..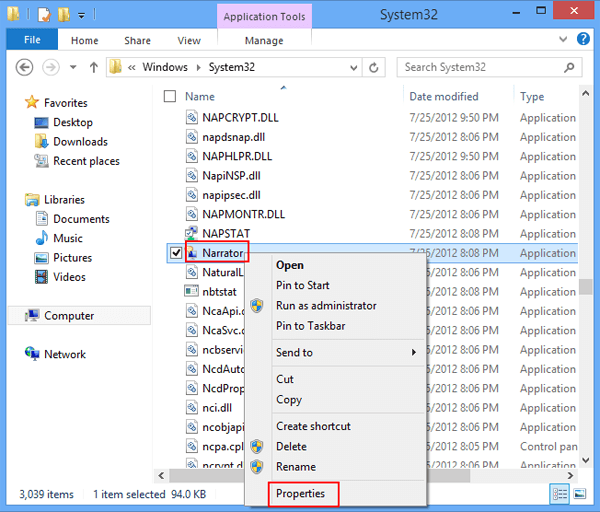 Step 4: As Narrator Properties window opens, select Security and click Advanced option in it.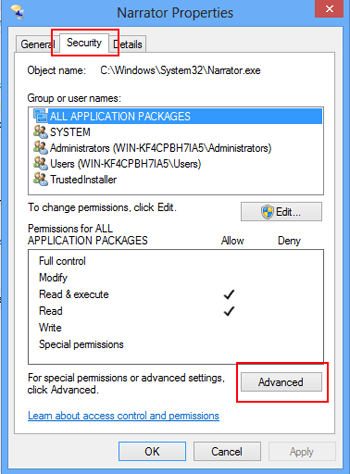 Step 5: In the Advanced Security Settings for Narrator interface, tap Change button on the top.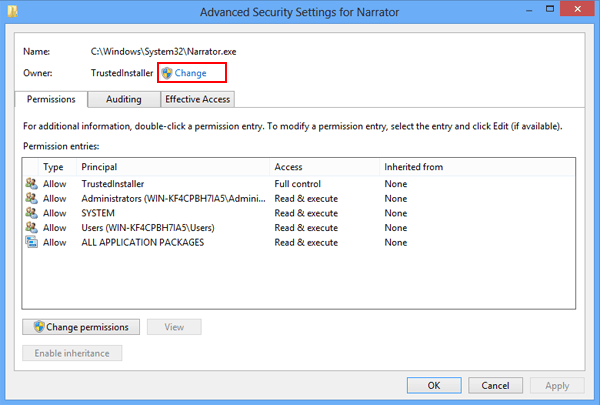 Step 6: When Select User or Group window appears, click Advanced on the bottom left corner.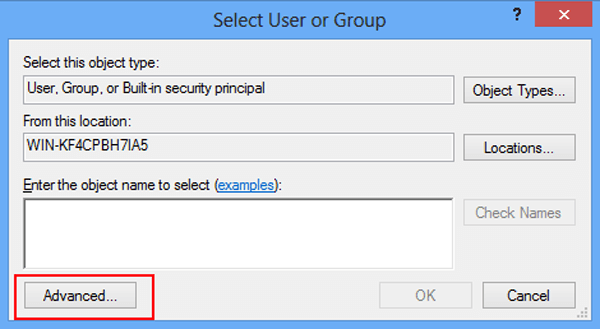 Step 7: In the next window, click Find Now on the right to search user and group, select Users in the search results and tap OK to go on.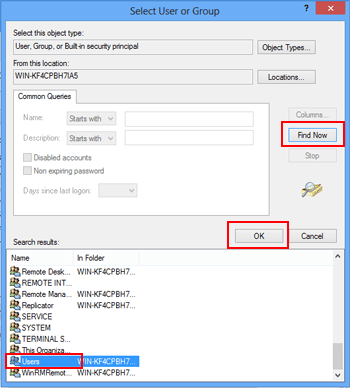 Step 8: Click OK to finish selecting user or group.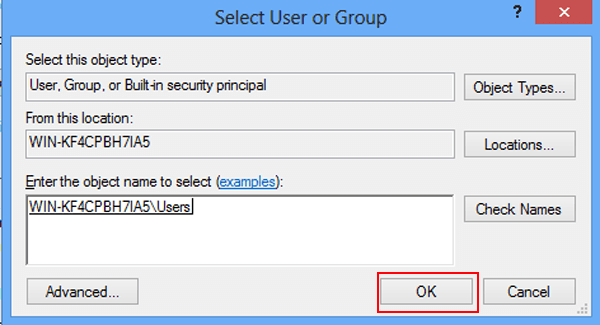 Step 9: Tap OK to complete the changes.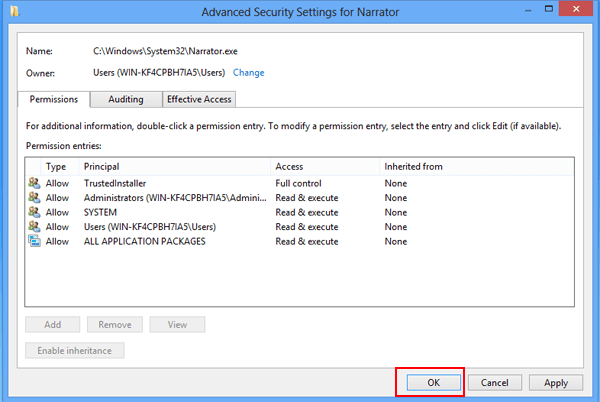 Step 10: Choose Edit in the Narrator Properties window.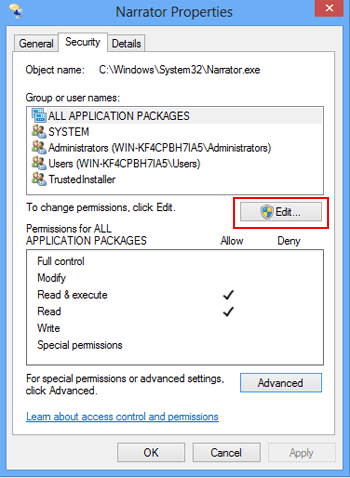 Step 11: As Permissions for Narrator window shows up, for all groups and users, deny their permissions including Read & execute and Read.
You can select a group or user, and then check the box behind Read & execute in the Deny line. Then the box behind Read in the Deny line will be checked automatically. After following this way to deny these two permissions of other groups and users, click OK to continue.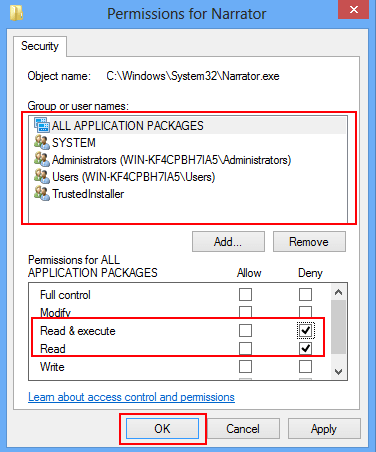 Step 12: When the Windows Security prompt box turns up, click Yes to continue.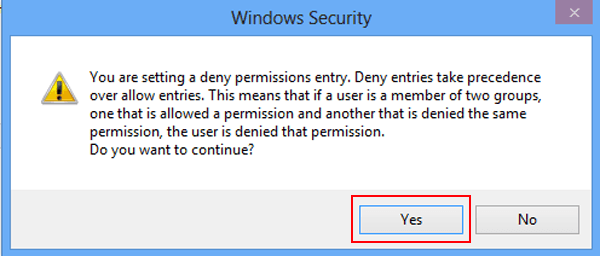 Step 13: Tap Yes to move on in the next prompt box.

Step 14: Tap OK in Narrator Properties window to complete disabling narrator.
In the picture below, you can see that the permissions of Read & execute and Read have been denied.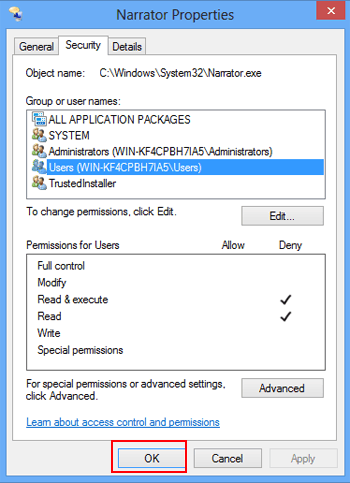 In brief, these steps and pictures can help you quickly disable Narrator on your Windows 8/8.1 PC.
Related Articles: