Minimum Password Length Setting in Windows 8/8.1
By default, the length of password can be a number between 0 and 14, which is why you are able to create a zero-character password for the user account in your PC. In addition, do you know that, as a matter of fact, you can decide the minimum password length? Just keep on reading and you'll learn how to finish minimum password length setting in Windows 8 computer.
Video guide on how to set minimum password length in Windows 8:
Steps to complete minimum password length setting in Windows 8/8.1:
Step 1: Open Local Group Policy Editor.
Step 2: Find and open the policy called "Minimum password length".
The following path to locate the policy is for your better reference.
Computer Configuration/Windows Settings/Security Settings/Account Policies/Password Policy/Minimum password length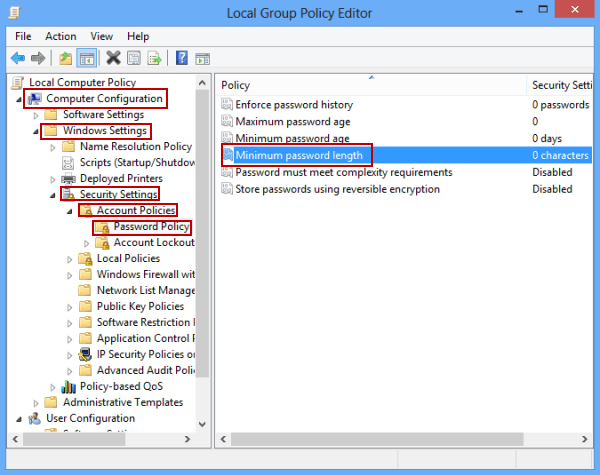 Step 3: Enter a number between 0 and 14, and click OK in the "Minimum password length Properties" dialog.
For example, if you want the least number of characters that a user password must contain to be six, you can input 6 in the box.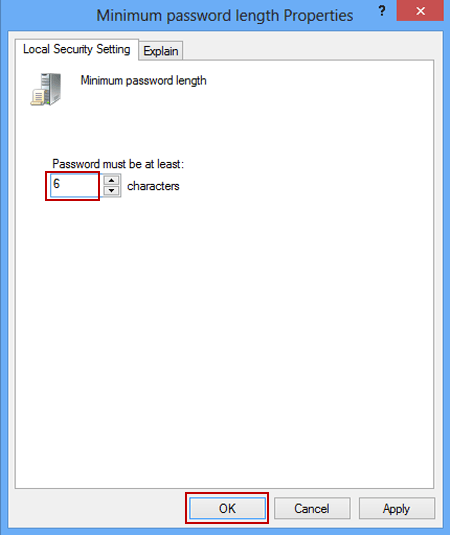 Tip: 0 means no password is required, which enables you to create a blank user password.
After setting minimum password length with the method above, when you go to create (or change) a password for user account, a message will pop up if the number of characters is less than the minimum password length, which reads, "The password you entered doesn't meet password policy requirements. Try one that's longer or more complex."
Related Articles: