Bypass Windows 10 Login Screen after Forgot Administrator Password
If you can sign in computer, surely you can easily set automatic login to Windows 10/8 with Microsoft account or Local account. But if forgot login administrator password, how can you bypass Windows 10 login screen and automatically sign in computer?
With this tutorial introduced below, you would learn two effective ways that could bypass forgotten Windows 10 administrator password to login.
Way 1: Run command to remove and bypass Windows 10 administrator password
In this way, we will make full use of Windows 10 installation media, it not only could reinstall your locked Windows system, but also could move cmd.exe to login screen. So that you can remove windows 10 admin password with it even though you are on locked login screen.
First, you should run command prompt on locked Windows 10 computer.
1. Start your windows 10 computer from installation media and press Shift + F10.

2. Type command in Command Prompt on system installation interface. (d:\ is system disk)
move d:\windows\system32\utilman.exe d:\
copy d:\windows\system32\cmd.exe d:\windows\system32\utilman.exe
3. Exit installation media and type command "wpeutil reboot" to restart Windows 10.
4. On following Windows 10 login screen, you could click the Utility Manager icon at the right-bottom side to open cmd.exe instead of utilman.exe.

Second, remove Windows 10 forgotten administrator password with command.
When you could successfully run Command Prompt on computer, Windows password reset or remove would not be problematic, because all of us know that net user command could help us.
Just type command "net user username *" and press Enter twice in Command Prompt window. Then the user password would be removed instantly.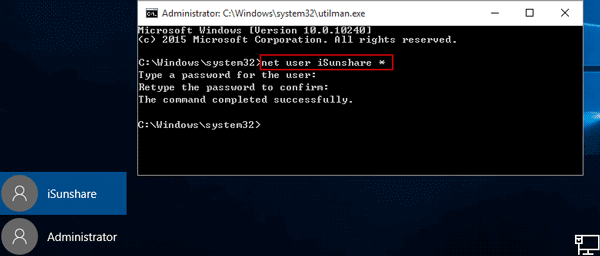 At last, in order to cancel changes on Windows system, it is necessary to reboot Windows 10 again from installation media and restore program utilman.exe.
1. Press Shift + F10 when you successfully access installation interface.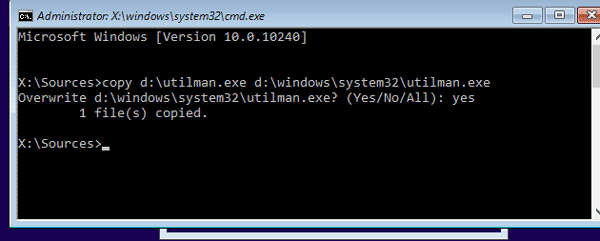 2. Type command to restore utilman.exe. Then you could open it but not command prompt on login screen.
copy d:\utilman.exe d:\windows\system32\utilman.exe
3. Exit installation disc and restart windows 10 with command "wpeutil reboot".
Now when you go to Windows 10 login screen, just need to click the administrator you have removed password, and you could bypass admin password to directly sign in.
Way 2: Run iSunshare program to remove and bypass Windows 10 forgotten password
If you are here, probably you are not so satisfied with installation media. But why we choose iSunshare program but not installation media to bypass Windows 10 login screen?
You could get iSunshare program, Windows Password Genius Advanced anytime. But you cannot find installation media anytime and anywhere. If you want to burn one, it would be also difficult for computer newbie.
The operation of iSunshare program would be much easier than installation media to remove windows 10 password. From the steps below, you would get the point.
Step 1: Burn iSunshare program into bootable USB drive as boot disc.
After running iSunshare program, Windows Password Genius Advanced on an accessible computer, insert bootable USB flash drive and select media type USB device on the program. Select the USB drive and click Begin burning button, then tap Yes button to make sure you would create a USB boot disc with iSunshare program.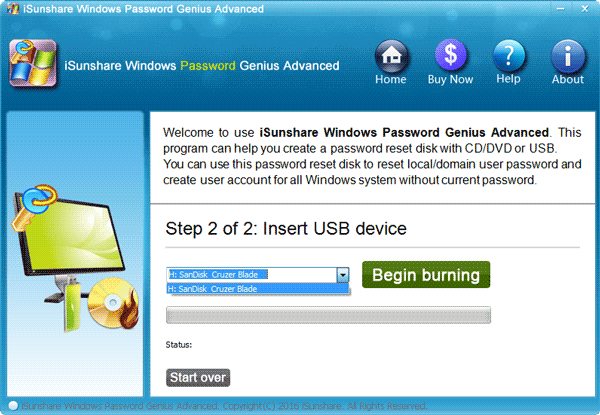 Step 2: Boot Windows 10 computer from USB boot disc.
Perhaps you don't know how to set locked windows 10 boot from USB after you plug the disc into locked computer. You could refer to tutorial about this topic.
After successfully booting Windows 10 from USB, please don't be excited when you see iSunshare Windows Password Genius Advanced runs on locked computer.
Step 3: Remove Windows 10 forgotten admin password.
Select password-forgotten administrator and tap on Reset Password button.
Click Yes to confirm Windows 10 admin password remove on pop-up dialog.
The administrator password becomes blank at last in user list on iSunshare program.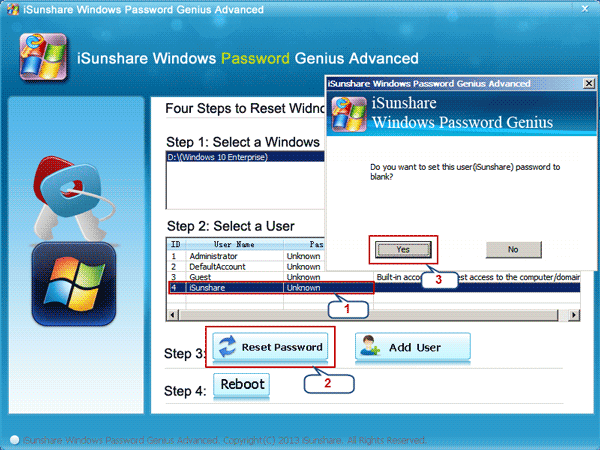 In order to make it really work, you have to reboot your computer now and exit USB disc, so that you can restart the computer from hard drive but not USB device.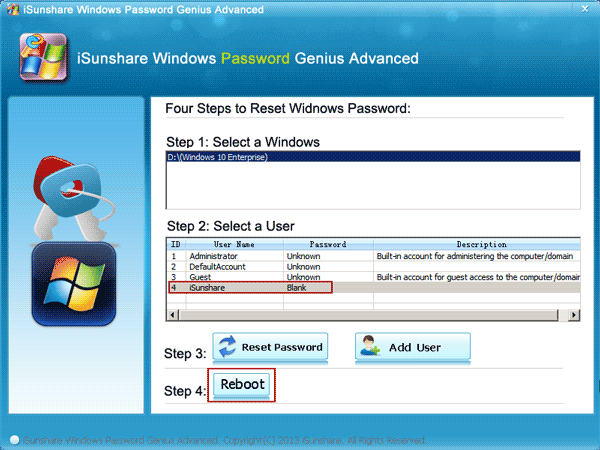 Step 4: Bypass admin password to login Windows 10.
On Windows 10 login screen, select the administrator on the left-bottom side, where all user accounts are listed. Then you could instantly sign in computer without typing any password.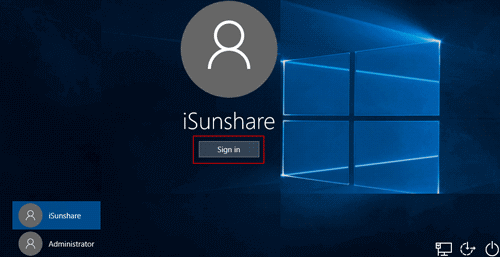 Note: This way also applies to bypass Windows 8.1/8/7/Vista/XP/2000 forgotten administrator password to log in.
Tips:
Bypass login screen would make your computer start automatically without password. But the computer will also become exposed to everyone and probably in danger. So Windows 10 automatic login had better set on your personal computer in homework but not a workable computer in WAN. Actually if you just want to get access to Windows 10 computer after forgot administrator password, you can choose to reset forgotten administrator password with password reset disk or installation disk, create new powerful administrator without login. Maybe they are a little difficult than Windows Password Genius Advanced but still worth trying.
Related Articles:
How to Unlock Lenovo Laptop Password Windows 10 Forgot How to Create a Windows 10/8/7 Installation Media with USB or CD