How to Create Digital ID in Adobe Acrobat XI Pro
Why do I need digital ID?
We don't need a digital ID for most of the work you do in PDFs. For example, we don't need a digital ID to create PDF, comment on them or edit them. But we need a digital ID to sign a document or encrypt PDFs through a certificate.
If you are not using a third-party digital ID, you can create your own in Adobe Acrobat Professional. Now follow the article using Adobe Acrobat Professional to create digital ID.
Way 1: Create digital ID in Adobe Acrobat Preferences
1. In Adobe Acrobat XI Professional, click on menu Edit – Preferences.
2. Choose Signatures in the left categories, and click "More" after Identities & Trusted Certificates.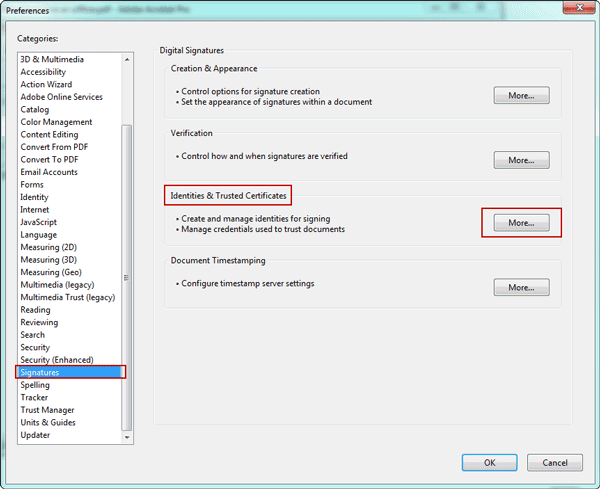 3. In Digital ID and Trusted Certificate Settings window, you can see "Add ID" icon.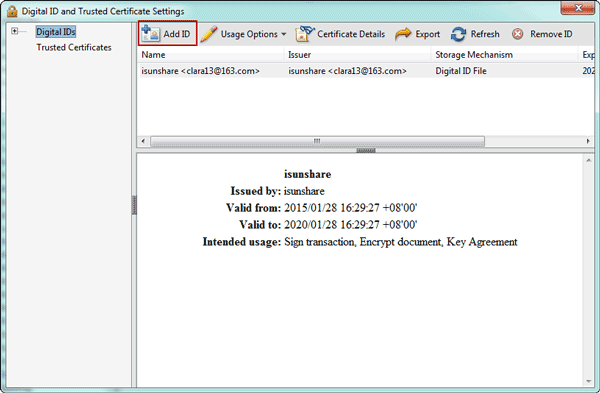 4. Click "Add ID" and pops up Add Digital ID window. Choose A new digital ID I want to create now. Click Next.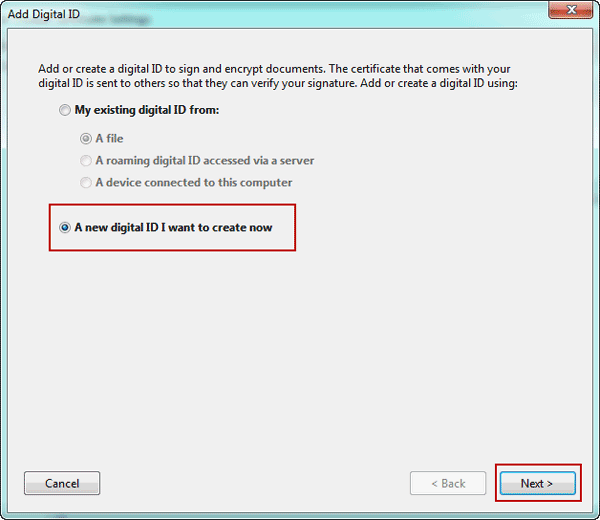 5. Choose a location where you want to store your self-signed digital ID. Click Next.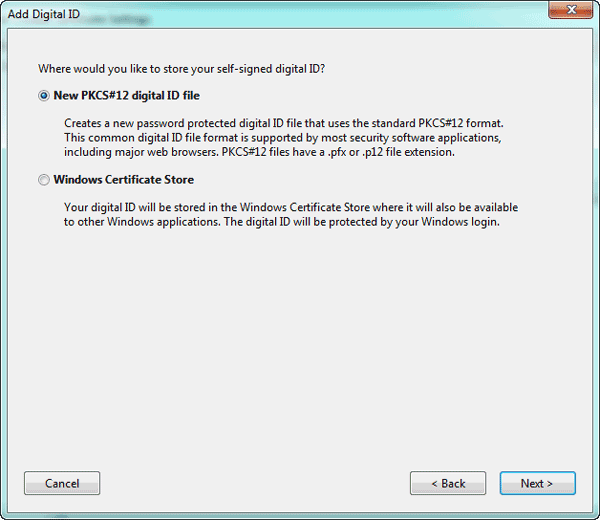 6. Type a Name and Email Address at least for digital ID and set other information. For example, choose what you want the digital ID used for, Digital Signatures or Data Encryption or both. Click Next.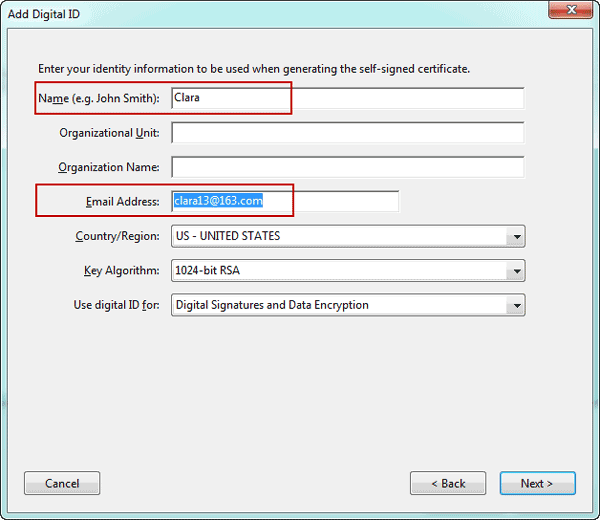 7. Confirm or enter a file location for new digital ID file. Then set a password for digital ID file, which will be needed when you want to use the digital ID to sign or decrypt documents.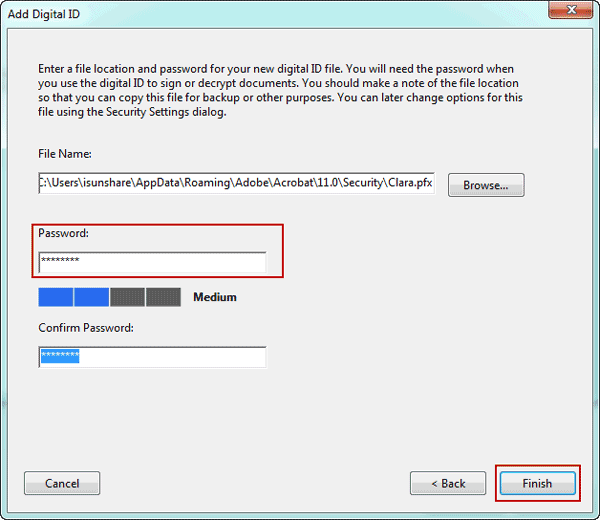 You should make a backup of the file location so that you can copy this file for backup or other purposes. Click Finish.
Then in the Digital ID and Trusted Certificates window, you can see the new digital ID. And in the Usage Options, you can set what the digital ID can be used for, Use for Signing, Use for Certifying, Use for Encryption etc.
Way 2: Create New Digital ID when Encrypt PDF with Certificate
Digital ID is necessary when we want to encrypt PDF through certificate. Now see the detailed process to create digital ID when you want to encrypt PDF with certificate.
1. Open PDF document. And click Tools – Protection – Encrypt. Choose "Encrypt with Certificate" in drop-down list.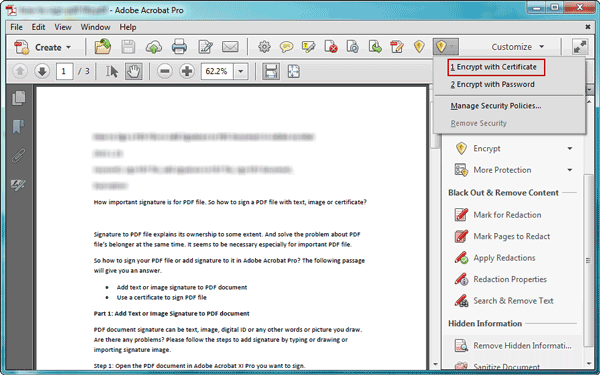 2. If you get a prompting message, click Yes and enter Certificate Security Settings.

3. Check "Encrypt all document contents" under "Select Document Components to Encrypt". And choose an Encryption Algorithm. Click Next.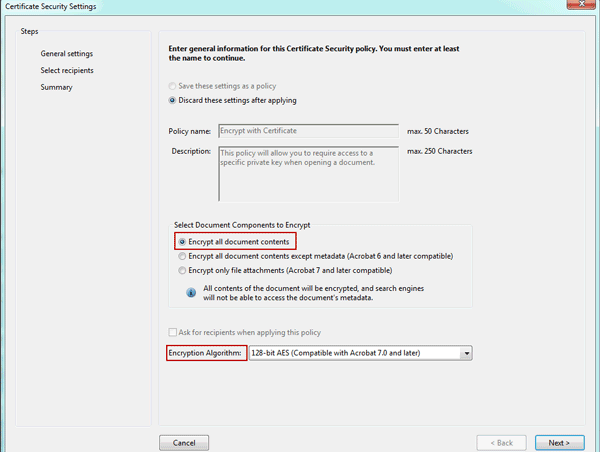 4. In pop-up window, you can see there is an option Add Digital ID under ID list. Click it.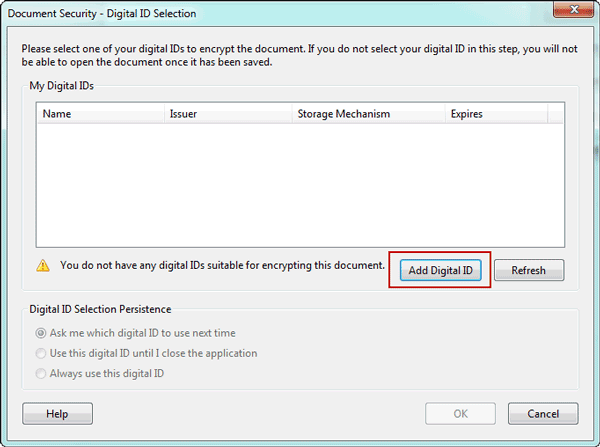 5. Add Digital ID window appears, choose A new digital ID I want to create now. Click Next to go on with wizard like in the Way 1.
This way is usually used when you want to encrypt PDF document with certificate but there is no digital ID available.
Related Articles:
How to Remove or Delete Digital Signature from PDF Document How to Remove Digital ID or Digital ID File