How to Remove or Disable Read Only in Excel File
Surely, read-only excel file could prevent accidental changes on it. But read-only mode could be removed or disabled as you wish anytime when you want to edit excel file?
I don't know. But I think some options you have used to set excel workbook read only, would be able to remove this setting always. So that you can remove or disable read only in excel file. Now in this article, I will list several possible cases that make your workbook and worksheet read only and introduce how we can do to remove read only status from Excel file.
Case 1: Excel file is made read-only by "Mark as Final"
While you open an excel file that has been marked as final, you would see a message bar at the top of sheet window. To remove read only from excel file, you just need to click on "Edit Anyway" button on message bar.

Now you have been able to edit excel file and make any changes to worksheet or workbook.
Case 2: Excel file becomes read-only recommended by "Save As"
When a dialog appears and shows three options for you to choose after you double click the read-only excel file, just click "Yes" and you could open excel file in read-only mode.

Now if you make any changes on the excel file, and want to save, there would be a message that prompts you again to save a copy of the file and rename it.
1. Click OK and open Save As dialog. Then click "Tools > General Options" in Save As dialog.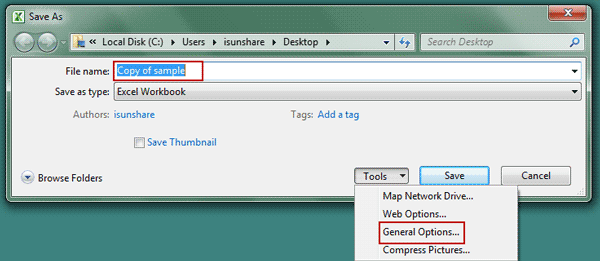 2. Uncheck "Read-only recommended" and click OK.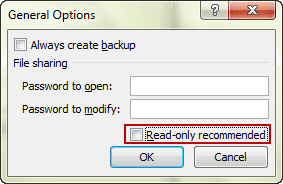 3. Back to Save As dialog and click "Save" button to make a copy of original excel file. From then on, the copied Excel file would be not read-only and could be used instead of original one. It means you have disabled read-only in Excel file.
Case 3: Excel file is restricted modify and read only
While you are trying to open excel file that is restricted modify, and a password is required for write access, instead of entering password, please just click "Read Only" button to open excel file as read only.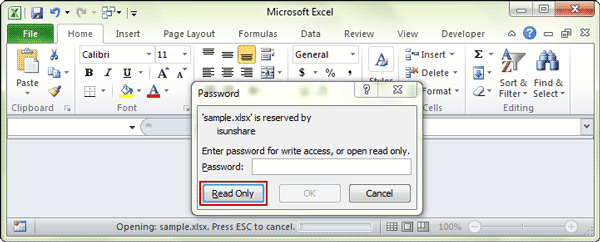 It seems you cannot do any changes on it, but you can save the read-only excel file as another one to remove modify password. So remove read only in excel file.
1. Click File > Save As, and click Save button in pop-up Save As dialog.
2. Click OK to save excel file to replace the read-only one.
Case 4: Worksheet and Workbook structure is locked and read only
While your excel file is read only and you know it is because worksheet and workbook structure is protected, it will be easy or difficult to disable read only. We don't know.
If you know the password that protect worksheet and workbook, remove read only in excel file would be so easy.
1. Open your excel file in MS Excel and you can view all worksheet and its content.
2. Click Unprotect Sheet under Review > Changes group, and enter password to unprotect sheet one by one.

3. Click Protect Workbook in the same location and type password to unprotect workbook structure and windows.

4. Save excel file and read-only mode would be removed from excel file.
But if you don't know protected password, disabling read only in Excel file would be a little difficult unless you could find a utility to directly remove password protection from excel workbook, such as iSunshare Workbook Unprotect Genius, which could directly and easily remove worksheet/workbook protected password with only one click.
Tips:
Probably your excel file is also protected with open password now besides above edit restrictions. Then just opening the excel file is a difficult thing, not to say removing read only mode in excel file. But if you want to disable excel file read only, removing or recovering excel file password to open the password protected excel file is necessary at first. Otherwise, you just could let excel file read-only all the time.
Related Articles:
How to Set Excel Workbook Read Only to Restrict Changes 2 Ways to Disable Protected View for Office 2010 to Enable Editing