How to Repair and Extract Corrupt Multi-part Archive without Recovery Utility
Multipart RAR/ZIP files have brought several conveniences to users who want to compress and save large files on disk or optical drive. And it is a good choice for people when they need to transfer and share mass data safely and effectively through Internet. Besides, multipart RAR files has followed AES encryption algorithm for data security and enables few recovery records for repairing RAR files in case of physical damage. However, these multivolume RAR files probably get corrupt during the creation or transmission process due to various reasons, such as virus attacks, abrupt interruption and other reasons etc.
Why multi-volume RAR/ZIP file is broken?
Virus attacks.
Abrupt interruption. Sudden system shutdown and power failure etc during the multipart archive download, creation process.
Other reasons: file system corruption, improper termination of WinRAR application, CRC error, archive header file corruption etc.
How to repair broken multi-part RAR/ZIP file and extract it after corruption?
If one or multiple files of the archive are either damaged or missing, can you still extract multiple-volume archive normally in WinRAR? Surely it is not. Then how can you do to repair the damaged or corrupt archives and successfully extract all or partial files from it?
Following three methods would help you even though you have received a prompt requesting that you select the next file in line manually from local system or receive the error "CRC failed in the file name" when you tried to extract a broken RAR or ZIP archive. No third-party utilities is required, just WinRAR is OK.
Method 1: Repair and extract multi-part archive fully with recovery record
If you have added recovery record when you create multi-part RAR archive, now you can recover the damaged or lost RAR file in WinRAR with recovery record.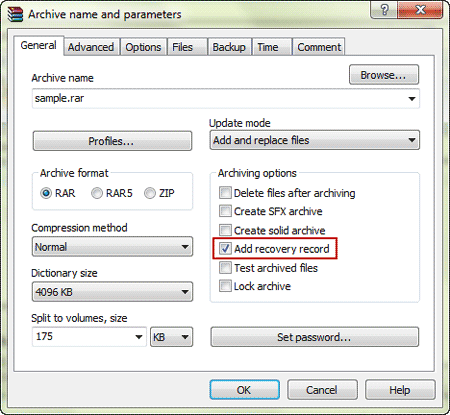 You can open RAR file in WinRAR, right-click all archives, and select the Repair option from the menu. WinRAR will pick up the recovery volume or volumes automatically and use them to repair archive and add the fixed files to the system.
Step 1: Launch WinRAR and select the all the parts of corrupt multi-part archive, then click Repair option on top menu of WinRAR.
Step 2: Confirm the folder to put the repaired archive. You can Browse button to change the default location. Then check the archive type and click OK to repair the corrupt archive.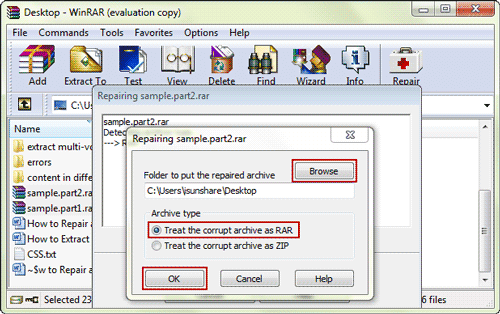 Step 3: Wait for it repairing your multi-part archive until it prompts you with successful message.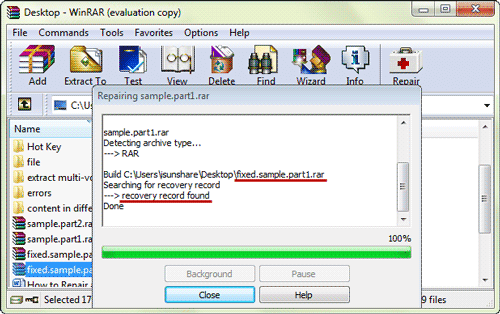 At last you will get the fixed multi-part archive instead of corrupt multi-part archive.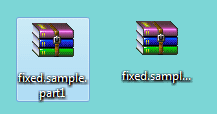 Step 4: Select the first fixed multi-part archive in WinRAR.
You could find this method works no matter which part of archive is missing or damaged. So please check to "Add recovery record" when you compress an archive in WinRAR.
Method 2: Extract broken archive partially with option "Keep broken files"
If you don't have access to recovery volumes or parity files, you may still extract the archive partially to your system. This works best if the archive is damaged at the end as you can extract all contents up that point in this case.
What you need to do is to enable the "Keep broken files" option on the extraction path and options prompt. If you don't, WinRAR won't keep partially extracted file contents on the disk.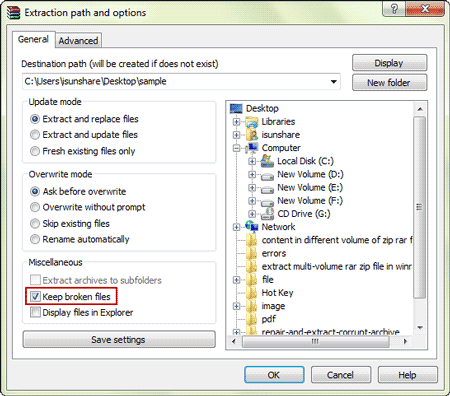 Method 3: Extract broken archive fully by missing or corrupt file re-download/re-navigate
If your multi-volume archive is broken because of volume lost, you can re-navigate to missing files during the extraction process when WinRAR requests you for it. Or re-downloading missing or corrupt files may also resolve the issue, if you can get the files from other people. But surely it only works when you have downloaded the new copies of lost or damaged ones.
Step 1: Select the first part archive when other parts of the corrupt archive are lost and click Extract To button.
Tips: If it is not the first part you select, it would prompt you need to start extraction from a previous volume to unpack the files in the archive.

Step 2: In pop-up dialog Next volume is required, click Browse button to navigate to the directory of next volume.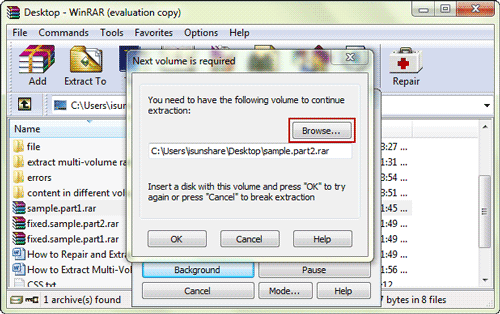 Step 3: Select the missing volume you find or re-download, and click Open button.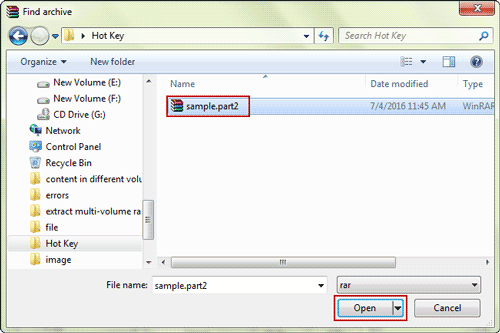 Step 4: Click OK to try again to extract the multi-volume archive.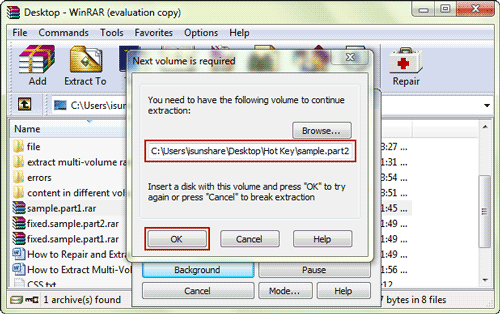 Related Articles:
How to Extract Multi-Volume RAR/ZIP File in WinRAR Reset Windows 10 Desktop Password Forgot on Dell XPS 8700/8900