Sony Vaio Laptop Restore Factory Settings
In the process of laptop usage, some problems happen accidentally. Sometimes we couldn't solve them easily or directly and have to restore laptop to factory settings.
The following are problems about Sony Vaio laptop possibly from computer users.
Problem 1:
Hello,
I have a Sony Vaio laptop. I want to set it back to factory settings. I do not have a recovery disk. I am using Windows Vista. How do I do this?
Problem 2:
I have a Sony Vaio and I want to restore it to original factory settings. But I don't have a restore disc. How do I restore it without using a restore date? Please help.
Problem 3: 
Hi, I have a Sony Vaio laptop and the model is PCG grt916v. I want to set it to factory settings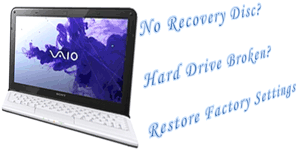 but my Sony disk drive is broken and couldn't recognize my recovery disk. I tried all the buttons for bringing up the Hudson thing but nothing happens. Every time I press a key it just goes to the welcome screen. Please help.
For problem 1 and problem 2, it is about how to restore Sony Vaio laptop to factory settings without recovery disc. And because Sony disk drive has been broken in problem 3, so that would be different from first two problems.
Now according to the problems we face, we will introduce how Sony Vaio laptop factory reset without recovery disc and how to recover Sony laptop to factory reset when its disk drive is broken.
One: Sony Vaio Laptop Factory Reset without Recovery Disc
Even though there is no recovery disc available, you still could use methods below to factory reset Sony Vaio laptop.
1. Factory Reset Sony laptop with one recovery menu.
Start your Sony laptop, and hold on pressing Alt + F10. Factory restore process would start, follow it and get factory default setup menu in Sony Vaio.
2. Factory Reset Sony laptop with system restore program.
System restore program set in Sony laptop could help you to restore laptop to early backup point, including the first one point when laptop is factory default settings.
Click Start – Programs – Accessories – System Tools – System Restore. Select "Restore My Computer to Early Time", click "Next". And you would see several date, and the dark date is the backup point. Select it and click "Next" to restore your system to this point.
If system restore couldn't work in this mode, restart laptop and press F8 to enter Windows safe mode. The following steps in safe mode are the same as usual mode.
Two: Restore Sony Vaio Laptop to Factory Reset when Hard Drive is Broken
When hard drive is broken, recovery disk would not work if you directly insert it into Sony laptop and try to boot laptop from recovery disc. At this time, you can use external hard drive to read recovery disc.
Find an external hard drive and connect it to Sony laptop.
Insert system recovery disc into external hard drive.
Access Sony BIOS and set laptop boot from recovery disc.
Follow system recovery wizard to restore Sony laptop to factory default settings.
If these still couldn't help you, call customer service to ask for help.
Related Articles:
Restore Gateway Laptop to Factory Default Settings without CD How to Get Access to Blocked Websites on Laptop or PC