Windows Password Boot Disk Reset Password and Create Users
My computer says my password is incorrect, but I don't have password reset disk. I have ever heard that Windows Password Boot Disk could reset system password. Is that true?
The answer is absolutely sure. But such Windows password boot disk has to be created with password recovery tool, Windows Password Genius. On available computer, insert bootable USB drive into computer, and run Windows Password Genius to burn password reset disk into USB drive.
After USB drive is burned with password reset disk successfully, it would become a password boot disk which could reset Windows password and create new users in locked computer. You maybe dare not to believe that. No problem, go on reading this passage.
How Windows Password Boot Disk Reset Password?
At this time, Windows password boot disk becomes password recovery boot disk. It is used to reset Windows forgotten or lost password.
1. Insert USB password recovery boot disk into locked computer.
Tips: Such computer is available, which has been installed with Windows 8.1/8/7/Vista/XP and Windows server 2012/2008/2003/2000.
2. Set computer boot from USB drive in BIOS.
This has to be set according to which kind of laptop or PC you are using. Some laptop or PC boot ways are introduced in how to set computer boot from USB drive.
3. Reset Windows password by two clicks.
When computer boots from USB drive successfully, Windows Password Genius runs. Just click user account you want to reset password, and click "Reset Password" button. You would find previous "unknown" password has been removed or reset.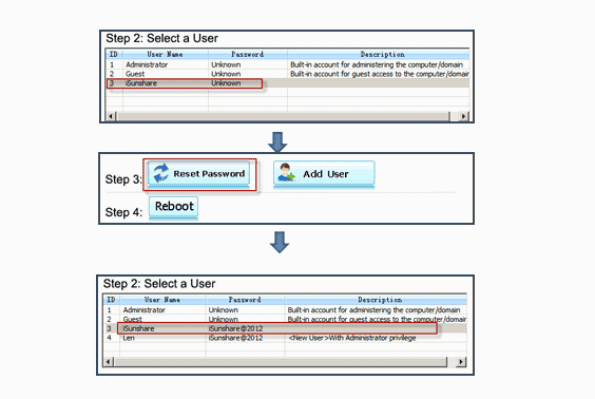 How Windows Password Boot Disk Create Users?
Windows password reset boot disk also could create users for computer even though computer is locked. The first two steps are the same as Windows password reset. Only difference is the third step.
What you can do is click "Add User" button on program screen. A new window pops up. Type a user name and click "OK" to create a new user with default password.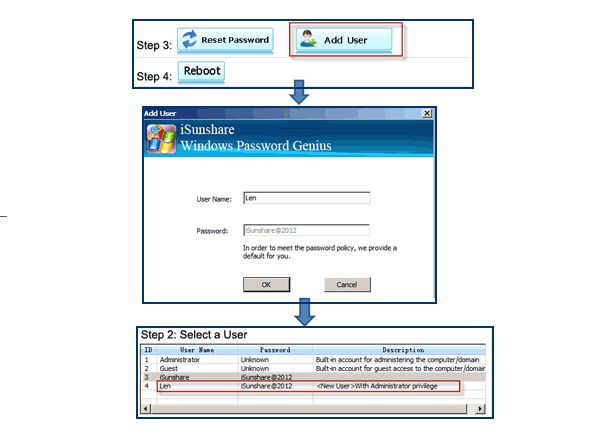 In order to make above operations work, remember click "Reboot" button and exit USB drive before computer restarts.
Related Articles:
How to Make Windows 8  Boot Disk No Password
How to Set Password for MS Office Outlook 2007 NT Password Reset Disk for Windows 7/8 Forgotten Password Reset