How to Protect Multiple Sheets in Excel 2010 Workbook
How to make Excel sheets 2010 safe? Protect multiple sheets with password is good way. Please follow below to protect your Excel sheets at once according to your wish.
Way 1: Protect Multiple Sheets with Protect function
1. Click Review on menu, and you would see Protect Sheet and Protect Workbook function.
Protect Sheet: Protect worksheet and contents of locked cells through password.
Protect Workbook: Protect Workbook Structure and Windows with password.

2. Protect multiple sheets 2010 in workbook
Selection 1: Choose worksheet one by one and click "Protect Sheet" to encrypt them with password and lock worksheet for editing.
Selection 2: Click "Protect Workbook" to set a password to protect sheets from adding or deleting on this workbook.
Note: If you want to remove the sheet protection, just do it like when you protect it.
Way 2: Protect All Excel Sheets once with VBA
With VBA code, you can protect all worksheets on workbook once with the same password. Follow below to do.
1. Press ALT + F11 to load Visual Basic for Applications window.
2. Click Insert > Module in menu to write following VBA code for protecting workbook.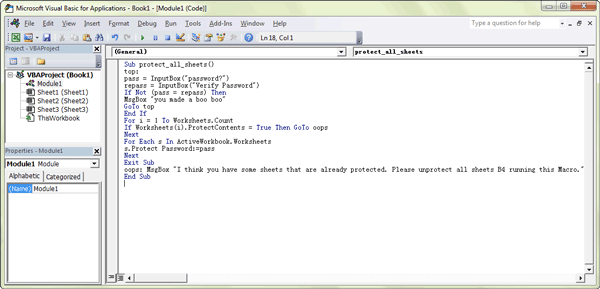 3. Press F5 to run the VBA code. And type a password for all the sheets in pop-up dialog.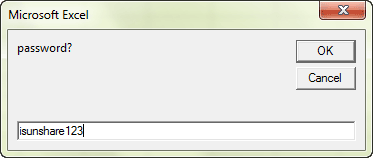 4. Click OK and type the same password again to confirm.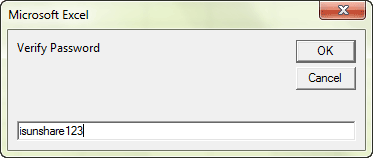 5. Click OK and then all the worksheets on this workbook are protected with same password.
Way 3: Protect All Sheets on workbook with Excel Permissions
1. Click File – Info on workbook.
2. There is one option Protect Workbook Click it and select Encrypt with Password.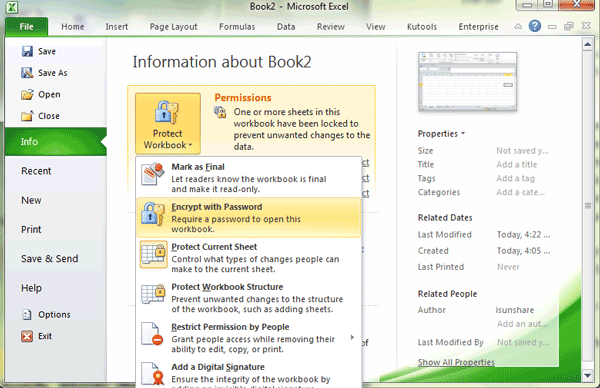 3. Type password in pop-up window and click OK.
Way 4: Protect Part of Sheets in Workbook Once with Kutools for Excel
VBA gives us a way to protect all Excel sheets at once, but sometimes we don't want to encrypt all the sheets, but only some of them. At this time, VBA becomes unavailable, but Kutools for Excel could make this possible.
1. Download Kutools for Excel and install it on your computer.
Open your workbook and you would see there are two additional options in Excel menu, Kutools and Enterprise.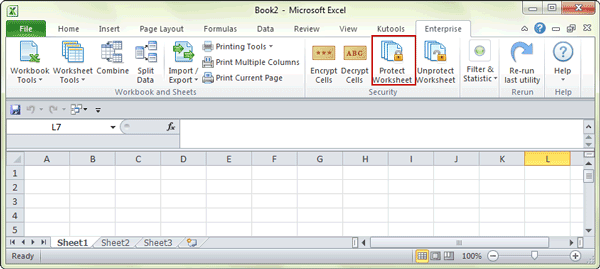 2. Click Enterprise > Protect Worksheet and a new dialog pops up. Select sheets you want to protect and click OK.
3. Type password twice for these sheets we select just now. And then click OK.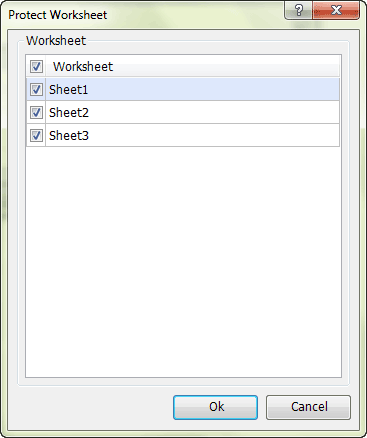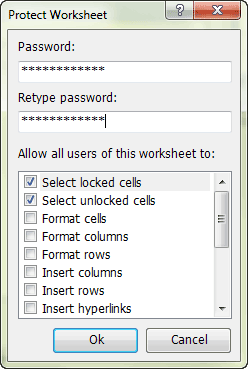 Now, with the methods introduced above, multiple sheets on Excel workbook have been protected with password.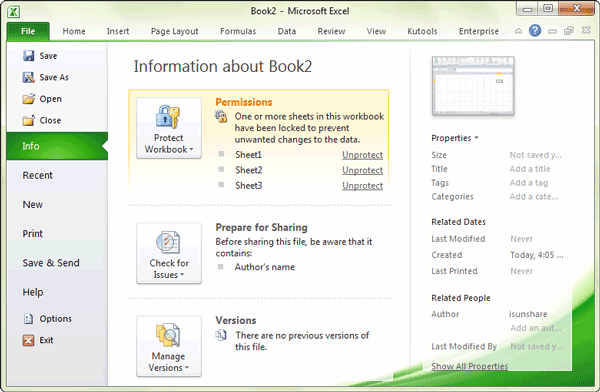 So please save these passwords in safe place. And when you want to open them next time, just need to type password. But if forgot or lost excel password, recover excel password would become first work before opening Excel sheets.
Related Articles: