XLSX Password Recovery with 2 Ways | Free or Powerful
Forgot Excel XLSX file password but need to open it?
Don't be anxious. This article would introduce two ways effectively for XLSX password recovery. No matter you want to free recover forgotten XLSX file password, or powerfully recover Excel forgotten password for excel xlsx file, you can find the appropriate way for you.
Way 1: Free Recover XLSX File Password with VBA Code
If you want to recover Excel XLSX file forgotten password, maybe you can try free VBA code at first, which could generate code to open password protected workbook/worksheet (XLSX). The only disadvantage of this way is we cannot sure whether it could help and work successfully at last.
Step 1: Open VBA.
1. Open XLSX worksheet/workbook you forgot password.
2. Press Alt + F11 to enter Macro Editor.
Step 2: Insert and run code in VBA.
1. Once in VBA, double click the worksheet/workbook you need to recover password from the left menu listing. A general declarations page for the sheet will open. Or click View > Code in VBA menu or press F7 to open code page.
2. Insert code below into Macro editor, the declarations page.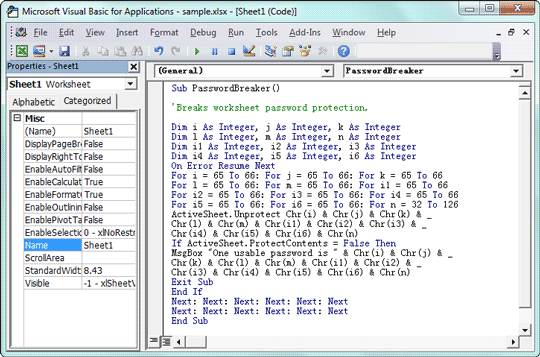 3. Once the code is added, press F5 to run the Macro in VBA editor screen.
Step 3: Get usable code for excel XLSX file.
Instantly, the Macro will return you to the excel file you want to recover password. Instead of excel password, it will find a usable code for you. But you could enter the generated code just like password to open the XLSX file.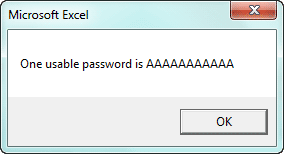 If this freeway could not help you find out a usable code to successfully open Excel xlsx file, please follow way 2. It is not free like VBA code, but it could powerfully recover xlsx password safely. So that you can copy the xlsx password to open protected excel xlsx file.
Way 2: Powerfully Recover XLSX Password with Third-Party Tool
About the common third-party excel password recovery tool, what I know is Excel Password Genius, which could work directly on your computer. But it is not so fast if you care the password recovery speed. So if you want to powerfully recover xlsx password, Office Password Genius Professional may be more advisable than Excel Password Genius.
The advantages of Office Password Genius Professional:
1. Powerful Brute-Force attack is set as default password recovery method.
2. All of accessible computers in the same LAN(Local Area Netwok) could run password recovery program iSunshare Peer at the same time to recover Excel password together. So it could find out excel xlsx file password faster than Excel Password Genius.
Steps for XLSX password recovery with Office Password Genius Pro
Step 1: Prepare main program.
1. Install and run Office Password Genius Professional on a computer.
2. Tap on Open button and browse computer to add the .xlsx file into Encrypted File box.
3. Specify Excel file password range and length. You can refer to password recovery attack settings.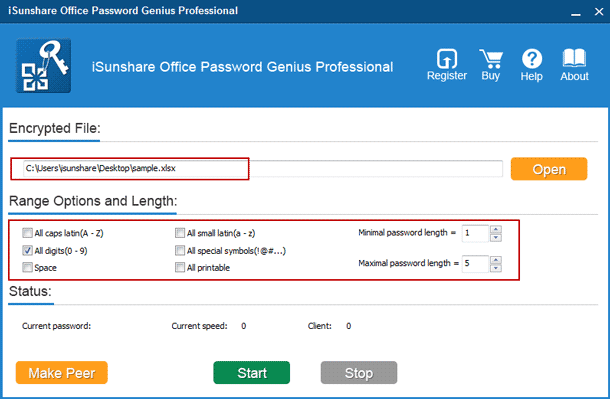 Step 2: Install and run client program "iSunshare Peer".
1. Tap on Make Peer button to create client program installation file isunshare-peer.exe.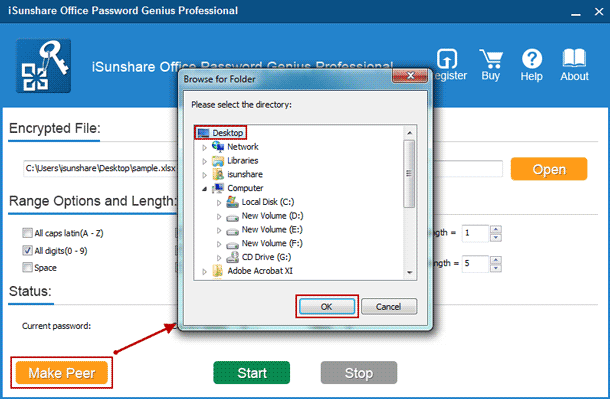 2. Install and run iSunshare Peer on other available computers in the same LAN where Office Password Genius Professional runs.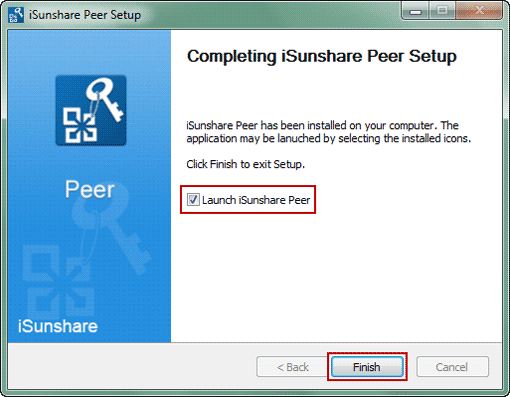 Step 3: Start to launch main program and client program together to recover xlsx password.
1. Click Start button on main program Office Password Genius professional.
2. Make sure iSunshare Peer is working. Generally, it would automatically begin to work after main program runs.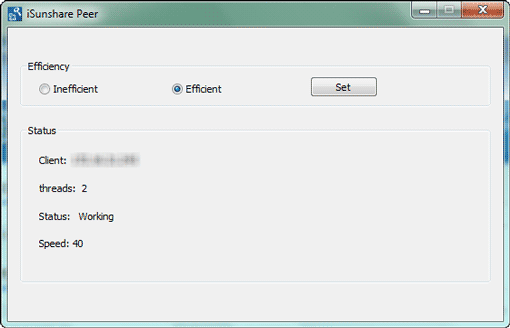 3. Check XLSX password recovery progress in Office Password Genius Professional.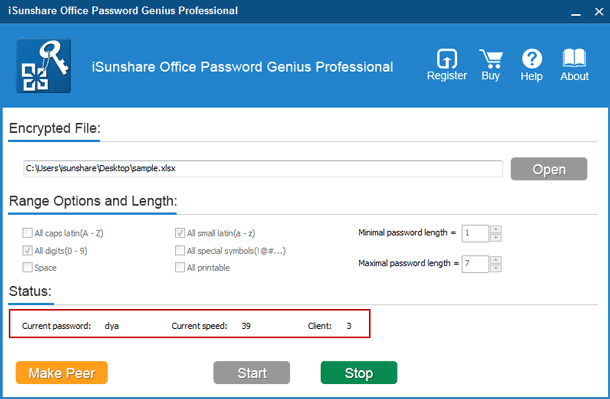 Tips: Don't close Office Password Genius Professional when "iSunshare Peer" is running to recover Excel xlsx file open password.
Step 4: Successfully get Excel xlsx file password in pop-up dialog.
About few seconds later, XLSX file open password will be found and shown in a pop-up dialog on Office Password Genius Professional. And probably a few minutes is required, which is depend on you computer speed and how many computers have been joined in excel XLSX password, and how complex the xlsx file password it is.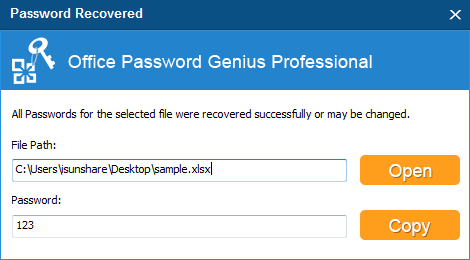 Tips:
Surely if your xlsx file password is not so complicated and you remember part of forgotten excel open password, probably Excel Password Genius would be a better choice if you just want to recover excel file password.
Related Articles: