What If I Forgot My iPhone Backup Password?
When there is something wrong on my iPhone, and I couldn't use it normally, what can I do for it if iPhone backup password forgot?
If forgotten iPhone backup password couldn't be recovered, maybe you have to send iPhone to repairment shop or restore it to factory settings. And then all the contents and settings on iPhone would probably be lost.
If iPhone backup password can be recovered, iPhone would be restored from iPhone backup to early backup point. And most of content on iPhone would be kept after restoration.
Therefore, no way always applies to any situations. We just could choose one appropriate to solve problem according to specific situation to reduce our loss.
Tips: Let's take iPad as example to see how does it do. Surely it is the same for iPhone.
Situation 1: Restore iPhone from Backup after Password Forgot
After forgot iPhone backup password, it is the best way to use iTunes Password Genius to recover iTunes backup forgotten password for iPhone, because iTunes Password Genius is an effective iTunes backup password recovery software for iDevices. So if you don't want to restore iPhone to factory settings for using iPhone normally, and you want to easily restore iPhone from password forgotten backup, it is a rare assistant.
Detailed Steps for iPhone Restoration from Password Forgotten Backup
Step 1: Choose appropriate version of iTunes Password Genius.
Two versions, trial and full version are provided. But trial version only supports password no longer than 3 characters, while full version could recover all forgotten iPhone backup password, no matter how long or complex it is.
Step 2: Install and run the backup password recovery software on computer.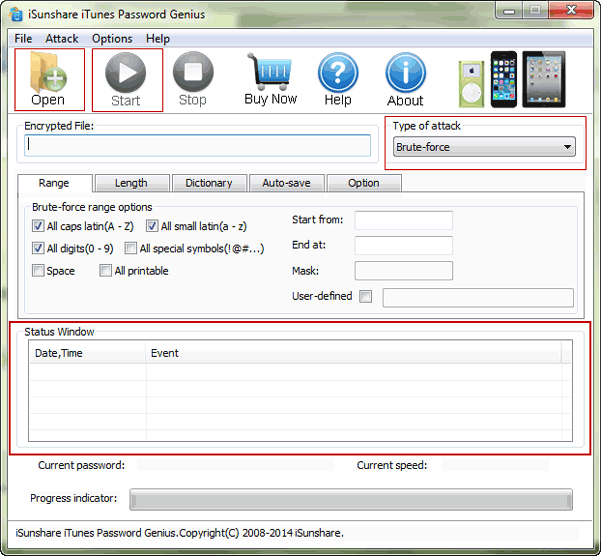 Step 3: Add encrypted iPhone backup file into password recovery software.
When you click Open button, latest iPhone backup file would be found out automatically. Click OK and it would be imported into iTunes backup password recovery software.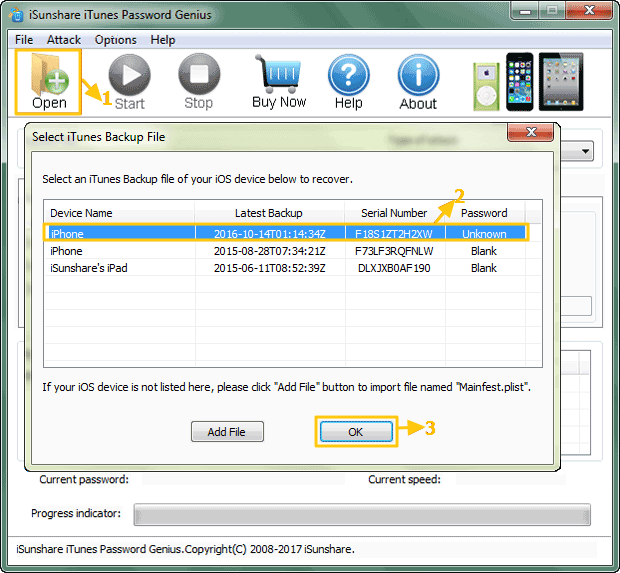 Step 4: Choose appropriate backup password recovery type.
Even though four password attack types are powerful, but not everyone could do the best for you to recover iPhone backup forgotten password. For example, if you set an accurate password length and range, or if you remember part of forgotten iPhone backup password, choose Mask and set Mask parameter, all these settings could save backup password recovery time.
Step 5: Start recovering iPhone backup forgotten password.
iTunes Password Genius would start to recover forgotten iTunes backup password once Start button clicked. Instantly, iPhone backup password is found and appears.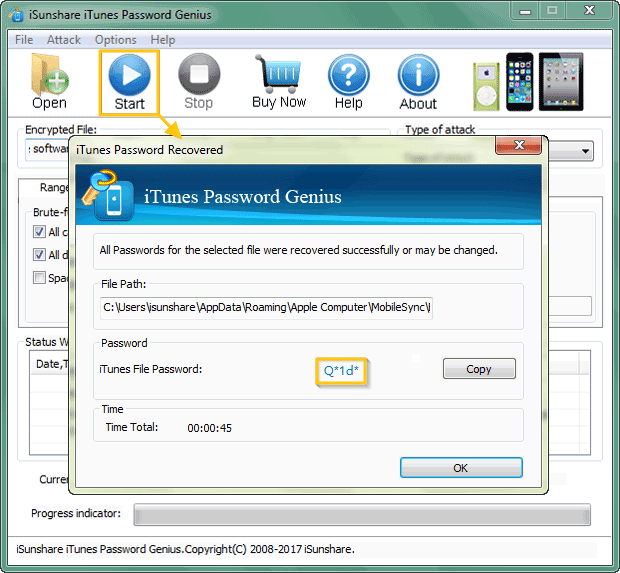 Step 6: Open iTunes and connect your iPhone to iTunes on computer. Click "Restore Backup" in iTunes and type the iPhone backup password in pop-up dialog to unlock iPhone backup. Then iPhone will be restored from this backup.
Tips: How to Restore iOS Device Data from iCloud and iTunes
Situation 2: Restore Newly-Used iPhone to Factory Settings
The way is the last choice for you since you will lose all the files in your iPhone. Once you perform to restore iPhone to its factory setting on iTunes, your iPhone will become a new device. So it had better be used when the iPhone is just used or there is no so much data on it.
Now following introductions are steps to restore iPhone(eg.iPad) to original settings on computer.
Step 1: Connect iPad to computer and choose "Restore iPad".

Step 2: Confirm factory settings restore, and enter iPad Recovery Mode. Or you can use iOSBoot Genius to help force iPad entering recovery mode when this doesn't work.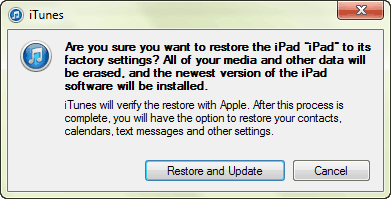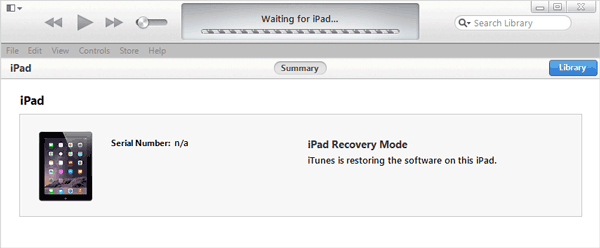 Step 3: When factory settings restoration is completed, enter iPad welcome window.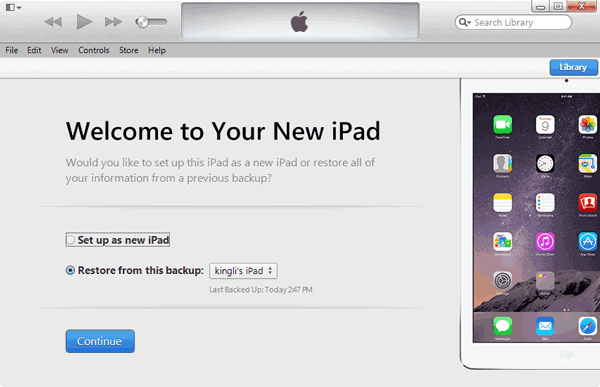 If there have ever been so much previous and precious data on iPhone, now they have been gone after factory settings. Therefore, we should make full use of "Restore Backup" function for reducing data loss from iPhone. If you have any questions about how to unlock iPhone backup during iPhone restoration from backup, please get iTunes Password Genius for help or see the Situation 1.
Related Articles: