How to Create New Admin Account on Mac When Cannot Sign in
Creating new admin account is available in Users & Groups when you have admin privileges to access Mac. However, if you cannot sign in Mac, is it still allowed to create new admin account? Surely it is even though that is not so easy to do like in Users & Groups.
Create new admin account in single user mode when cannot sign in Mac
Single user mode is a special startup environment, which boots Mac to a terminal-like interface where users can run commands to do what they want on Mac, such as repairing startup drive or creating new admin account etc.

Step 1: Start Mac in single user mode.
To boot Mac in single user mode, just need to power on Mac and hold on Command + S. If you fail, try another time.
Step 2: Mount the startup drive.
While you see a command prompt in the form of a ":/ root#", type the command below to make files accessible in the startup drive. Press Enter to continue.
/sbin/mount –uw /
Step 3: Remove the file to force OS X to boot like the first time.
Now you have the privileges to remove the files from drive. Run the command below, and it will remove the necessary file that can recognize your Mac are not booted at the first time when Mac restarts.
rm /var/db/.applesetupdone
But once it is done, you can enter "reboot" to restart Mac, and OS X would think that it is the first time you boot the currently installed OS X. So you can create new admin account during the setup process.
Note: Don't worry about your data on Mac would be lost or damaged. It would just go through the system setup process again. Nothing would be changed on Mac besides the new settings you make in the process.
Step 4: Create new admin account in setup process.
Mac restarts and displays the Welcome to Mac screen. Follow the wizard to choose your location, set your keyboard, choose the way to transfer data, set your Apple ID and agree the terms and conditions. At last, you will be asked to create an account for mac.
1. Default name for this account has been shown there. Surely you can change it but do not use the same name as the old administrator on Mac. Otherwise, data about this account will be deleted from Mac.
2. Enter password and confirm it. Click Next and Mac will save these changes.
Few minutes later, Mac will reboot and sign in automatically with the account you just created. You have new admin account and could use it to reset forgotten admin password for Mac or do whatever troubleshooting steps.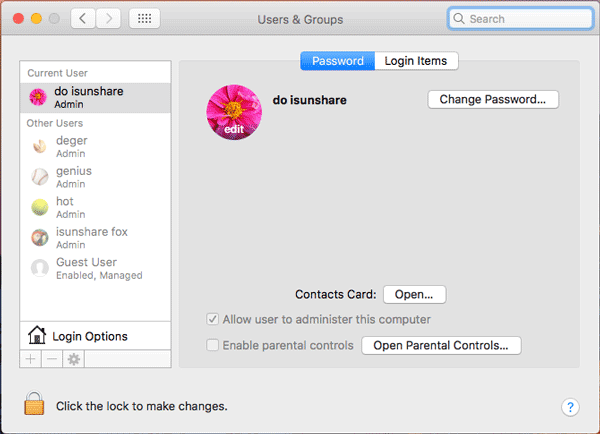 Related Articles: