Chntpw Doesn't Work on Windows 8 Laptop How to Do
I forgot password on Windows 7 computer, and use Chntpw to clear password and login computer without password successfully. And now my laptop installed with Windows 8 is locked, because administrator password has lost. So I search Chntpw and find the latest version could help to reset Windows 8 password, pogostick.net/~pnh/ntpasswd/cd140201.zip. But when I try to boot Windows 8 from it, it couldn't work.
What I have done on resetting Windows 8 password with Chntpw disk:
1. Burn image file into USB drive and set computer boot from USB device.
2. Chntpw runs, and after software and driver information show, Windows password reset prepare to begin.
3. Select Windows installation disk. When I select [1] to show Windows partitions only, a message prompts me that "the disk contains an unclean file system". And it suggests me to boot into Windows and shut down properly or force file system change.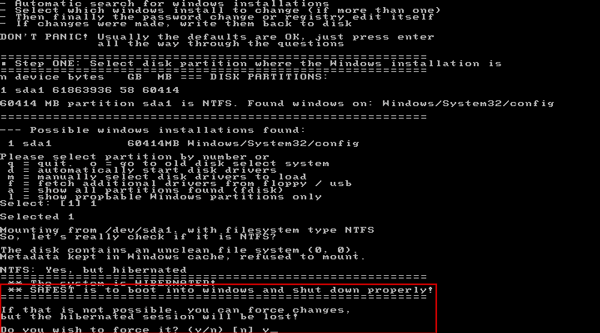 Unfortunately, all these ways have not made Windows 8 password reset. How to do when Chntpw doesn't work on Windows 8?
Here shows iSunshare password recovery tool for Windows 8 password reset with guarantee.
1. Get iSunshare Windows Password Genius Advanced and install it on accessible computer.
2. Burn password reset disk into USB drive with this tool.
3. Boot Windows 8 locked laptop from USB reset disk.
4. When Windows Password Genius program runs, select user account you want to reset password, and click "Reset Password" button.
5. After user password is removed, reboot laptop to access Windows 8 without password.
For more information, please turn to How to reset Windows 8 password with Windows Password Genius.
Related Articles: