How to Unprotect PDF File without Knowing PDF User/Owner Password
If you don't want user or owner password to protect your PDF document any longer, how can you unprotect PDF as you like?
Surely if you still remember PDF user and owner password, it would be a piece of cake. But if PDF password forgot or lost, whether you can easily unprotect PDF file without password? Can you directly remove PDF password and make password protected PDF file unprotected?
I haven't ever tried this. But I have tried PDF Password Genius to recover PDF file password, which gives me more choices. First, I could choose to save password and open password protected PDF file when I need. Second, open PDF file and remove forgotten password to unprotect PDF file. When you take it, I think you could find its other advantages besides this, such as efficiency and safety etc. Now let's see how it helps to unprotect our PDF document without PDF user and owner password at first.
Unprotect password protected PDF file without user/owner password
Section 1: Prepare PDF password recovery tool on your computer.
iSunshare PDF Password Genius has two editions, Standard and Professional. It is necessary to make a decision which edition is better for you because their working conditions and efficacy are different. On PDF Password Genius information page, you could get details about these. In short, if you have only one computer, Standard edition would be better. While you have not only one computer available in LAN, Professional would be more powerful.
Section 2: Recover protected PDF password on a computer or in a LAN.
Opt 1: While you download or pay for PDF Password Genius Standard, follow below to recover PDF lost password on your computer please.
2-1 After running PDF Password Genius Standard on your computer, click Open button to browse and choose protected PDF file. Then click Open button to add it into the PDF password recovery tool.
2-2 Choose one attack type from Type of attack appropriate for imported PDF file, and do parameters settings under it. An appropriate attack type and detailed attack settings could make PDF file password recovery more effectively.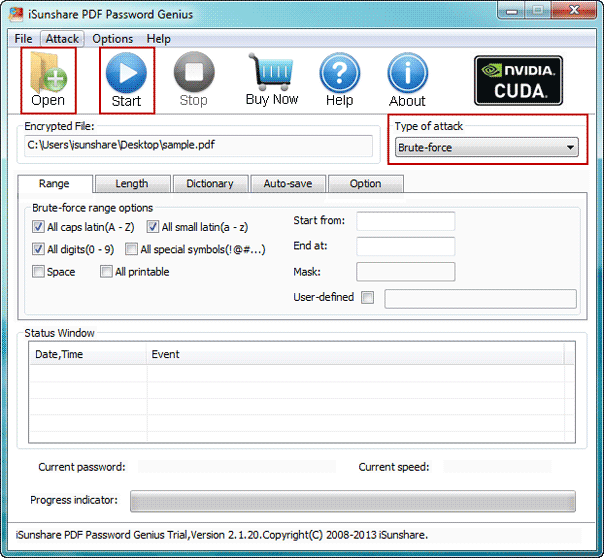 2-3 Tap on Start button to recover PDF password. You will get message about successful password recovery in few seconds or minutes.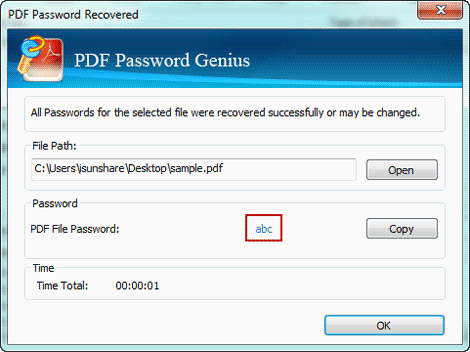 Opt 2: When you decide to take PDF Password Genius Professional, please make sure you have not only one computer in the same LAN to run client program. Otherwise, it would not different from choosing PDF Password Genius Standard and you cannot enjoy fast speed to recover PDF password.
1. Create client program installation file with Make Peer button on PDF Password Genius Professional. Then install and run the client program on other accessible PCs or laptops in the same Local Area Network (LAN).
2. Click Open button to import password protected PDF file. And specify probable password range and length for default Brute-force attack type, which will largely improve PDF user password recovery efficiency after main and client program work.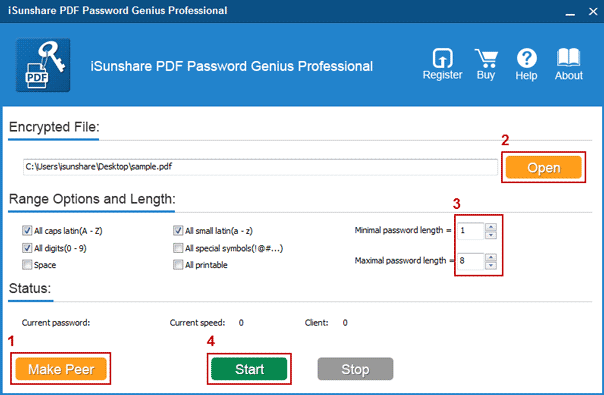 3. Begin to recover PDF forgotten password with both main and client programs after you click Start button on main program PDF Password Genius Professional. Generally, the more client programs works, the faster speed you can enjoy.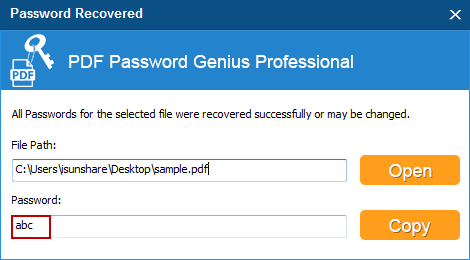 Section 3: Unprotect PDF file in Chrome browser.
No matter which way you choose to recover PDF user password above, now you can unprotect password protected PDF file in browser Chrome.
3-1 Drag protected PDF document into Chrome and enter user password when it asks, then click Submit button.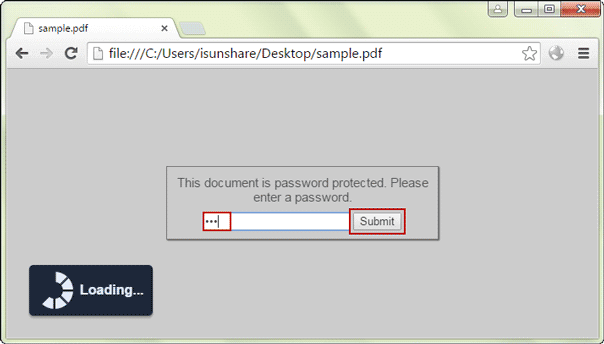 3-2 On right-bottom menu, there are several options you can do on opening PDF file. Now choose Save as option.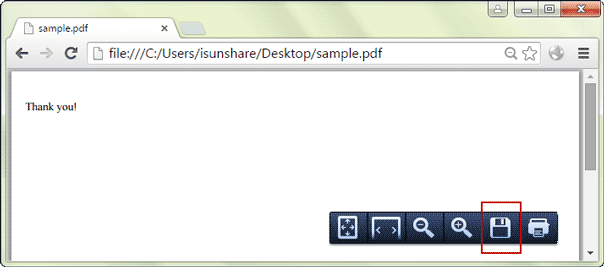 3-3 In pop-up Print dialog on Chrome browser, you need to make sure all pages would be saved as PDF file. So select Save as PDF and tick All option. Then click Save button at last.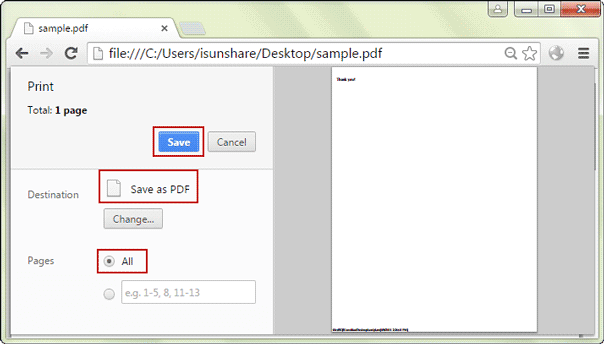 It would be no doubt that the password protected PDF file would be saved as new PDF file without password protection. You have successfully unprotected PDF file without knowing password.
Related Links: