PPT/PPTX File Password Reset after Forgot PowerPoint Password
Have you ever wanted to open encrypted PPT or PPTX file but found you have forgotten PowerPoint file password? Actually what you need to do only is to reset PPT/PPTX file password. Two effective tools will be introduced for you to reset PowerPoint file forgotten password below.
Office 2013 DocRecrypt tool can remove or reset Word, Excel or PowerPoint file password free. And according to the description of prerequisites of using DocRecrypt tool for PPTX file password reset, we know that this tool is generally available for organization. So while you have your own encrypted PPT/PPTX file that need to reset password, please get the other PowerPoint password recovery tool on your personal PC.
Prerequisites:
1. Client computer has been configured for password protection by group policy object or registry settings.
Set up a single client computer for password protection with registry settings.
Set up multiple client computers for password protection by using group policy object.
2. Admin computer has been set up with DocRecrypt tool and has admin access to private/public key pair.
Now, when all of above preparations have been made, run command prompt to reset PowerPoint 2013/2010/2007 file password with Docrypt Tool.
DocRecrypt –p 12345 –i PPTXfile
This command will remove the PowerPoint file original password and set a new password "12345" for it.
At this moment, we should consider sincerely is that which password recovery tool can effectively reset PPT/PPTX file forgotten password. Only a powerful utility is found, can we reset forgotten PowerPoint password with high efficiency and security. If you have no idea, let's try powerful iSunshare PowerPoint Password Genius dedicated to reset password for Microsoft PowerPoint 2016/2013/2010/2007/2003/2000 encrypted file.
Preparation: iSunshare PowerPoint Password Genius, encrypted PowerPoint file and personal PC.
Step 1: Install PowerPoint Password Genius and run it on your computer.
Step 2: Click Open button in menu to browse PPT/PPTX file in computer hard drive and add it into Encrypted File box.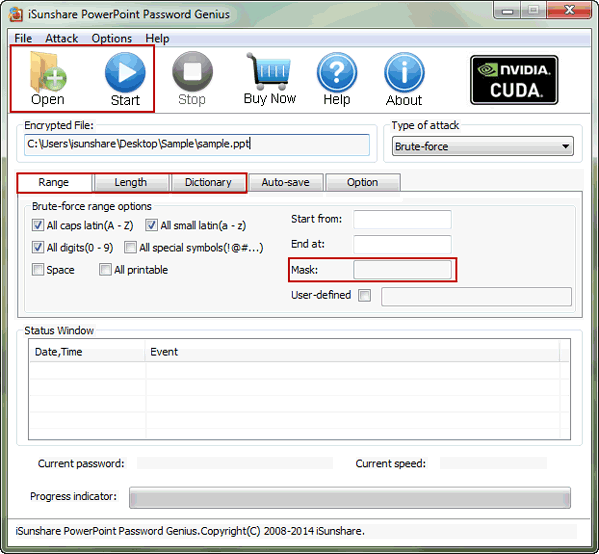 Step 3: Browse Type of attack drop-down list, compare four password attack types and choose one.
Step 4: Under "Encrypted File" and "Type of attack", there are several options which can make PowerPoint file password recovery faster, such as Range, Length, Mask and Dictionary file path etc. How to make settings for these options in details? Please refer to this.
Brute-force/Mask/Dictionary Password Recovery Attack Settings
Step 5: Click Start button in menu to begin recovering PowerPoint file password.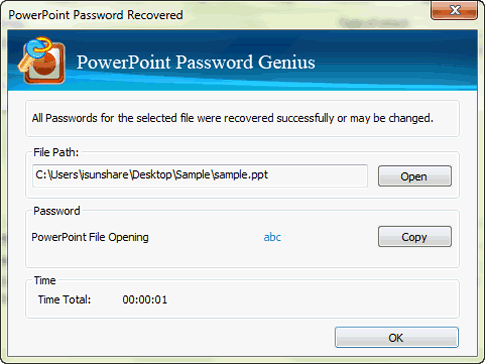 If it is pptx file, I think Office Password Genius Professional or Office Password Genius Advanced will recover PPTX password faster than PowerPoint Password Genius, because all of computers in the same LAN or WAN will work together to recover forgotten PowerPoint password at the same time.
Step 6: Copy PowerPoint password in pop-up window, and open encrypted PowerPoint file with it.
Step 7: Turn to File > Info > Password Protection > Encrypt with Password, type a new password in Encrypt Document dialog, and click OK.
Step 8: Type the same password again to confirm it. Click OK. (See the dynamic picture below)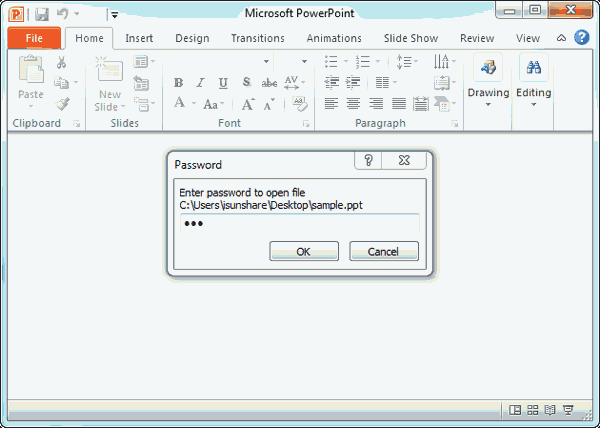 Related Articles: