2 Easy Ways to Disable Windows 10 Login Password
Everything has two points. Just like Windows password, undoubtedly it protects your computer from unauthorized access, but it would also make you worried if yourself forgot Windows login password. However, if you can disable Windows login password, the problem will not disturb you any longer.
Here will show two easy methods to disable Windows 10 login password to explain how we can log into Windows computer without password, no matter we are locked out of computer or not.
Method 1: Windows 10 disable login password by setting auto-login
netplwiz applies to windows 10 disable login password when you still could access computer. It could set computer auto-login with one specified user account from then on.
1. Open Run box with Win + R key.
2. Type "netplwiz" in Run box and press Enter.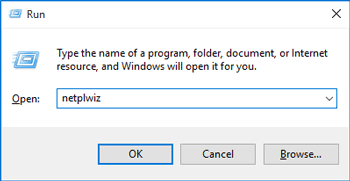 3. User Accounts dialog appears. Now uncheck the option "Users must enter a user name and password to use this computer".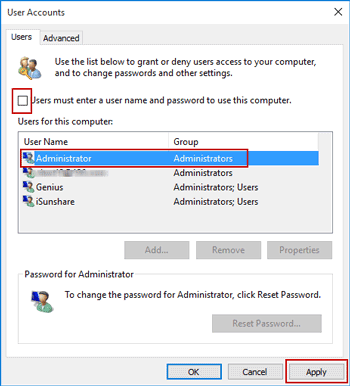 Note: Before uncheck the option, please select the user account you want to set computer login automatically with in user list for this computer.
4. Click Apply button and in pop-up Automatically sign in dialog, enter password twice for the user account you decide to automatically login Windows 10 computer with. Click OK.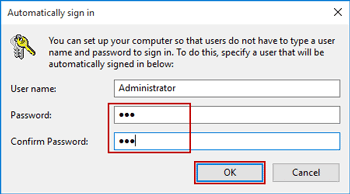 From now on, restart windows 10 computer and you find you could bypass Windows 10 login screen. Don't need to select login user and enter password.
Method 2: Disable Windows 10 login password by password removal
Besides setting Windows 10 auto-login when you can access computer, Windows 10 password removal will also disable Windows 10 password to log into computer. And the powerful third-party password removal tool, iSunshare Windows Password Genius Advanced could make Windows 10 password removal easy. It has an important advantage. That is it can safely reset or remove Windows 10 password without login computer. So if you forgot Windows 10 login password, please take it easy and use it to disable Windows 10 password.
Steps to Disable Windows 10 login password with password removal tool
Step 1: Get password removal tool, Windows Password Genius Advanced to run.
Windows Password Genius Advanced not only removes startup password for local user accounts, but also resets password for Microsoft account. Therefore, if it is setup for logon, you could disable Microsoft account forgotten password and create a new password "iSunshare@2012" for Windows 10 startup.
Step 2: Burn the program into bootable USB flash drive.
When Windows Password Genius Advanced runs on another accessible PC, or laptop, plug the writable USB flash drive you have into the computer. Then click "USB device" option on software and select inserted USB drive from drop-down list. At last, tap on "Begin burning" to format the USB drive and burn password removal program into it.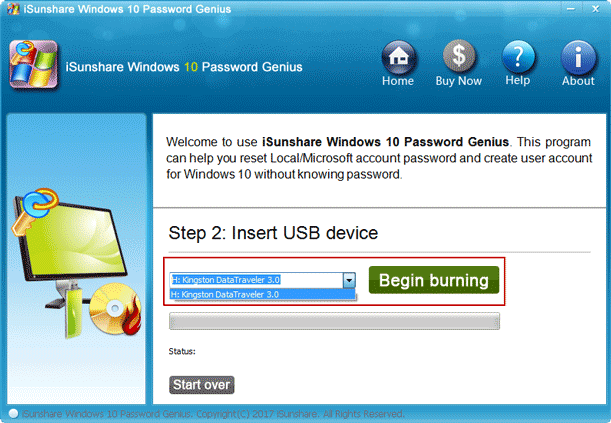 Step 3: Boot Win 10 computer from USB disc.
1. Insert the USB disc you have burned into Windows 10 computer.
2. Restart windows 10 computer and hold on pressing boot key when computer logo appears on screen.
3. Until Boot Menu appears, release the key and select USB drive to boot from.
Step 4: Remove and disable Windows 10 forgotten password.
On next appearing Windows Password Genius Advanced program, you could view all of user accounts in the Windows 10 computer. Select one account for Windows 10 login and click on Reset Password button. Then Windows 10 login password would be reset or removed. Local user password would be removed and Microsoft account password would be reset. Now in order to disable Windows 10 login password, only need to select local account and remove its password.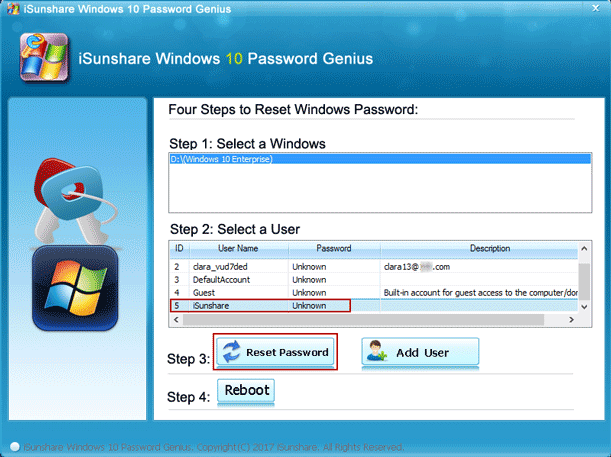 Tap on "Reboot" and "Yes" button, and eject the USB disc from computer. When you go to login screen in Windows 10 computer, select the local user you have removed password, and you could directly login Windows 10 without password. It means you have successfully disabled Windows 10 password after forgot.
Related Articles: