How to Login to Windows 10 Asus Laptop without Password
Forgot Windows 10 login password on Asus laptop? How to login to Windows 10 Asus laptop without the forgotten password? This is what the article will talk about in following page.
If you can find a utility that can help you recover Windows 10 forgotten password for logon, I should congratulate you. But if you can't, it doesn't matter. You still could login to Windows 10 Asus laptop by removing/changing Windows 10 login password or creating a new Windows 10 login user.
Way 1: Sign in Windows 10 Asus laptop with PIN code
Have you ever added a PIN code for any Windows 10 login user on your Asus laptop? If you have, just choose PIN and enter four digital codes to sign in Asus laptop. PIN is tied to the specific local physical device. You can try several times, but if it is still incorrect, your device will be locked.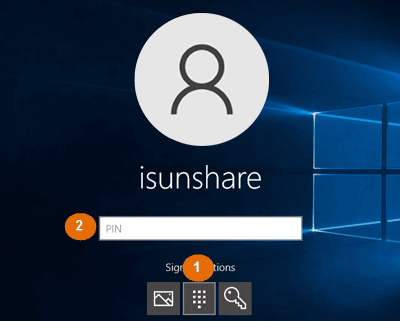 Way 2: Remove/Change password to login Windows 10 Asus laptop
Firstly, please make sure which kind of account you ever used to login to Asus laptop, local account or Microsoft account? It will determine which approach is more appropriate for you.
1. Microsoft account
Microsoft corporation has provided a free way for you to change Windows 10 Microsoft account password for login. Just go to the website https://account.live.com/password/reset on another computer, and you could easily change Windows 10 login password for Asus laptop
2. Local account
You have to choose an effective third-party utility to remove or change Windows 10 login password for Asus laptop local account, such as Windows 10 password reset disk, Windows 10 installation disc etc that what we all know.
However, if you are looking for a way to remove or change Asus laptop login password at once no matter the login user is Microsoft account or local account, iSunshare Windows 10 Password Genius is worth recommending.
Step 1: Install and run the iSunshare tool on an accessible computer.
Step 2: Make a boot disc with the iSunshare software and removal device.
In order to run the iSunshare Windows 10 password removal tool on locked Asus laptop, we need to burn it into a bootable USB flash drive (or CD/DVD-ROM). So that it can be used to reset Windows 10 password at any time for Windows 10 PC/laptop/tablet. Now just find a writable USB flash drive and insert it into the accessible computer, then choose it and burn the software ISO image file as a boot disc.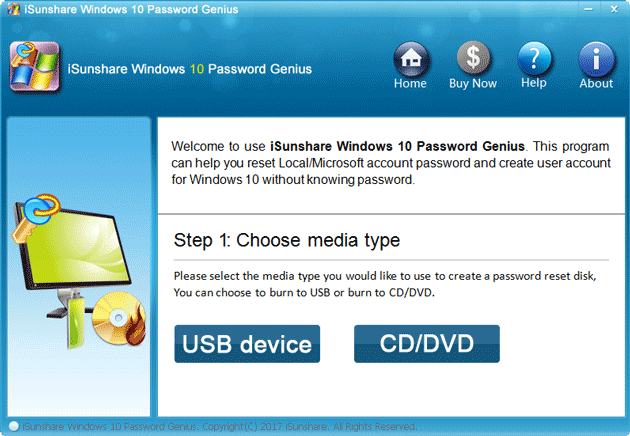 Step 3: Remove Windows 10 login password with boot disc.
After your Asus laptop successfully starting from the boot disc, confirm Windows 10 system and select the user account (local or Microsoft account) you want to remove password. Then tap on Reset Password and Yes button to remove Asus laptop login password.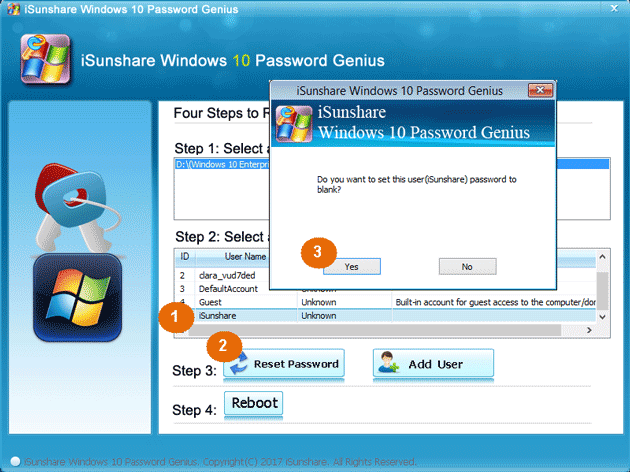 The last but not the least, the Asus laptop should be rebooted from hard drive. Then the changes you made would work on your Asus Windows 10 laptop. And you can take it to login to Asus laptop.
Way 3: Create a new Windows 10 local user for Asus laptop logon
If you don't want to use existing user account to login to Asus Windows 10 laptop, creating a new user is also allowed. But as we know, admin rights are required while we want to create a new local user account on Windows computer. So how can you do while you are locked out of Asus laptop because of password forgotten?
Now please check the utility in way 2, besides "Reset Password", "Add User" option is also provided on Windows 10 Password Genius, which is designed especially for users who would like to create a new user for a locked computer.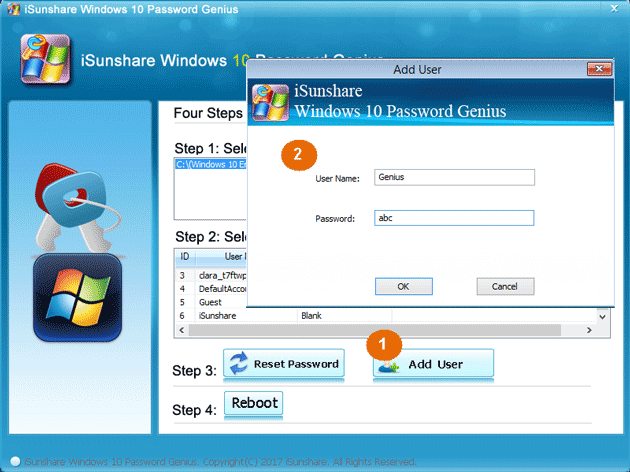 1. Click on Add User button and enter a new user name (and password).
2. Once Asus laptop reboots from hard drive later successfully, you will find the new user account on Windows 10 login screen. Just select it and login to Windows 10 without the forgotten password.
Note:
If your Asus laptop has a dual system, not only Windows 10, please choose iSunshare Windows Password Genius Advanced instead of Windows 10 Password Genius to remove Asus laptop login password or create a new login user for locked Asus laptop.
Related Articles: