How to Recover Windows 10 Password without Install CD
I am new to Windows 10 computer. But now I am locked out of computer and heard Windows 10 install CD could reset Windows 10 forgotten password free. How can I get it and use to recover my Windows 10 computer password?
Besides password reset disk, install CD is another free Windows 10 password recovery tool and it can be used to recover Windows 10 password while locked out of local account in computer. But if no install CD is available, how can you recover Windows 10 forgotten password?
Maybe you would ask why not create a Windows 10 install CD now? Surely you could make such an installation media in several minutes or hours, but the following steps are not so easy for everyone to recover Windows 10 password using command with the help of install cd. So why not get the chance and try more effective and easier ways to recover Windows 10 password without install CD? Just like the methods below.
Method 1: Recover Windows 10 Password with Help of Built-in Administrator
Built-in administrator has the highest privileges in Windows 10 computer. While Windows 10 password forgot, but if you can access computer with built-in administrator instead, Windows 10 password recovery would be not a hard problem.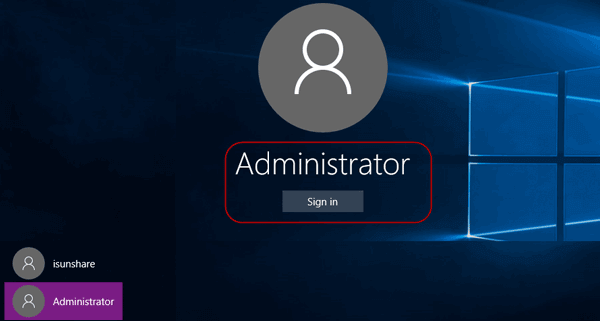 For example:
1. Run command prompt as administrator to recover Windows 10 password.
2. Open Control Panel or Computer Management to change Windows 10 password.
More details you can see how to change Windows 10 password with default administrator.
Method 2: Recover Windows 10 Password via Microsoft If Use Microsoft Account
While Microsoft account has been used to login your Windows 10 computer but now you forgot its password, please recover Windows 10 Microsoft account password on Microsoft password reset page (https://account.live.com/password/reset).
After opening Microsoft account password reset page on another computer, you will be asked to confirm the Microsoft account at first, and verify it by email or phone. Then you will be able to create a new password for Microsoft account.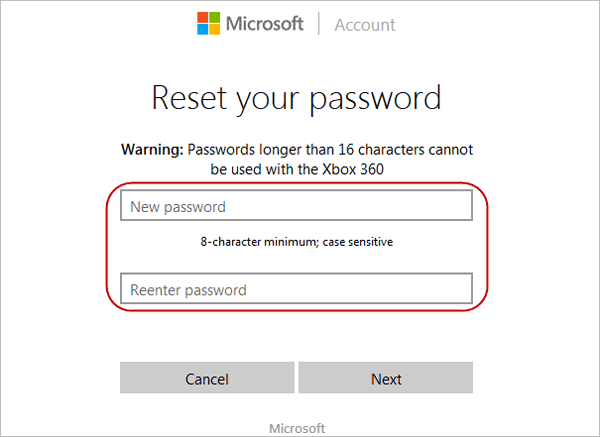 Method 3: Recover Windows 10 Password with Windows Password Genius Advanced
If you are looking for a way to recover Windows 10 password regardless of user account type, you are right here. Windows 10 Password Genius is a powerful Windows 10 password recovery tool which could recover all kinds of user password on locked Windows 10 computer. Please take it easy and use it to recover Windows 10 password for both local account and Microsoft account.
Step 1: Burn Windows 10 Password Genius into bootable USB.
1. Prepare an accessible Windows computer, writable USB drive.
2. Get and run iSunshare Windows 10 Password Genius on accessible computer.
3. Insert writable USB drive into this computer and select it as burning device on iSunshare program.
4. Tap on Begin burning button to format USB drive at first and then burn program into it.
5. At last, you will get a bootable USB which could remove local and Microsoft account password.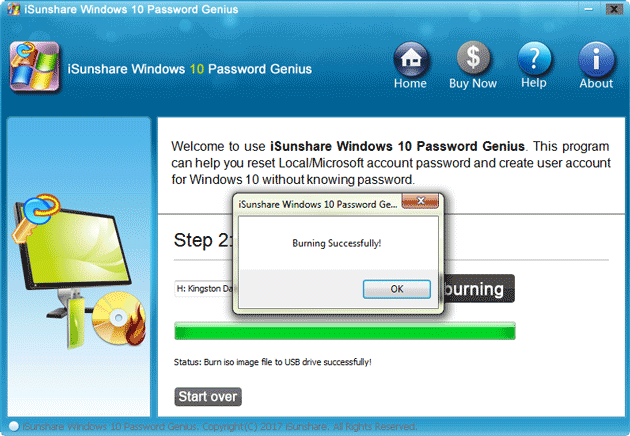 Step 2: Recover Windows 10 password with bootable USB.
1. Plug bootable USB into locked Windows 10 computer where you want to recover password.
2. Power on and run locked Windows 10 computer from USB drive.
3. While iSunshare program runs on Windows 10 computer, Windows system and user account information are listed.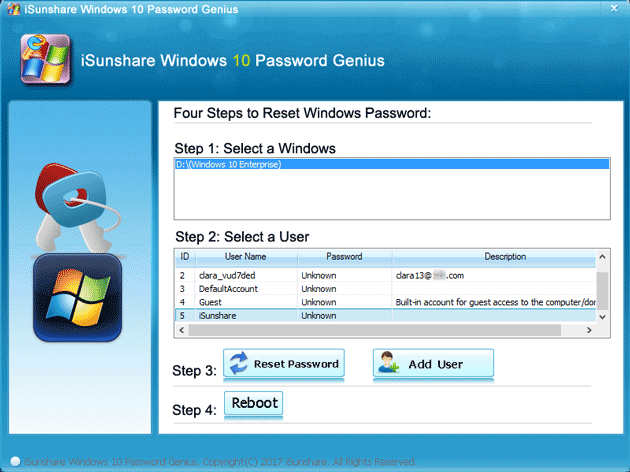 4. Select the user account (local user or Microsoft account) you need to recover password in Windows 10. Click on Reset Password button and then Yes to successfully recover Windows 10 password.
5. Want to see whether the Windows 10 password recovery works? Just tap on "Reboot" button, exit bootable USB and go to Windows 10 login screen. Select the local account or Microsoft account you have recovered password, and sign in Windows 10 with its new password.
Related Articles: