How to Remove Sign in Password on Windows 10 Computers
"I have lent my friend my Windows 10 computer. In order to protect my computer, I set a sign-in password only we know. But now I have gotten my computer back at home, so it is unnecessary to keep the sign-in password. Is there any way that can remove sign in password on Windows 10 computers no matter when we could access it or not?"
Don't want to enter sign in password every time when access Windows 10 computer? Here are 3 options for you to remove Windows 10 sign in password no matter when you are on login screen, or you have accessed computer with administrator, or computer just could boot from USB/CD.
Note:
They will work only for removing sign-in password of Windows 10 local account. If you want to use a Microsoft account, you just could keep a regular password, reset Microsoft account password but cannot remove it.
Option 1: Remove Sign in Password Windows 10 on Login Screen
As you see, there is an ease of access icon in the bottom right corner on Windows 10 login screen. And the default program you can run from it, utility manager (utilman.exe) has been set. But you still have chance to change the default program if you could change Windows system settings, which comes true with Windows 10 installation disc.
So get Windows 10 installation disc if you want to run a program, such as Command Prompt from ease of access icon to remove sign-in password on login screen.
Preparation: Windows 10 install cd, Windows 10 computer
Step 1: Enable Command Prompt on Windows 10 login screen.
1. Plug the install CD into Windows 10 computer and power on computer to boot from CD.
2. Press Shift + F10 to open Command Prompt while you see the prompt to install Windows 10 system.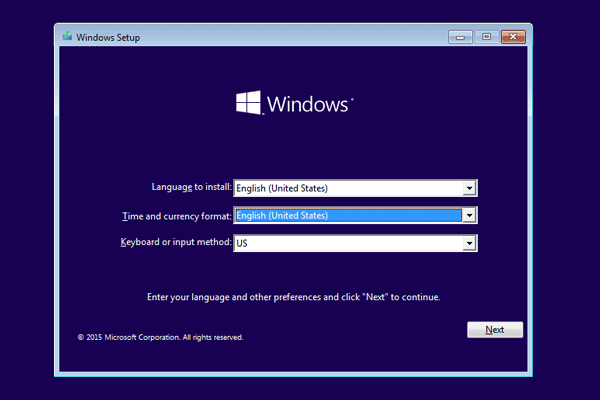 3. Type the commands that could make a copy of utilman.exe and replace it with cmd.exe. (system disk: d:\)

4. Type "wpeutil reboot", press Enter and instantly exit install CD to restart computer from hard drive. Now you can run Command Prompt from ease of access icon on Windows 10 login screen.
Step 2: Remove Windows 10 sign in password with command on login screen.
1. Click the ease of access icon, and Command Prompt is open.
2. Type the net user command to remove Windows 10 login password.
Type command "net user <username> *" and press Enter twice, and the user password will be removed.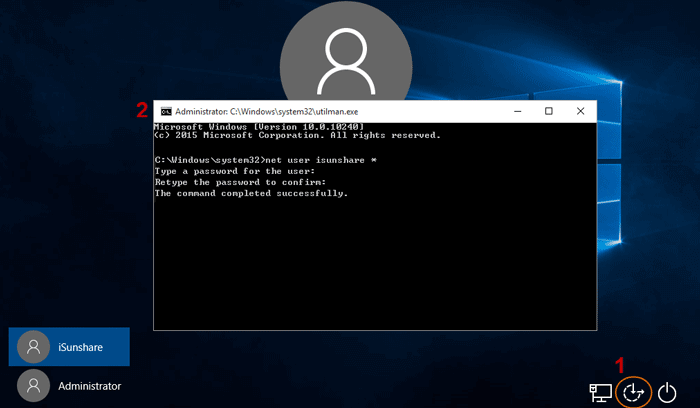 3. Close Command Prompt window and sign in Windows 10 without password.
Refer to: Reset Windows 10 Local Admin Password Using Command Prompt
Tips:
It doesn't matter if you don't want to restore the cmd.exe and utilman.exe now. But when you want to restore them to original location, just follow the Step 1 to reboot Windows 10 computer from install CD and only need to change the location of utilman.exe back to original folder d:\windows\system32.
Option 2: Remove Sign in Password after Windows 10 Boot from USB
If no Windows 10 install disc is in your hand, finding a powerful Windows 10 password removal tool at any time to burn a bootable USB or CD is a good alternative.
Preparation:
1. Windows 10 password removal tool: iSunshare Windows 10 Password Genius
2. Writable USB flash drive or CD-ROM
Step 1: Make a bootable USB with Windows 10 Password Genius.
1. Find another Windows computer to install and run Windows 10 Password Genius.
2. Insert writable USB drive into this computer and choose it on Windows 10 Password Genius.
3. With a click on Begin burning button, a bootable USB disk is made successfully in few seconds.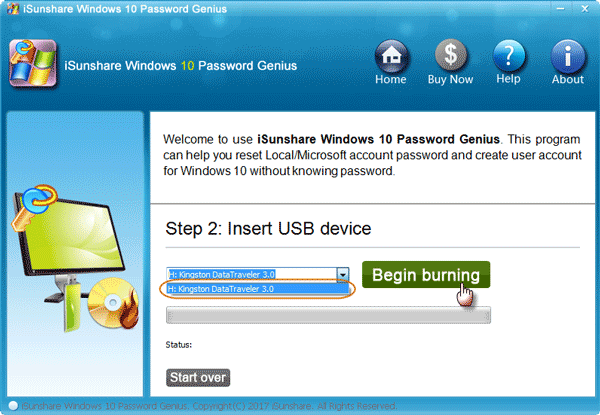 Step 2: Remove Windows 10 sign in password after booting from USB disk.
1. Connect the USB disk to your power-off Windows 10 computer.
2. Power on it and boot computer from USB drive successfully.
3. Then on your Windows 10 computer, Windows 10 Password Genius runs and lists all the user accounts and their password information.
4. Select the login user (local account) from them and click on Reset Password and then Yes button.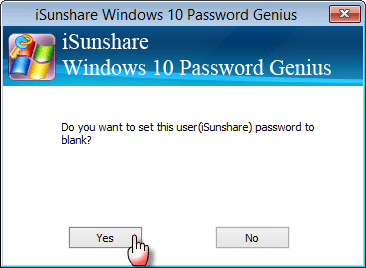 5. User login password is removed instantly. Tap on Reboot now to restart computer after USB disk remove. Then sign in computer without password. No data loss and damage on your Windows 10 computer.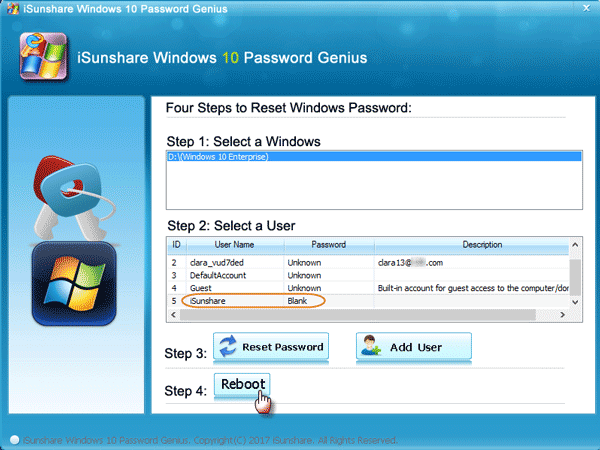 Note:
If your computer has dual system installation, such as Windows 10 and Windows 7, only Windows 10 Password Genius will not work for Windows 7 to remove sign in password. At this moment, if you want to remove sign in password for both Windows 7 and 10 on computer, iSunshare Windows Password Genius will help you, because that applies to all Windows systems.
Option 3: Remove Windows 10 Password after Signing in with Administrator
Surely, if you could access your computer with administrator, then above methods will become unnecessary for you. Just on Windows 10 computer with administrator privileges, you would find lots of ways that can change or remove any user login password, such as command prompt, control panel, computer management.
Note: 3 methods to change Windows 10 password with default administrator
But if you just want to remove current sign-in administrator password in Windows 10, follow the steps to do in PC settings.
1. Click Start from right edge of the desktop screen, and choose Settings > Accounts.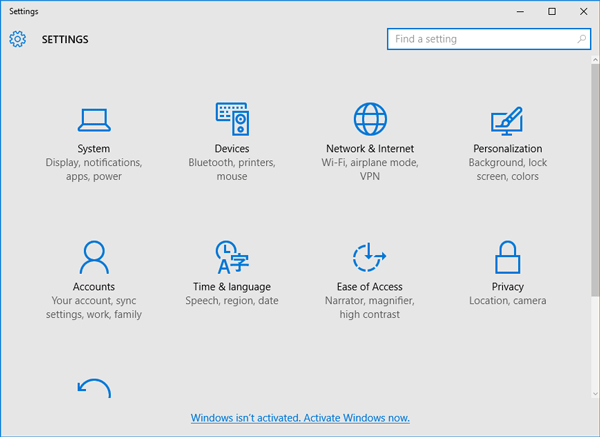 2. Tap Sign-in options and under Password, click Change.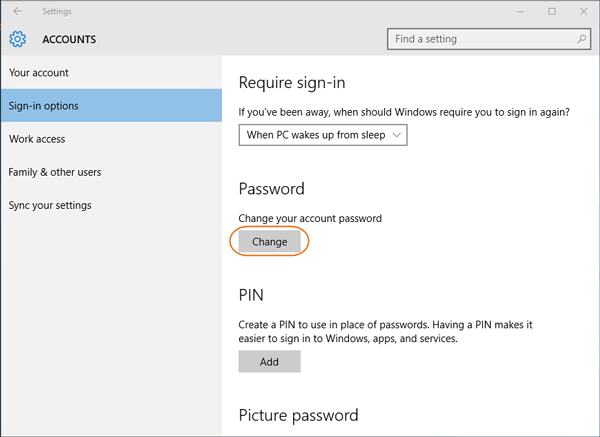 3. Verify the current password for your administrator.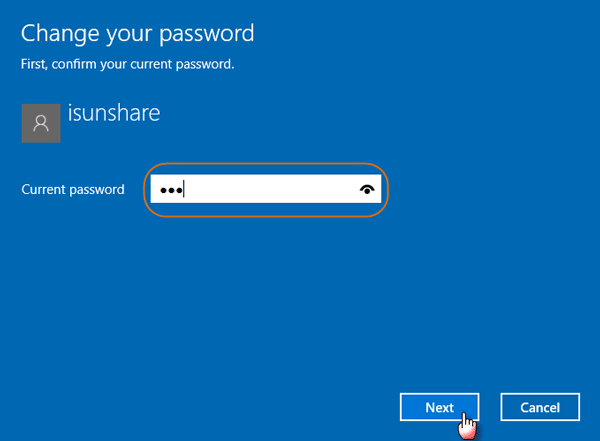 4. Leave the New password, Reenter password, and Password hint fields blank. Click Next and then tap on Finish to remove current user password.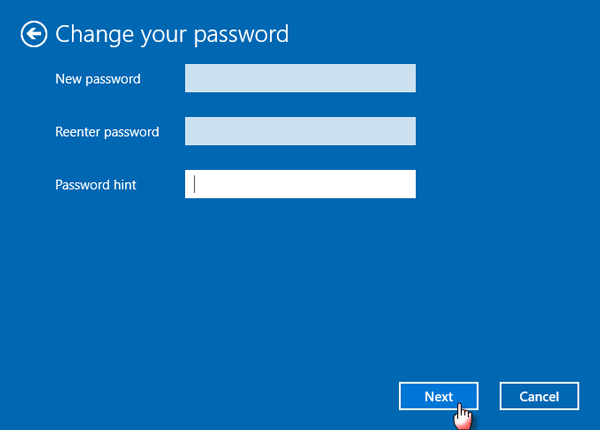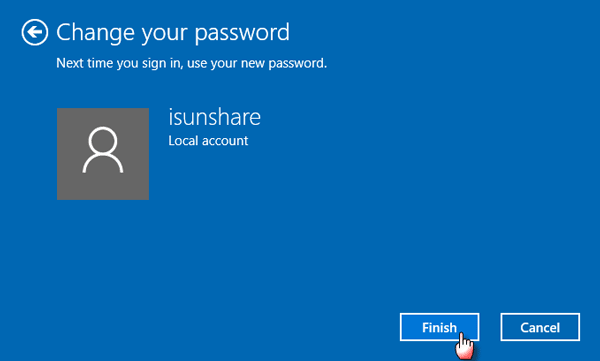 Now if you sign out and try to sign in with the same administrator again, you will find no password is required to access Windows 10 computer.
Related Articles: