How to Remove Windows 8 Password for Sign in
"When I try my best to have bypassed Windows 8 lock screen and start screen, a new problem comes to me. How can I bypass Windows 8 sign in screen? I want to access Windows 8 without through any barrier, even though they are set to make computer become safer. Is there any effective way?"
About effective ways to bypass Windows logon screen, they have to remove login password without any data loss and damage. And iSunshare Windows Password Genius, netplwiz, modify registry, password reset disk, PIN code, picture password and another available administrator can be used to login Windows 8 or remove password. Though it seems to be too much for you to choose, if you don't have more knowledge about Windows 8 and haven't made any preparation, most of these ways still couldn't work for you.
So in this passage, mainly talk about how to remove Windows 8 password with iSunshare Windows Password Genius Advanced in high speed and best result.
1. Preparation.
Windows Password Genius Advanced, another computer and bootable drive (USB or CD/DVD) are three neccessary utilities we have to prepare before removing Windows password. USB flash drive and CD-DVD ROM are used to burn password reset disk. So take one of them is OK.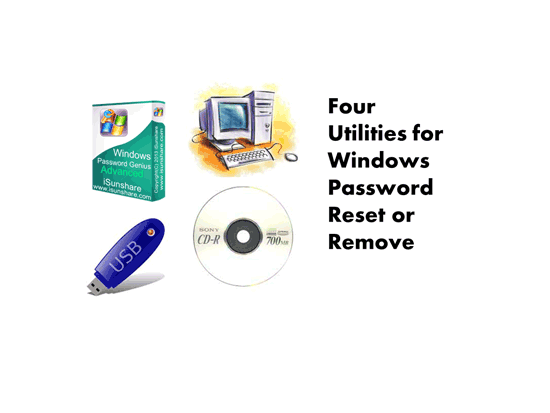 2. Install Windows Password Genius on another computer
Tips:
If you get trial one, you only remove password with it.
If you get one full version, both remove password and add new user can be available for you.
3. Create Windows Password Reset Disk
Insert bootable drive into computer and run Windows password software, and then choose burn media, USB or CD/DVD.
For example, you just have inserted USB, and you have to choose USB. If you insert CD or DVD, you have to choose them too.




Click Begin burning to create password reset disk.



A message will pop up, which warn you that burning disk will be formatted and all data on it will lose. Click "Yes" to go on password reset disk burning.




Few seconds later, when a message pops up with "Burning Successfully", close password software and exit bootable device. Windows password reset disk has been burned into it.


4. Boot Locked Windows 8 Computer from Reset Disk
Plug bootable drive with reset disk into locked Windows 8. And start it and enter BIOS to set it boot from bootable device, USB or CD/DVD.
5. Remove Windows 8 Password
5-1 After locked computer boots from drive with reset disk, Windows password software runs. Select Windows users and click Reset Password and press Yes to make sure remove its password.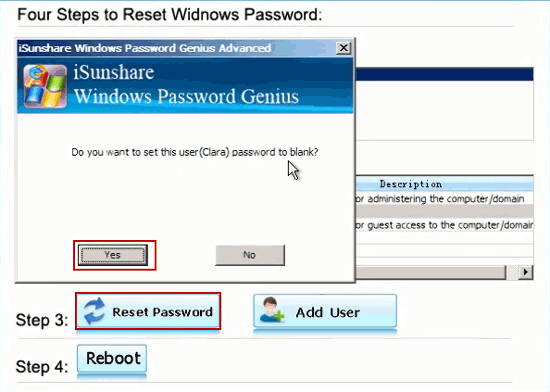 When you see the user password become from "Unknown" to "Blank", it means that you have removed Windows password successfully.
5-2 And Add User depends on password software version you choose and your wish. If it is full version of Windows Password Genius Advanced, just click the button and type user name. An account without password will be created.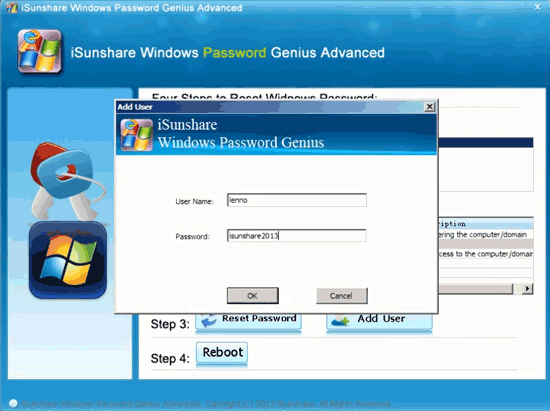 Topics you may be interested: