How to Print A PDF in Windows 8/8.1
To print materials from computer seems to become an indispensable part of a family as well as a company. So the technique of printing must be acquired in the modern life. BTW, have you learned this skill? If you haven't, you'd better work harder to make it yours. And right in this article, you can learn how to print a pdf file in Windows 8/8.1 computer.
Steps to print a pdf in Windows 8/8.1 computer:
Step 1: Unfold a pdf document with the help of Reader.
Step 2: Open Print.
Press the shortcut key of Ctrl+P to open Print, as shown in the following screenshot.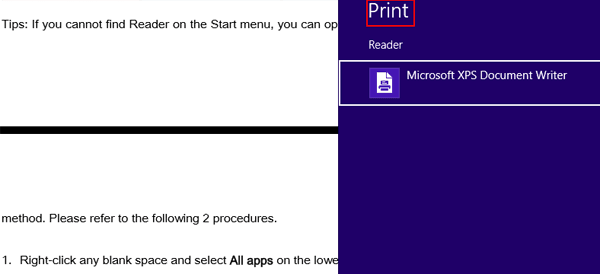 Step 3: Choose document writer.
Select Microsoft XPS Document Writer in the Print screen.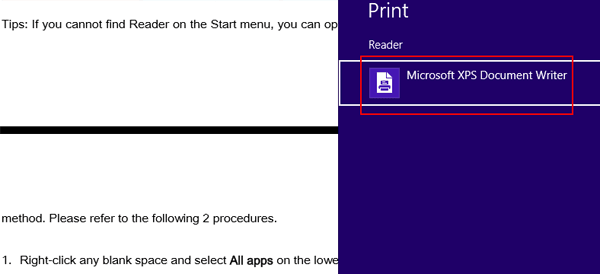 Step 4: Decide the pages to be printed.
You can print all pages, the current page or the specified pages. For more info, please refer to the 3 kinds of pages settings below.
1. Keep the pages setting as All pages if you want to print out all of them.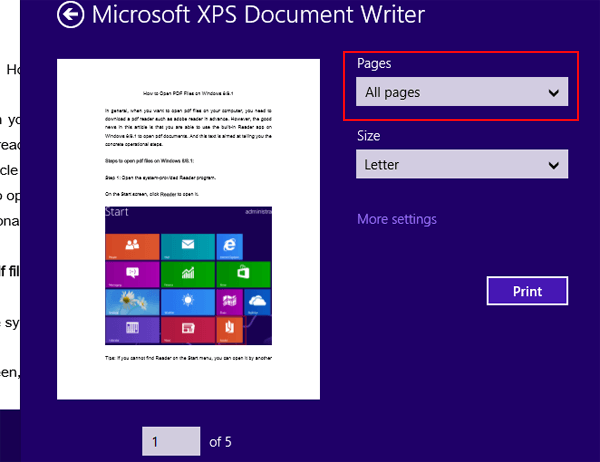 2. Suppose you would like to print certain page, you can define the page by inputting the page number on the lower left, click All pages and choose Current page.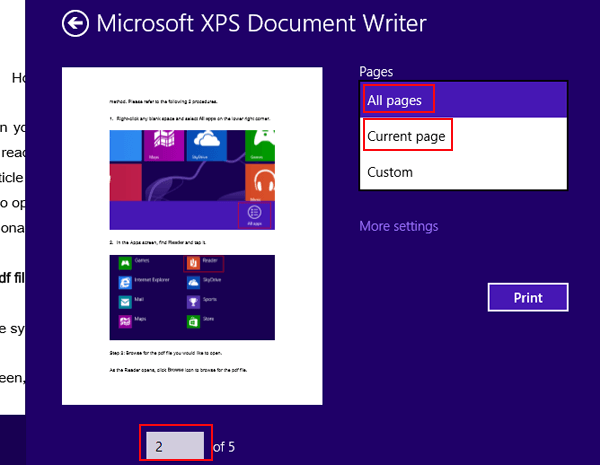 3. If you want to print several pages, you can first tap All pages and select Custom.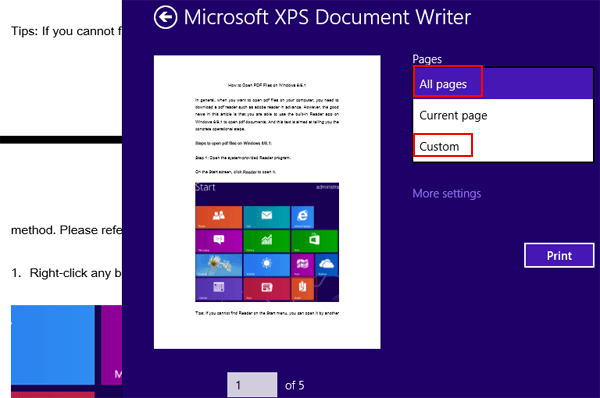 Then, enter a range or page numbers in the empty box under Range.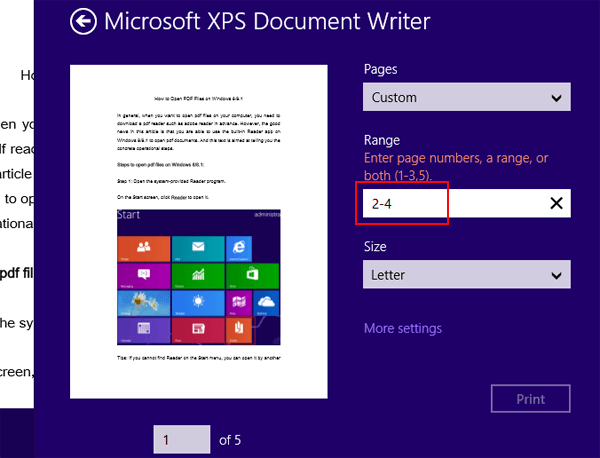 Step 5: Select size.
Under Size, click Letter and choose a size from Letter Small, Tabloid, Ledger, Legal, Statement, Executive, A3 or A4 in the pull-down list.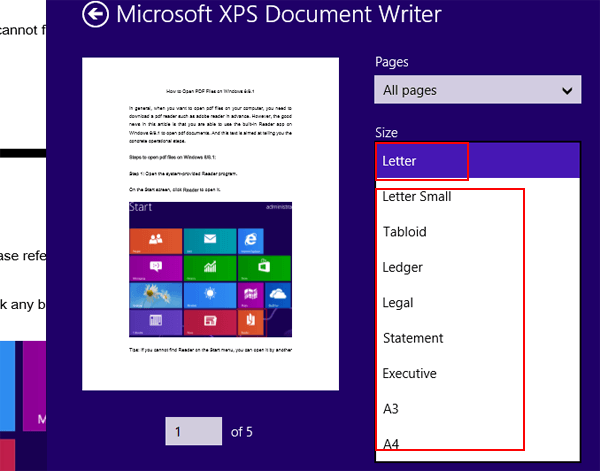 Step 6: Determine page orientation. (Optional)
The orientation of page is set as Portrait mode (also referred to vertical mode) by default. If you want to change the orientation to Landscape mode (or horizontal mode), you can follow the two procedures below.
1. Tap More settings.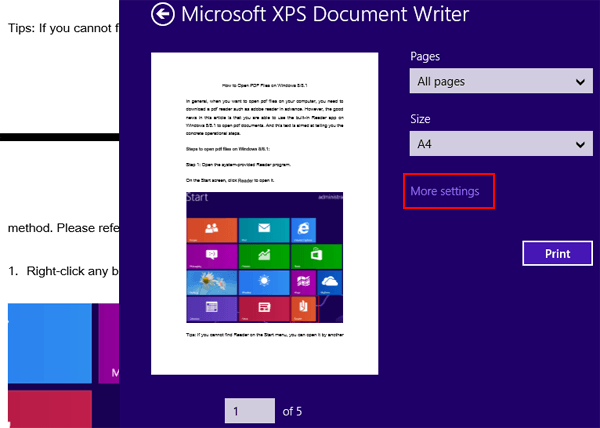 2. Click Portrait and choose Landscape in the menu.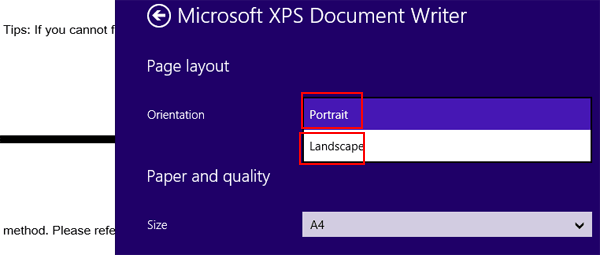 Tips: You can also change the page size here.
3. Tap the back arrow to go on.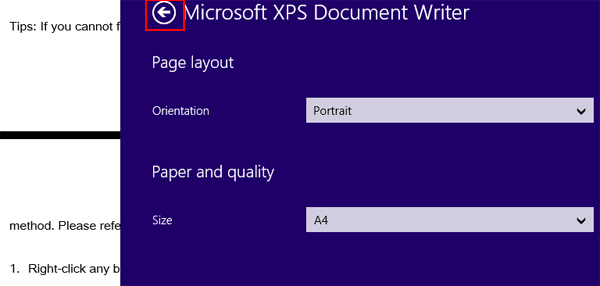 Step 7: Print the pdf pages out.
Click Print button to print them out.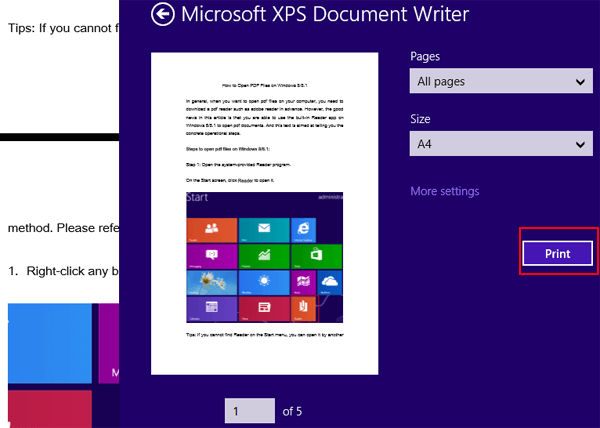 Now that the clear steps to print a pdf in Windows8/8.1 computer are illustrated minutely in this article, you can follow them to practice your printing technique.

Related Articles: