How to Bypass MDB Encrypted File Password
Could I bypass MDB password to open encrypted Access database file?
This question can be surely solved. But database password would not be so easily bypassed when it is not known. Probably, most people haven't known that the MDB database password, when set, is stored as plain in the MDB file header. So when you cannot open MDB database file, how can you get its password manually?
It is also worth mentioned that, the MDB database password, when set, is obfuscated with a simple XOR pattern algorithm based on the file creation date or time. The pattern that saves MDB database password increases the difficulty to manually get MDB password, let alone bypass MDB database file password.
Manually looking for MDB password is difficult, but how is find MDB password with tool automatically? As long as MDB password is found, bypass MDB file password will be a piece of cake. You don't think so? The following article would tell you whether it can come true.
Section 1: Prepare MDB password recovery tool.
1. Download MDB password recovery tool from Internet or website www.isunshare.com.
Now we download Access Password Genius to have a try. Office Password Genius is also availble for MDB file.
2. Install it on your computer where MDB file is saved.
3. Run it after complete installation.
Section 2: Get encrypted MDB file password with tool.
1. Click "Open" button, browse encrypted MDB file on computer. Select and add it to Access Password Genius.
2. Select one password attack type from "Type of attack".
3. Click "Start" button after you think you have made password recovery attack settings.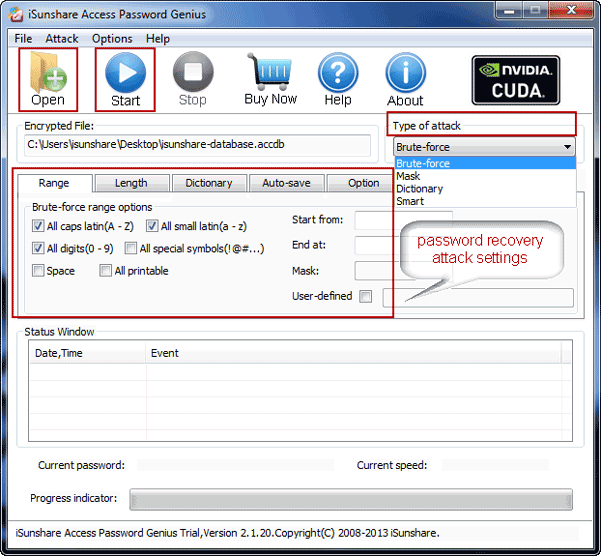 4. Get MDB file password on pop-up window.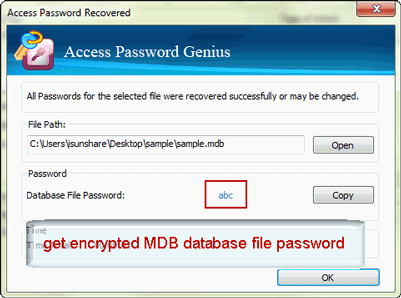 Section 3: Bypass MDB file password.
1. Copy MDB file password on pop-up window and open encrypted MDB file in Open Exclusive mode.
2. Click File - Info on opening MDB file. Click "Decrypt Database" and paste MDB file password in "Unset Database Password" dialog. Click OK to remove encrypted MDB file password.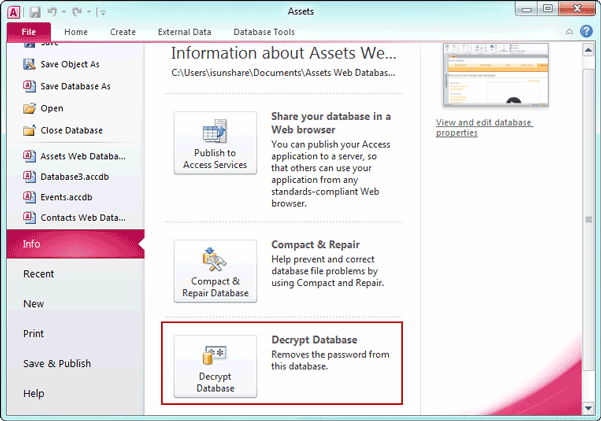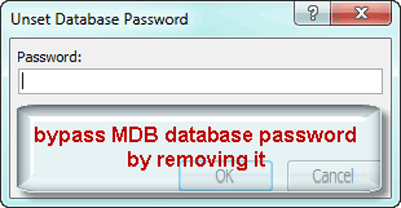 Next time, when you open MDB file in Access, you can bypass MDB database password and open it directly.
Related Articles: