Forgot Dell Latitude Tablet Windows 8 Password – How to Reset
Are you locked out of Dell Latitude Tablet? Do Windows 8 login password forgotten? Restore it to factory set maybe solve this problem, but it will remove all the data on your tablet at the same time. So if you are a tablet PC newbie, I recommend you the Windows Password Genius tool. Believe that Dell Latitude Windows 8 password reset will be easy and without any data loss.
How to reset Dell Latitude Windows 8 password?
1. Download it from iSunshare official website, and click the software to install it on an accessible computer.


Windows Password Genius Advanced Trial
2. Launch it and plug USB into computer to prepare burning reset disk
3. Choose burn reset disk with USB device. Make sure you select the appropriate USB device and click Begin burning. Sometime later, burning USB password reset disk is successfully over.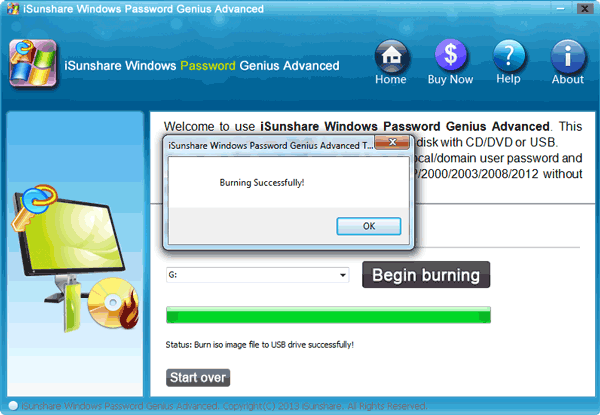 4. Plug USB reset disk into Dell Latitude Tablet and boot it from USB device.
Turn on the tablet PC and hit F2 from keyboard dock or volume- rocker at startup. In the BIOS, navigate to the System Configuration > USB Configuration and enable the Boot Support option, then go to Secure Boot > Secure Boot and disable the Secure Boot option. Apply settings and Exit.
5. Hit F2 from keyboard dock or hold down volume+ rocker at power-on. Choose USB reset disk and press Enter. Automatically Dell tablet starts with Windows PE operational system. Windows Password Genius program also runs automatically after Windows PE booting. You will find all of Windows user accounts list on the program. Choose the account password lost, and click on Reset Password.
6. Reboot Dell Latitude tablet and you can then log into Windows 8 without any password.
Forgot Dell Latitude tablet Windows 8 password? It's easy to reset Windows 8 password with Windows Password Genius tool.
Articles you may be interested:
How to Reset Password on Acer Iconia W700 Windows 8 Tablet How to Login Laptop after Forgot Password with Reset Disk