How to Unlock HP Elitepad Tablet without Windows 8/8.1 Password
Forgot Windows 8/8.1 password on HP ElitePad tablet and locked out of it? Learn to unlock HP ElitePad tablet without password now in this article.
According to the type of forgotten HP tablet password, you can choose appropriate way from above list to unlock HP Windows 8/8.1 tablet.
Way 1: Unlock HP ElitePad Tablet with PIN code/Picture password
While HP tablet login account is local user and it has PIN code or Picture password, you can click Sign-in options under password input box, and select PIN code or Picture password option to login locked HP ElitePad tablet.

But if you have no PIN code or Picture password for login user, or the login user is Microsoft account, the way would not work. But don't worry, following ways can be your choice.
Way 2: Unlock HP ElitePad tablet by resetting local user password
Suppose your HP ElitePad tablet is locked with local account and you have created password reset disk when it is accessible, now you can reset HP tablet local user password with disk. And unlock HP tablet with new local user password.

1. Click Reset password button under password input box after HP ElitePad locked.
2. Plug password reset disk into locked HP ElitePad tablet.
3. Click Next button on following window Password Reset Wizard.
4. Follow the wizard to reset Windows 8 password with reset disk after forgot.
5. Exit password reset disk from HP tablet, and login HP tablet with local account and its new password. Your HP tablet will be unlocked with local user new password.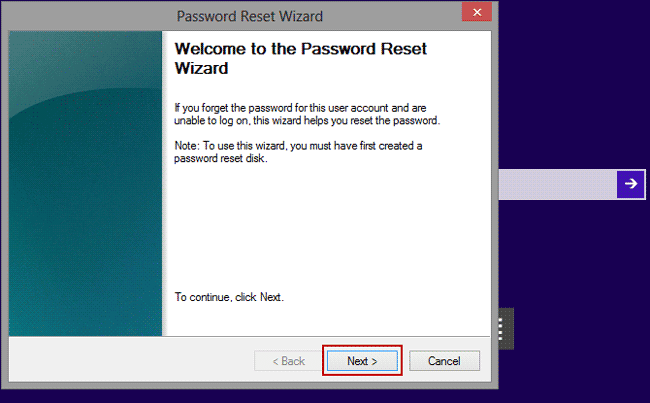 Way 3: Unlock HP ElitePad tablet by removing local user password
Even though you have no other sign-in options and password reset disk when HP ElitePad tablet is setup logon with local account, you still can unlock locked HP tablet without password anytime, as long as you have Windows Password Genius Advanced.
Just need to remove local user forgotten password from locked HP tablet.
Step 1: Create password reset disk with iSunshare Windows Password Genius Advanced.
Find another available computer and install and run Windows Password Genius Advanced there. Then insert writable USB flash drive into computer, and choose USB device. At last, select inserted USB drive and click Begin burning to burning password reset disk into formatted USB drive.
Step 2: Boot locked HP ElitePad tablet from password reset disk (USB drive).
Plug USB reset disk into your HP ElitePad tablet. Press and hold the volume down button and the power button simultaneously to turn on the tablet and display the Startup menu.
Choose F9 Boot options and select the external USB flash drive as the boot device. Your Elitepad will start the WinPE operating system. After a while you'll see the Windows Password Genius Advanced program, which locates all your Windows 8 user accounts, including local account and Microsoft account.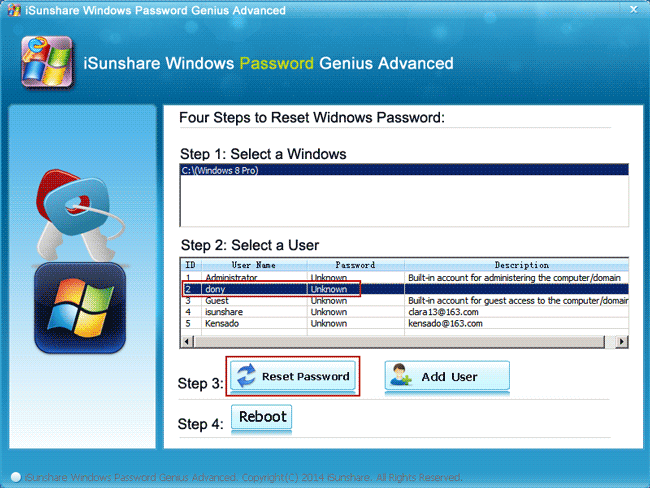 Step 3: Remove HP ElitePad tablet forgotten local user password.
Select local account in user list and click Reset Password button. Instantly you will successfully remove forgotten Windows 8 local user password. Restart the tablet and remove USB drive, and you could login into locked HP Elitepad tablet without password.
Way 4: Unlock HP ElitePad tablet by resetting Microsoft account password
After your HP tablet boots from USB reset disk successfully, you can see also Microsoft account on Windows Password Genius Advanced program. Just select it and click Reset Password button, then Microsoft account password would reset as default one "iSunshare@2012".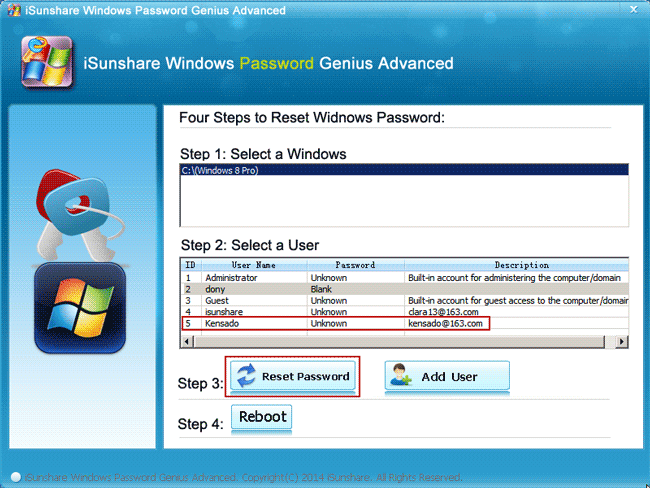 Surely, besides the third-party password recovery tool, online password reset service provided by Microsoft also works. Refer to the article and see how it resets Microsoft account forgotten password free.
Refer to: How to reset Windows 8 Microsoft account password
But in summary, you will find the best way is still Windows Password Genius, which will not only reset forgotten Microsoft account password, but also remove local account password. So no matter your HP Elitepad tablet is locked by local or Microsoft account, it will help to unlock HP Elitepad tablet easily at one time.
Related Articles:
How to Get into Locked HP Spectre 13 Laptop without Password Forgot Windows 10 Password to Unlock Samsung Notebook 9