How to find your Windows 8 product key
Have you just installed Windows 8 and lost product key? But unfortunately your Windows 8 is broken suddenly and has to be reinstalled. How to find your Windows 8 product key and reinstall Windows 8 with product key?
Don't be nervous, because there are so many product key finder software now for you to find Windows 8 product key, such as iSunshare Product Key Finder and Belarc Advisor.
1. iSunshare product key finder
This kind of product key finder software helps you to find Windows product key, including finding Windows 8 product key in registry and recovering Windows 7 product key etc. It not only acts on Windows operational system, but also applies to Microsoft Office, Internet Explorer, Visual Studio, SQL Server, Exchange Server, VMWare, Adobe and many more products. It is an easy and effective product key finder application.
Step 1: Download iSunshare Product Key Finder, install and run it.
Step 2: Recover Windows 8 product key.
Click "Start Recovery" menu and wait a few seconds. You will see the software installed on your computer and their Product Key, Product ID. Windows 8 product key lists in it.
Tips: Only shows no more than 5 characters of the product key for the trial version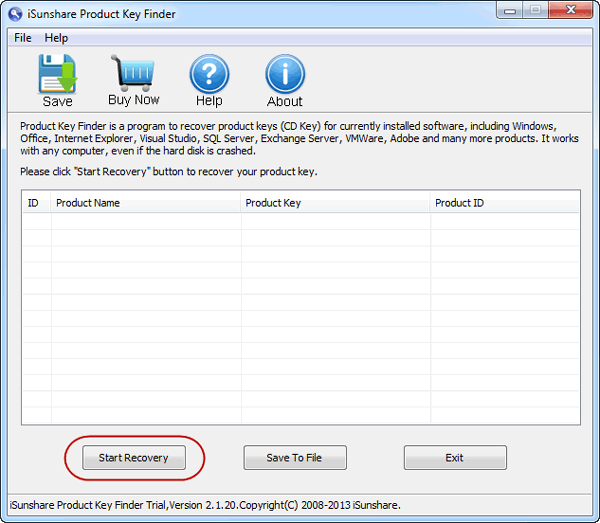 Step 3: Save product keys for Windows 8 and other software
Press "Save to File" or "Save" button on the menu bar; then all these software and their product keys will be saved in a notepad.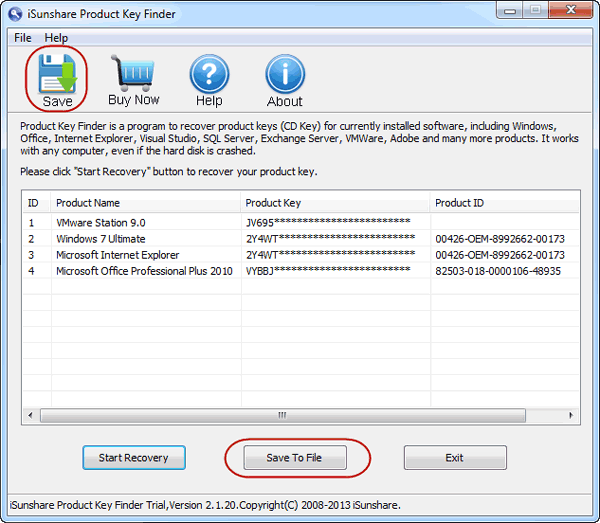 After all the works finished, you can reinstall Windows 8 with its product key.
 2. Belarc Advisor
As a free product key finder, it attracts so many people to use it. And it is one of the favorite product key finder software all the time. The advantage of Belarc Advisor is its ability to extract product key for many software programs, including for Windows, and display of information in your browser window and  other important computer data. Belarc Advisor finds product keys for all kinds of Windows operational system and other software, such as Microsoft Office, Microsoft enterprise products, most programs from Adobe, Nero, Corel, and more, as well as keys for popular video games.
Step 1: Download Belarc Advisor.
Step 2: Install it on your computer following instructions during the installation.
Step 3: Run Belarc Advisor on computer and note that Windows 8 code displays on software licenses box.
Step 4: Write down or save all the software product keys on your computer.
Or copy Windows 8 product key to reinstall Windows 8 operational system.
If the above product key finder software still couldn't find product key for you, you can request a replacement product key from Microsoft or buy a new copy of Windows 8. Certainly, the methods will cost you some.
Related Passages:
Windows Server 2012 Forgot Administrator Password Find or Change Windows server 2012 product key – How to do