How to Get My Windows Server 2008 Product Key
I want to reinstall Windows Server 2008, however I lost my server 2008 product key. And you know every 180 days, we will get a new activation key again for Windows Server 2008. This is because Windows server 2008 adopts new product activation mechanism – KMS. The KMS keys, also called product keys, are changed usually in purpose of anti-privacy.
So now I have to retrieve or find Windows server 2008 product key instantly with effective methods. If it is true like that, iSunshare Password Product Key Finder is your smart choice. Just three steps are needed and you can use it to find other software product key at the same time, such as Microsoft Office, IE, SQL Server, VMware and Visual Studio at the same time. Now let's begin to find product key for Windows server 2008.
Step 1: Download, install and run product key finder on your computer
Your computer has ever installed with Windows server 2008.The installation is easy. You only need to follow installation introduction. But this is a trial version, only you can see the first five characters of product key code. Full version of product key finder will help you to find your server product key in a few seconds.
Step 2: Find product key for Windows server 2008
Just click "Start Recovery" and the software begins to get product key and product ID from registry. After a while, product keys of Windows server and other software will list in the window. Now, product key recovery has finished.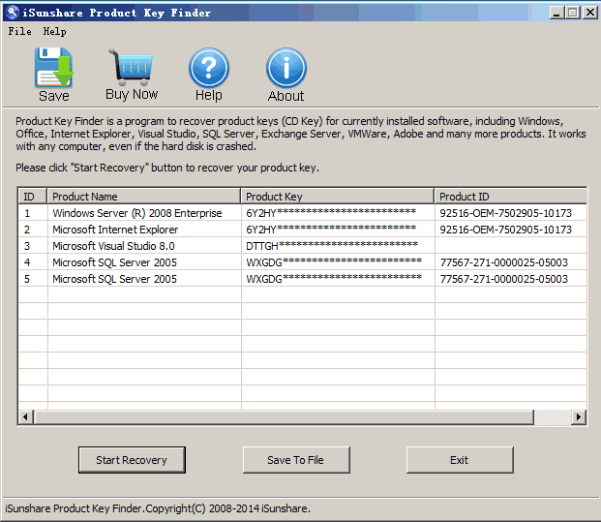 Step 3: Save product key
Press "Save" or "Save to File", all of product key you can see will be stored in a notepad.
Product key finder not only find Windows server 2008 product key, but also generate a notebook which records product key and product ID for Windows, Office, VMware, Visual Studio and SQL Server etc. This is its advantage.
If you want to try to ask for a copy of your Windows server 2008, you also can contact Microsoft customer service (1-800-936-5800) and whether you can get the product key validated. If you couldn't get last, iSunshare product key finder always helps you and remove trouble on product key from now on.
Similar Topics:
Find or Change Windows server 2012 product key – How to do How to Open Password Protected Word Document