Common Way to Back up Android Phone – Mobile Manager
After Android mobile phone factory reset, or some apps uninstallation, data would be lost from Android phone undoubtedly. However, this is not what we want it happen. So in order to restore Android phone lost data, we just could back up them before erasing Android phone or uninstalling Android apps.
And in our impression, mobile manager could make Android phone work better. It does lots of things to manage Android apps, including back up Android app data. Therefore, if you want to make a backup of Android phone data, mobile manager should be a good choice.
How to Back up Android phone data with mobile manager?
Step 1: Open your Android phone, and enter Settings – Developer options.
Step 2: In the DEBUGGING part, turn on or check USB debugging.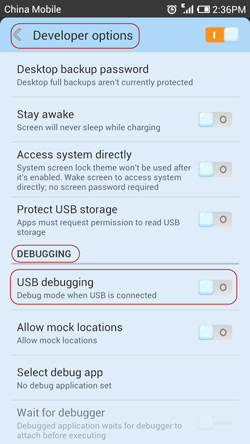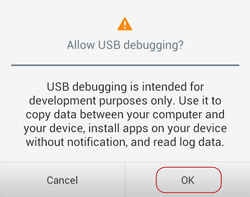 Step 3: Install one mobile manager you trust on computer, such as Tencent Mobile Manager, Mobile Phone Assistant or SnapPea.
Step 4: Connect Android phone to computer with USB cable, run Tencent Mobile Manager and wait for mobile phone recognized.
Step 5: When your Android phone is recognized by mobile manager, click Backup & Restore under General Tools.
Step 6: Now there are two options in Backup & Restore screen, one is "Back up Data", the other is "Restore Data". "Back up Data" has been chosen by default, so mobile manager will automatically identify data that can be backed up. And then we can select some data we want to back up and custom backup file location.
Step 7: Once all of settings finished, click "Start Backup" to really make a copy of contacts, messages and app data.
Note: Do not disconnect Android phone to computer during backup process.
Step 8: When data backup is completed, please interrupt Android phone from computer. Until one day you want to restore Android data, just make full use of "Restore Data" function in mobile manager.
Even though every mobile manager app is different from others, the steps are still simple and similar, so we just follow wizard to back up Android data with mobile manager.
Related Articles:
Cell Phone Data Recovery – Recover Android Phone and iPhone Lost Data Effectively How to Back up Android App Data to Cloud without Root