How to Set, Manage or Remove User-Level Security from MDB File in Access 2010
Once user-level security referred, we should know it is available only in *.mdb file, which is created usually by Access 2000/2003. However, the popular Access version most of us use now is Access 2007, 2010 or 2013. All of them create *.accdb file, so whether user-level security could be managed for MDB database when it is opened in Access 2007/2010/2013.
Now let's see how to set, manage or remove MDB file user-level security in Access 2010.
Option 1: How to set and manage MDB file user-level security in Access 2010
Believe most of people are using Microsoft Access 2007/2010/2013, so we take Microsoft Access 2010 as example. But please pay attention to this, when you have MDB files with user-level security and open it in Access 2010, you cannot manage user-level security in Access 2010 like in Access 2003.
Step 1: Open the .mdb or .mde file that you want to administer.
Start Access 2010, click File tab and Open button to browse *.mdb or *.mde file you would like to administer. When you find, select it and click open.
Step 2: On the Database Tools tab, in the Administer group, click the arrow below Users and Permissions, and then click User-Level Security Wizard.
If you found there is no Administer group in Database Tools tab, you should add Administer to Database Tools at first.
1. Open Microsoft Access 2010.
2. Click File tab and choose Options.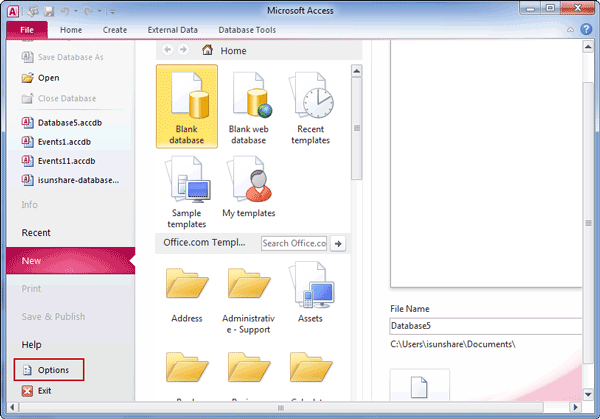 3. In Access Options window, click Quick Access Toolbar.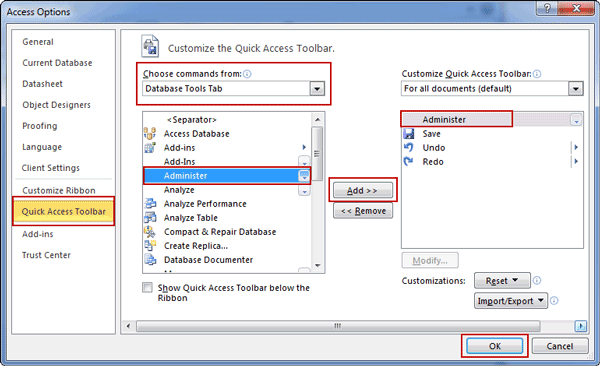 4. In the right pane, customize the quick Access Toolbar.
4-1 Browse Choose commands from list in the right pane and choose Database Tools tab.
4-2 You would find Administer under "Database Tools tab". Double click it and it will be moved from left frame to right frame.
Or select "Administer" and click "Add" button. It will be in the right frame under Customize Quick Access Toolbar.
5. Click OK to confirm changes in Access 2010 Database Tools.
Step 3: Follow steps on each following page to complete wizard.
Option 2: How to remove user-level security from MDB file in Access 2010
While you don't want MDB file protected with user-level security, you can remove user-level security from the file by saving the *mdb file as an *.accdb file while working in Access 2010. This is because that user-level security becomes unavailable after MDB file is converted to ACCDB file.
1. Click the File tab in Access 2010.
2. On the left pane, click Save Database As. The Save As dialog box appears.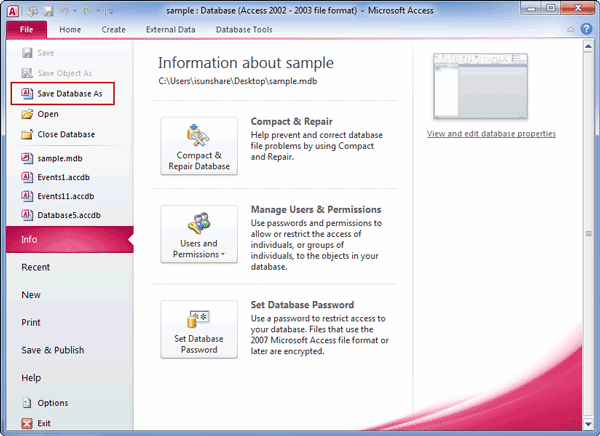 3. Browse computer in Save As window and find a location in which to save the converted database.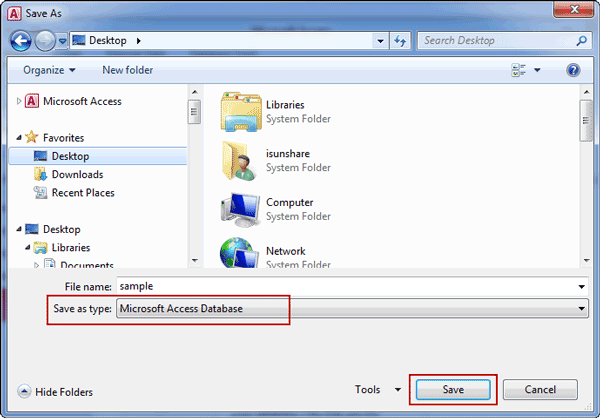 4. In the Save as type list of dialog bottom, select Access 2007 Database (*.accdb) or Microsoft Access Database.
5. Click Save.
Related Articles:
How to Backup Access Database and Restore Data or Objects How to Remove Password from ZIP File with ZIP File Password Remover