Windows 7 Password Reset without Disc after Windows Login Failed
I have tried all the accounts for Windows 7 login, but all of them couldn't login Windows 7 successfully. I have not prepared password reset disk or installation disc, repair disc. How can I do to reset Windows 7 password even without disc?
Since you don't have any disc for Windows 7 password reset, we can create disk for Windows 7 password recovery first, for example, password reset disk.
So we have to seek for software that can be used to create a password reset disk. Ophcrack, Windows 7 Password Genius? Because of limitations on Ophcrack, now I recommend you Windows 7 Password Genius. Let's begin to create password reset disk with it.
Step 1: Prepare available computer, bootable USB or CD/DVD drive and iSunshare Windows 7 Password Genius.
Step 2: Install Windows 7 Password Genius on available computer, and run it.
Step 3: Insert bootable USB disk into available computer. When the Windows 7 password program detects the USB, choose it as password reset disk burning device.
Step 4: Click "Begin burning" to burn reset disk into USB device.
Step 5: After burning successfully, exit USB from available computer.
Now the password reset USB disk can be used to reset Windows 7 password on any computer.
Reset Windows 7 Password with password reset disk created by software.
1. Plug USB reset disk into locked Windows 7 computer, set computer boot from USB or removable device.
Start Windows 7 computer and press Del at the same time. Enter BIOS settings screen, remove USB as the first boot choice and save these changes.
About other special boot settings methods for different computer, please refer to:
How to set computer boot from USB
 2. Start locked computer again, and computer will boot from password reset disk naturally.
On the password reset window, you will see all accounts for locked Windows 7 computer listed. Choose one of them and click "Reset Password", you can successfully remove the account's password. It means that when you login Windows 7 with the account, it doesn't need password longer.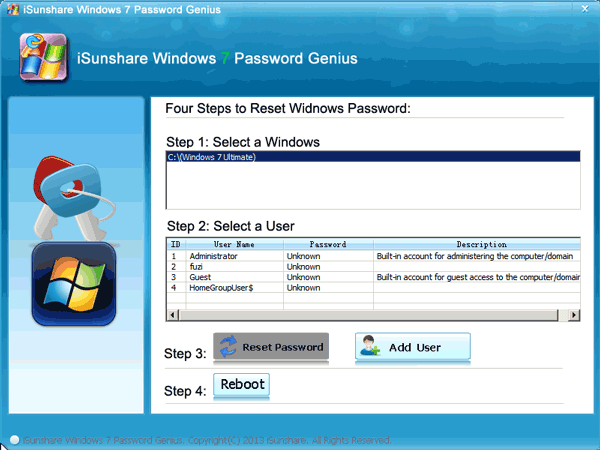 So far, Windows 7 password reset with disk has been completed. Disc is not necessary for Windows password recovery, as long as you know other available methods.
Related Articles:
How to Reset Windows 7 password without Reset Disk
Forgot Windows 7 Password Have no Reset Disk – How to Get in
Recovery Disc for Windows 7 Home Premium Admin Password Reset
Recovery Disc for Windows 7 Home Premium Admin Password Reset Forgot Administrator Password on Windows Vista HP Laptop