Detailed Explanation of HDD Password Function
We have seen most articles talk about HDD password, but get half-baked knowledge after reading it. In this text, we will show you a detail explanation of HDD password function, including advantage/disadvantages of creating HDD password, and how to create HDD password.
Advantage and Disadvantages of Creating HDD Password
In BIOS setting, HDD password contains user password and master password. You can set passwords for both or user only.
Advantage: This feature doesn't take up CPU processing capacity, because it is provided by the underlying hardware of hard disk, and HDD password is operating system software independence. In other words, it will not appear compatibility problem with other systems.
Disadvantages: This requires motherboard firmware and hard disk support HDD password function. For now, almost all hard disks support HDD password. As to motherboard, in ordinary, notebooks and some brands of the desktop computer such as the business modules computer of Lenovo and Dell, all support HDD password. However, the low-end motherboards for the DIY market may not support HDD password function.
Note: If the motherboard doesn't support HDD password while the hard disk does, you can use software such as hdparm to set a password for the HDD. However, it can't be used to boot anymore.
How to Create HDD Password
Here is the processing of creating HDD password:
Step 1: Go to the BIOS settings while start or restart your computer.
Step 2: Press the right arrow key to locate to Security tab, find out the keyword of HDD password.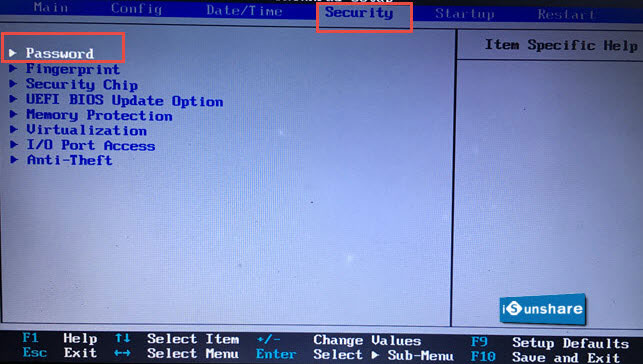 Step 3: By default, the HDD password function is disabled. Hit Enter key to setup HDD password.
Step 4: When the Setup Confirmation dialog pops up, select User + Master.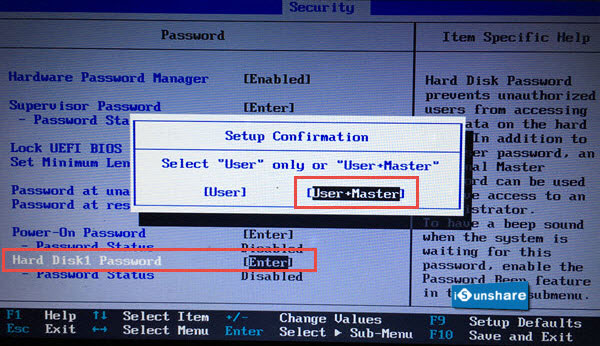 Step 5: Click on Continue and input the user password for twice then repeat the same steps to set the master password.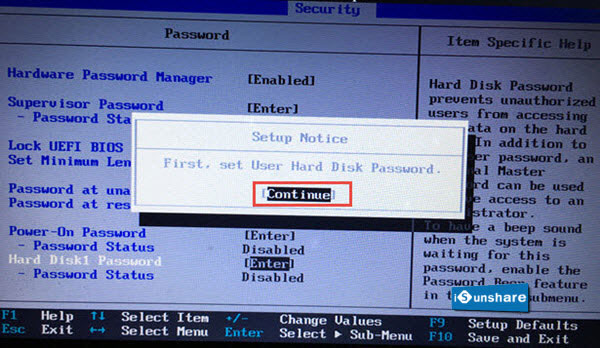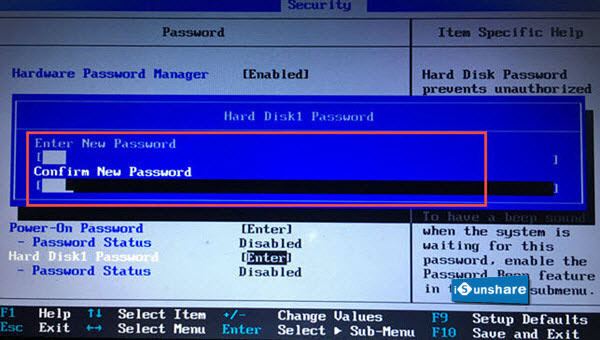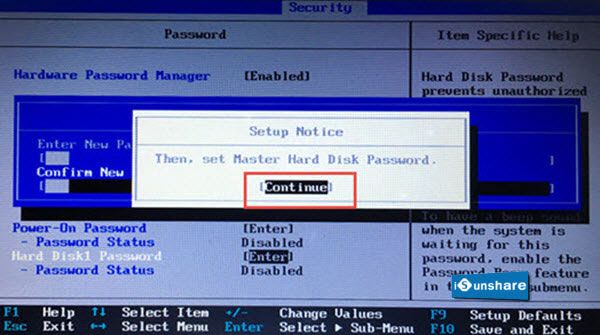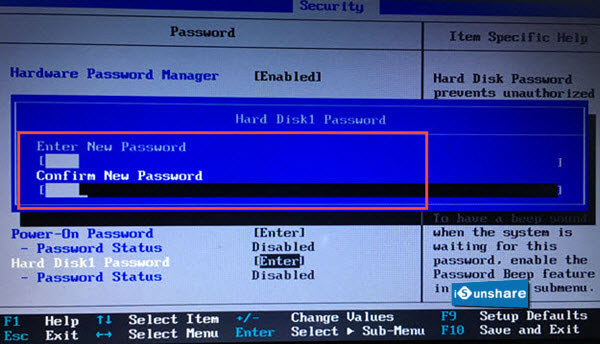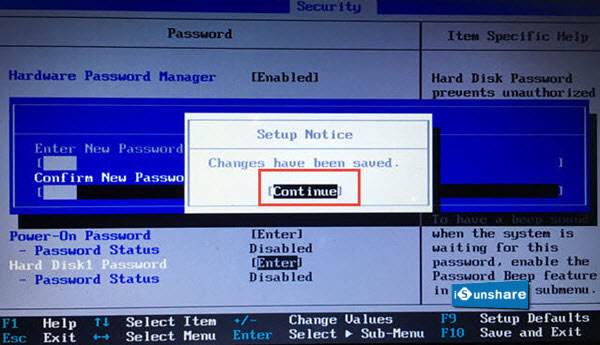 Step 6: When finishing setting the user and master passwords, press F10 to save changes and exit, your computer will restart itself. This time the motherboard asks for a user password, just input the password you have set above.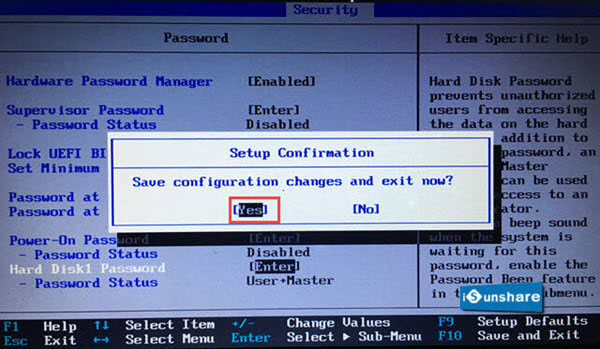 Note: The motherboard prompts for a hard disk password after restart. It can't be solved whether take out the motherboard battery for discharging or clear the jump of password. Because of the HDD password doesn't save on the motherboard, but follows to the hard disk instead. Even if remove the hard disk to another computer, it will not work without HDD password. When the BIOS or UEFI of the target machine doesn't support HDD password, the hard disk won't work too.
By the way, the hdparm tool of Linux can also operate and unlock the HDD password on hard disk, but you have to remember the password. I have tried to send an unlocking instruction to the hard disk via hdparm. Then use hdparm to let hard disk read partition table again, you would find that hard disk works without the support of motherboard BIOS/UEFI. That's precisely explained that HDD password is only related to hard disk internal hardware, the motherboard is responsible for sending unlocking instruction to hard disk
Related Articles: