How to Edit Encrypted PDF File without Open Password
Many programs provide us password settings to encrypt PDF files. However, they don't tell us how to decrypt them when we have to edit encrypted PDF files but PDF password forgot or lost. So what can we do if we also encounter the same problem?
In order to protect PDF file better, I think PDF program, such as Adobe Acrobat would not provide a way to edit encrypted PDF file without password. We need to find other methods by ourselves.
Edit Encrypted PDF File with Password in Adobe Acrobat
1. Open your encrypted PDF file with Acrobat.
2. Click on the Secure button on the top menu.
3. Select Remove Security.
4. Type in the PDF password.
5. Click OK. Make your edits on PDF file.
Edit Encrypted PDF File without Open Password
Now I will recommend an effective way for you to find encrypted PDF file open password, iSunshare PDF Password Genius. It provides Standard and Professional version to help users in different demand. Believe you could edit PDF file instantly even though it is encrypted with powerful open password.
Step 1: Download PDF Password Genius Standard and install it on your computer.
Step 2: Import encrypted PDF file into password recovery software.
Click Open button on PDF Password Genius, browse and select encrypted PDF file on computer you want to recover password. Then you will see encrypted PDF file in Encrypted File box.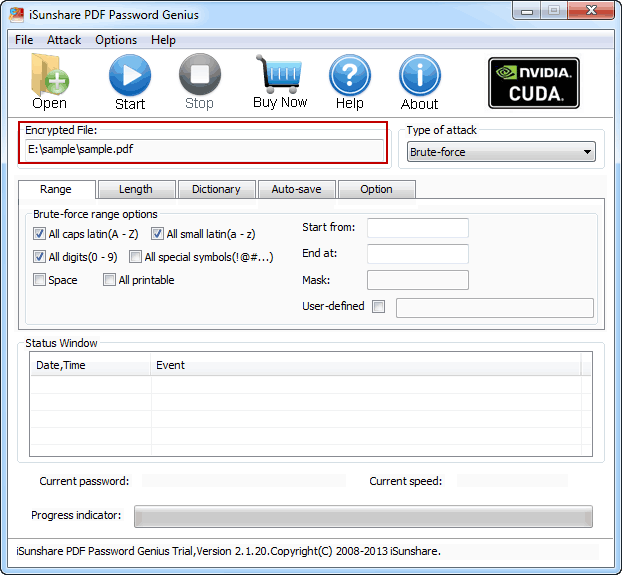 Step 3: Choose appropriate password attack in the "Type of attack" and set parameters.
Brute-force attack, Mask attack, Dictionary attack and Smart attack are provided for us to choose.
Just click Type of attack, and all of them appear. If you remember part of the PDF password, Mask attack is a better choice. If PDF password is regular, you can choose Dictionary attack. If you really don't know anything about forgotten PDF password, choose Brute-force attack.
Brute – force attack: Range, Length
Mask attack: Range – Mask, Length
Dictionary attack: Range, Length, Dictionary
Refer to: Brute-force/Mask/Dictionary Password Recovery Attack Settings
Step 4: Click "Start" button to recover encrypted PDF open password.
After you click Start button, PDF Password Genius will automatically run to recover password for imported PDF file. About few seconds later, PDF file password would be found and appear on new dialog. You can click Copy button to save it or Open encrypted PDF file directly and edit it without permissions password.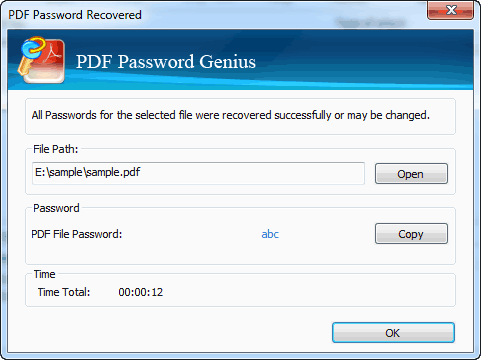 1. If there is no longer permissions password protecting PDF file, you can edit encrypted PDF file now.
2. If there is permissions password you know restricting editing, you also can enter permissions password when Adobe Acrobat asks, and then edit PDF file.
3. If you don't know permissions password and cannot find it, you can use Google Chrome to remove permissions password, and then save encrypted PDF file as new PDF file without password protection. So you can edit PDF file from then on.
Related Articles: