Where Is Steps Recorder in Windows 8/8.1
What do you do when you are required to explain some basic or advanced computer settings? Do you practice and illustrate them step by step with your oral expression? If so, there is another alternative method for your option. That is, use the built-in Steps Recorder (see the following picture) to record the operations and it will orderly illustrate the steps by text as well as pictures in a file. Moreover, this article will tell you where the Steps Recorder is in Windows 8 computer.

Video guide on how to find Steps Recorder in Windows 8:
Two methods to find where the Steps Recorder is on Windows 8:
Method 1: Find it in the Apps screen
Press Windows Logo Key and Q key at the same time to enter the Apps screen, browse and find Steps Recorder on it.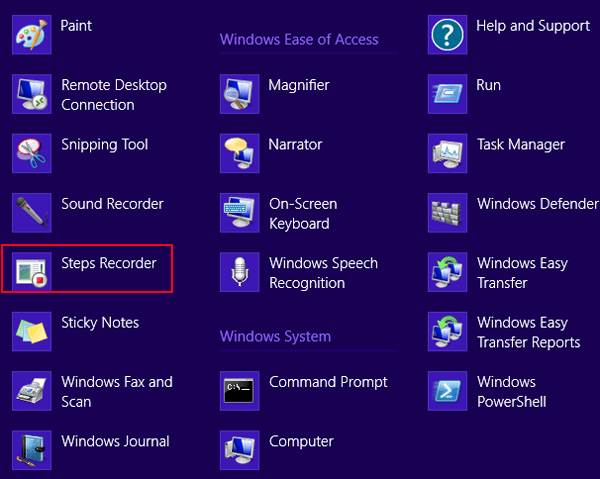 Method 2: Find Steps Recorder via searching
Open the Search bar with Windows Logo Key+F, input steps recorder in the empty box and select Apps. Then, the Steps Recorder shows up in the results.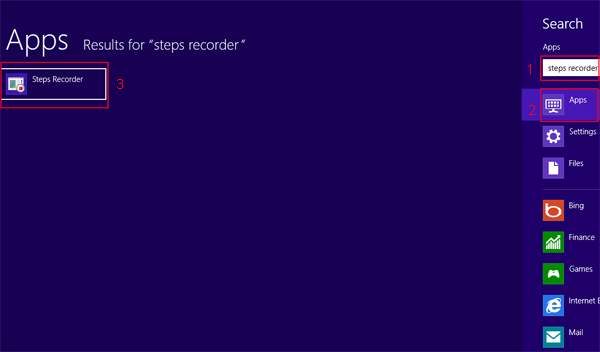 Tips: If you would like to know its usage, you can refer to How to Use Steps Recorder in Windows 8.
Related Articles: