How to Unlock Access MDB/ACCDB Database
Is your Microsoft Access Database locked? Here provides you an effective way to unlock Access MDB or ACCDB database. It is a tool, which is powerful without any danger on access database file when unlocking access. This access password unlocker is named Access Password Genius, specially designed for Access database password recovery. Now let's see how it unlock MDB or ACCDB database.
How to unlock Access database file?
1. Find iSunshare Access Password Genius by surfing the Internet or download free trial version here.
Tips: Access Password Genius trial version only works for such access database file whose password is less than or equal to 3 characters. But full version makes guarantee on successful access password recovery for any long password.
2. Install and run Access Password Genius on your computer.
3. Open locked access database file.
Click Open button on menu and browse locked access database file on your computer, and then open it.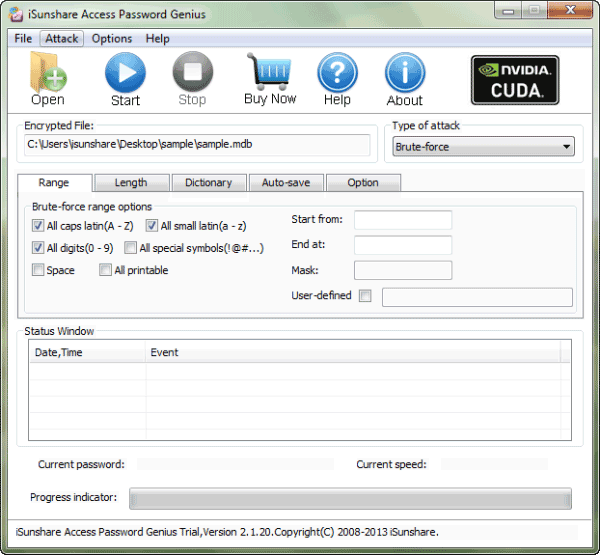 4. Select one password attack type for recovering access file password.
There are four password attack types useful for recovering access database file password, Brute-force, Mask, Dictionary and Smart. Select the one appropriate for your locked access database. And then make password attack type settings.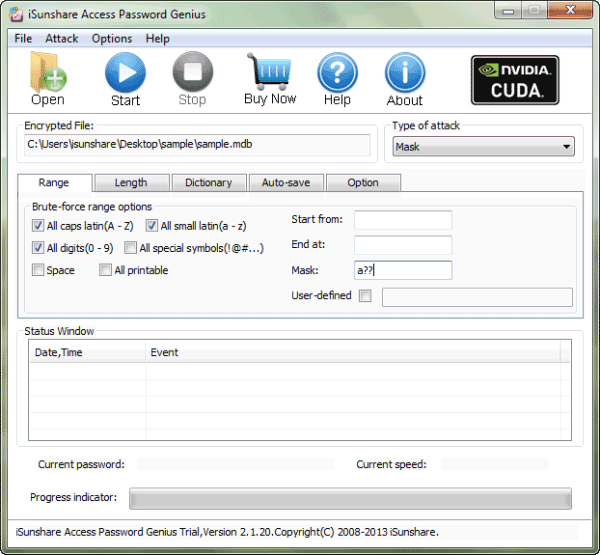 5. Unlock Access Database.
After confirming password attack settings, click Start button. When access password appears in a new window few seconds later, congratulations to you for that you can unlock access database with the password now.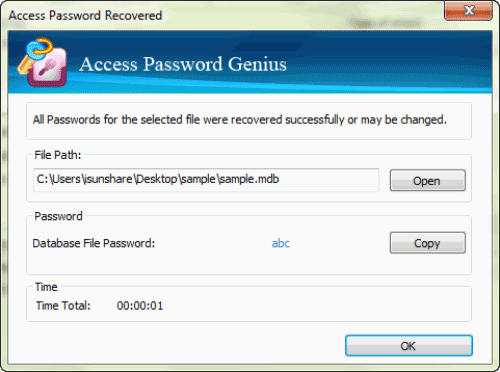 Copy password and open your locked access database with it, and this password had better be saved in safe place for use next time.
Tips: Besides Access Password Genius, another password unlocker Office Password Genius also help to unlock locked access database, and unlock locked Word/Excel/PowerPoint/Outlook file too.
Related Links: