How to Get into Locked HP Spectre 13 Laptop without Password
Just because of Windows 10 password forgot on my HP Spectre 13 laptop, now I am locked out of it and feel ashamed that my laptop is unexpectedly locked by myself. Moreover, I couldn't find any effective methods to solve it. So can you give me some ways to get into locked HP Spectre 13 laptop without password?
Actually this is a common problem for computer users. And Windows has provided a way, password reset disk for everyone to reset local user password as long as you create such a reset disk before locked out of computer. But as what you described, it seems that you have no reset disk and other ways. So here I show you two methods that can help you to get into locked HP Spectre 13 without password.
Method 1: Get into locked HP Spectre 13 with password-unprotected administrator
In fact, while your HP laptop is installed with Windows 10, a disabled built-in administrator is created without password protection at the same time. And then you can enable it and use with highest administrative privileges.
Now go to your Windows 10 login screen and check whether there is a user called "Administrator". If there is, select it and sign in Windows 10 without password suppose you have not created any password for it.
Note: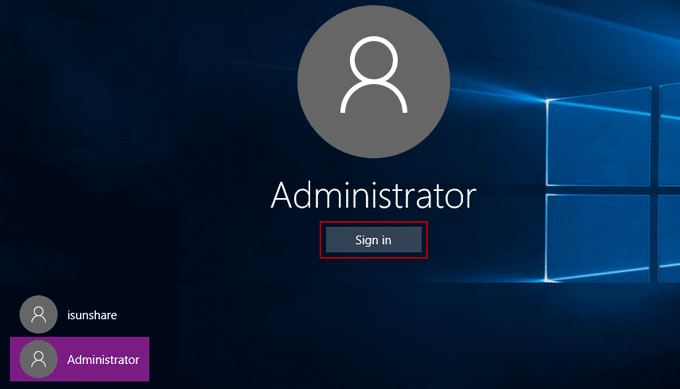 Note: Probably it is not enabled or it is protected with a password you don't know. If this happens, please get the method 2 that works at any time.
Method 2: Get into locked HP Spectre 13 without login password
Even though built-in administrator cannot be used, there is no need to worry about how to login locked HP Spectre 13 laptop without password, because Windows Password Genius Advanced can help you to easily remove forgotten Windows 10 login password from locked HP laptop.
Step 1: Get, install and run iSunshare Windows Password Genius Advanced on available computer.
Download Windows Password Genius Genius Advanced Trial
Step 2: Create HP password remove disk with Windows Password Genius Advanced.
1. Insert writable USB flash drive (or CD/DVD-ROM) into Windows computer that Windows Password Genius runs on.
2. Tap on USB device option on password software and select inserted USB flash drive. Then click Begin burning button. Agree to format the USB drive at first and burn password remove disk into it secondly.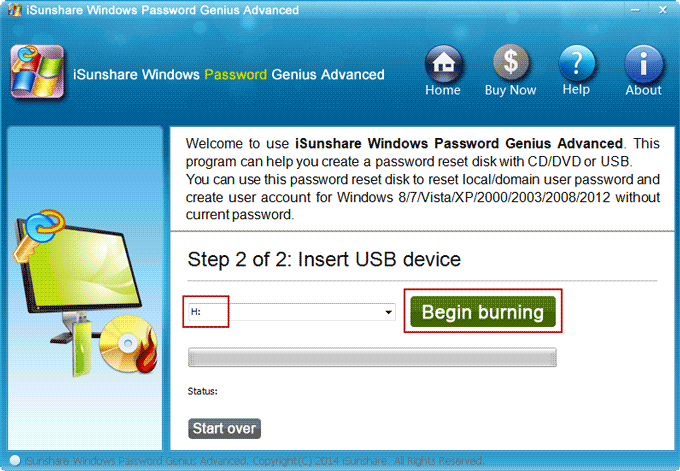 3. About few seconds later, you will see message Successfully burning and get a password USB disk that can remove Windows 10/8/7/Vista/XP/2000 forgotten password from locked PC, laptop or tablet.
Step 3: Remove locked HP Spectre 13 laptop login password.
1. Plug USB password disk into locked HP Spectre 13 laptop.
2. Power on HP laptop and press F10 at the HP startup logo. Enter BIOS and go to Advanced/System configuration and look for Secure Boot. Disable it and enable Legacy mode.
3. Save boot changes and start HP laptop again and go to BIOS settings. Choose USB flash drive to boot HP laptop.
4. Instantly Windows Password Genius Advanced runs on locked HP laptop and lists Windows system and all user accounts information. Select the login user and click Reset Password button. Then tap on Yes button to remove forgotten login password from HP Spectre 13.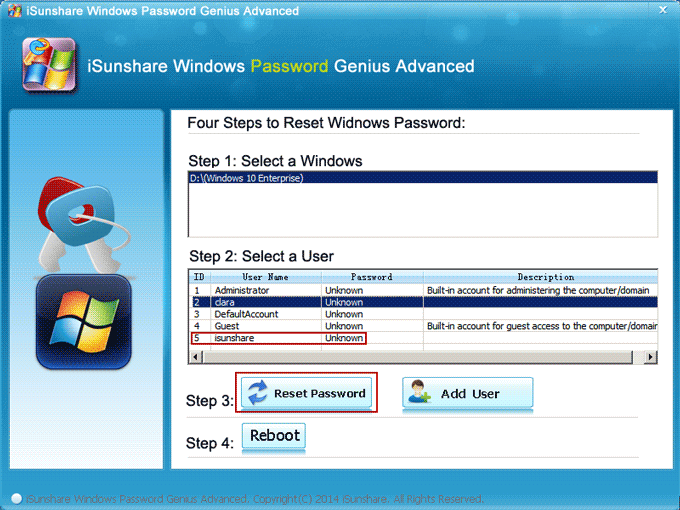 5. Reboot HP Spectre 13 now and exit USB drive. When you see HP logo, press F10 instantly and enable Secure Boot and disable Legacy mode in BIOS. Save changes and HP laptop boots again.
6. At this time, HP laptop will boot from hard drive. When you go to the login screen, don't type any password and just have to click Sign in button to get into HP Spectre 13.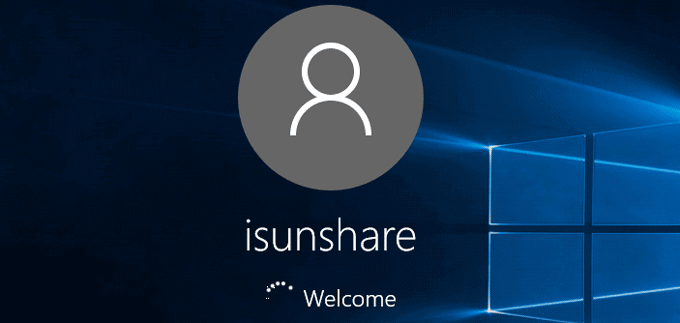 Tips:
Above methods would work if you just want to get into locked HP Windows 10 laptop without local account password. But probably your HP laptop is set login with Microsoft account. At this moment, you would just have a chance to reset forgotten Microsoft account password and login HP laptop with a new password.
Related Articles:
HP Pavilion Password Reset | Unlock HP Pavilion Laptop How to Unlock HP Elitepad Tablet without Windows 8/8.1 Password