HP Pavilion Password Reset | Unlock HP Pavilion Laptop
How to unlock HP pavilion laptop without password?
I just forgot my HP pavilion laptop login password and I am locked out of the HP laptop. But so many important data are saved on this HP Windows 10 laptop. If you know any ways that can unlock HP laptop, please help me.
Believe you have found lots of ways to unlock HP laptop. However, which one is effective and safe for your laptop? That should be thought sincerely. But it is sure that HP pavilion laptop password reset can unlock HP Pavilion laptop.
So let's see how to reset HP forgotten password to unlock HP Pavilion laptop. As is known, the effective and common way is password reset disk, which can be created anytime to work for local user password reset.
How to reset HP Pavilion laptop password with reset disk
Option 1: Reset HP Pavilion password with disk created before HP laptop lock
If a password reset disk has been created for a local account when your HP laptop is accessible, now you just need to follow steps below to reset HP Pavilion password with it.
1. On HP pavilion windows 10 login screen, click Reset password link after you typed a wrong login password.
2. On following Password Reset Wizard dialog, click Next button and insert password reset disk into HP laptop. Then follow the wizard until it asks you to set a new password for the local account.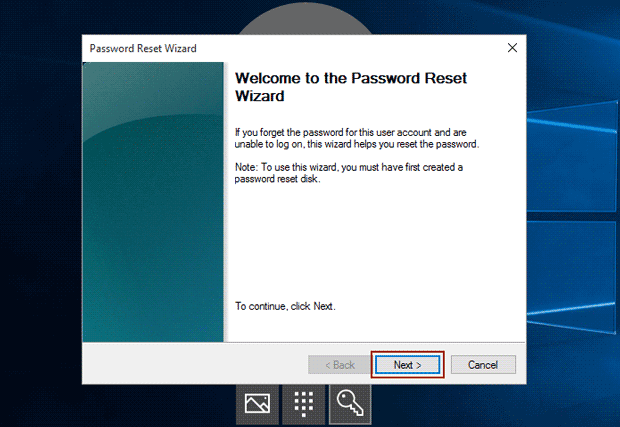 3. Enter a new password for HP Pavilion local account and click Next and Finish button to complete forgotten HP Pavilion password reset.
Undoubtedly you have successfully reset forgotten Windows 10 local account password for locked HP Pavilion laptop at this moment. Please exit password reset disk and enter the new password to unlock HP Pavilion laptop.
Option 2: Reset HP Pavilion laptop password with disk created after HP laptop lock
Even though there is no passsword reset disk created previously for locked HP Pavilion laptop, don't need to worry about. Here the chance for you to create a password reset disk on another accessible computer with Windows Password Genius Advanced would not only reset password for HP Pavilion laptop local account, but also Microsoft account. As you know, both local account and Microsoft account can be used to log into HP Pavilion Windows 10 laptop.
Find an accessible computer, get Windows Password Genius Advanced to run, and burn the program into a bootable USB drive. You will get the Windows password reset disk for all Windows systems.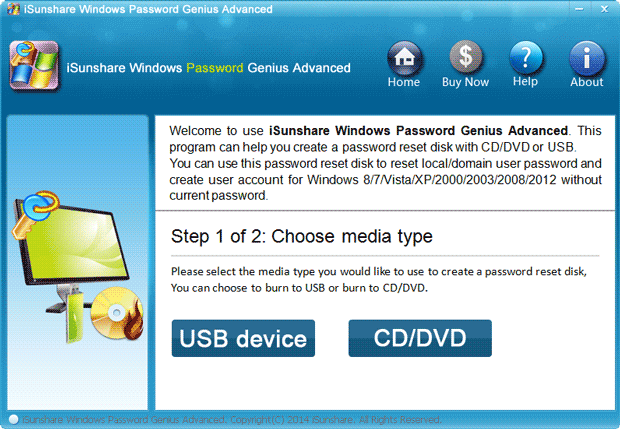 Step 1: Plug the password reset disk into locked HP pavilion after the reset disk is burned with writable USB drive or CD/DVD-ROM and Windows Password Genius Advanced.
Step 2: Power on locked HP pavilion and set it boot from password reset disk.
Step 3: When Windows Password Genius Advanced program runs on locked HP pavilion and reloads all the user accounts information, select the user account password forgot and click Reset Password button.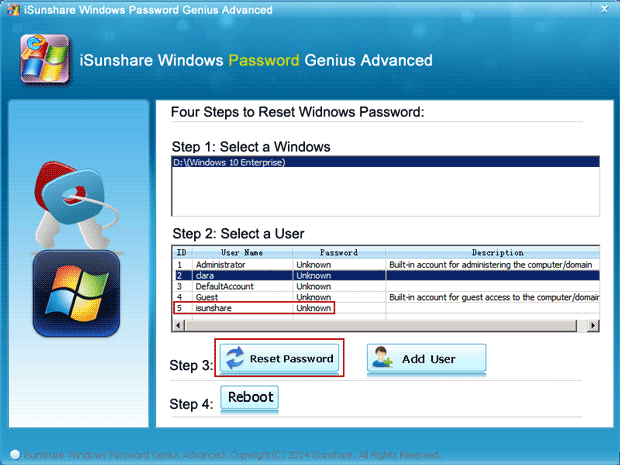 Step 4: When the user account password is reset to be blank, click Reboot button and eject password reset disk to make HP pavilion laptop restart from hard drive.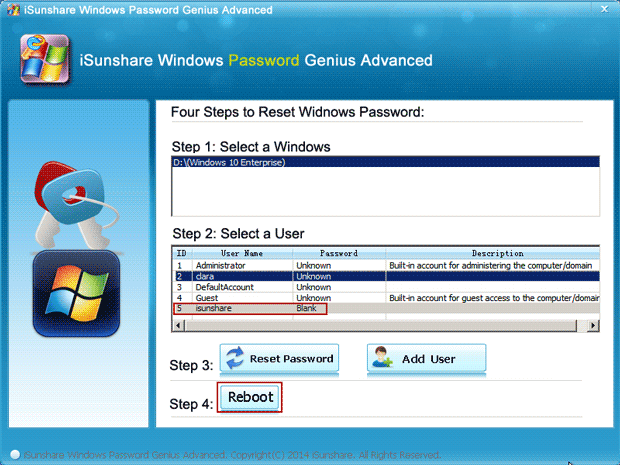 Unlock HP Pavilion laptop with new password or without password
After HP Pavilion laptop password reset, you would just have to enter the new password for Microsoft account on the logon screen, or directly choose the local user and click Sign in button to login and unlock HP Pavilion laptop.
How to reset forgotten password to unlock HP Pavilion laptop? Above methods are enough for you to solve your problem.
Related Articles:
How to Bypass HP Laptop Administrator Password to Login How to Get into Locked HP Spectre 13 Laptop without Password