How Do I Unlock My iPad Air 2 without iTunes
My iPad Air 2 is locked because passcode forgot. How to unlock my iPad Air 2 when iPad cannot be opened in iTunes?
This problem seems so tough. But don't worry. There is always a way for it.
Way 1: Try to Guess Passcode or Use Touch ID
The first way I think is still the passcode you have forgotten. But don't give

up thinking of it. If you can get it successfully, iPad Air 2 data can be protected and nothing would be lost from your iPad.
Passcode is 4-digital code. Maybe another person who has used your iPad remembers it. Or it is probably created based on your birthday, your lucky numbers, your telephone number etc. So there are many opportunities for you to guess it.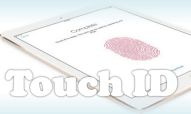 Touch ID is the fingerprint you can set to lock iPad, such as iPad Air 2 or iPad mini 3. So when you have made a Touch ID for it, only your fingerprint can unlock iPad. You won't be worried about passcode forgot.
However, the worst thing I can image is that not only passcode is not known, but also there is no Touch ID. How can you unlock iPad Air 2 at this time?
Way 2: Unlock iPad Air by Restoration
If you just want to access iPad Air, please enter recovery mode to restore iPad with iOSBoot Genius. And this would be the only way you can choose without other methods.
Download and install iOSBoot Genius on computer.
Run it and connect iPad Air to computer.
Instantly, iOSBoot Genius will check out whether iPad is connected to computer. And in iPad Air screen, iTunes and USB cable logo appears.
Click "Enter Recovery Mode" button on iOSBoot Genius.
When you see "Enter Recovery Mode" button is bright, meaning it is available. Just click it, and your iPad Air 2 will enter recovery mode easily.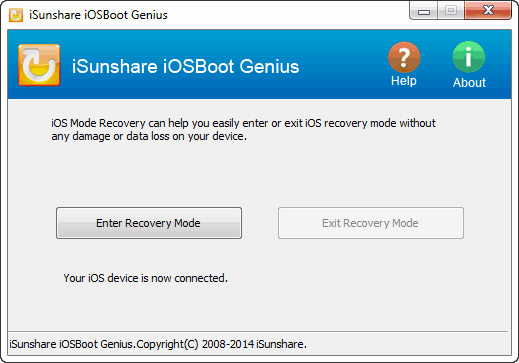 Then iPad will restore to factory settings after you do following the steps and tips in iPad. Until iPad restarts, you will be asked to set it as a new iPad or restore iPad from a backup.
If there is no backup, set it as a new iPad. And reset iPad language, network, passcode, Touch ID etc.
If now your iPad can be opened in iTunes, and backup is available, even though it is encrypted, you can choose to restore it from a previous backup.
Tips: iTunes Password Genius can help you to decrypt encrypted iTunes backup.
Related Articles:
Easy Way to Recover iPad Mini Forgotten Backup Password How to Choose Backup Method | iTunes VS iCloud