How to Restore Encrypted Data from iTunes to iPad
When I connected my iPad to computer in iTunes, I restored my iPad to factory settings with click error. How can I do? All of things ever saved on iPad have been deleted. I think there are still backups in computer, so I tried to restore iPad from iTunes backup. But unfortunately, they are encrypted and I have forgotten the password.What can you do at this moment? If you can't restore iPad from backup successfully, the lost data will not be back. If it is not what you want, recover encrypted data password will be the first thing you should do. Then restore encrypted data from iTunes to iPad.

Part 1: Recover Encrypted Data Password
Which way or tool can help you to recover encrypted backup data password for iPad? This would be the second question after you know what you should do. Actually, the question is not so hard. When you try to search "recover iTunes backup password" or "iTunes backup password recovery" in Internet, there will be many available tools. As to which to choose, we should consider its effectiveness and safety. And this reminds me of one tool I have ever used to recover encrypted iTunes backup password, iTunes Password Genius. It works well for any kinds of iTunes backup, and the most important thing is the 100% guarantee on backup password recovery.
Now please see how iTunes Password Genius recovers encrypted iTunes backup data password.
Step 1: Download and install iTunes Password Genius on computer.
There are two editions provided, iTunes Password Genius for Windows and Mac. So no matter you need to recover iTunes backup password on Windows computer or on Mac, it is supported. Now we take Windows computer as an example. About how to do on Mac, please see the guide to recover iTunes backup password on Mac.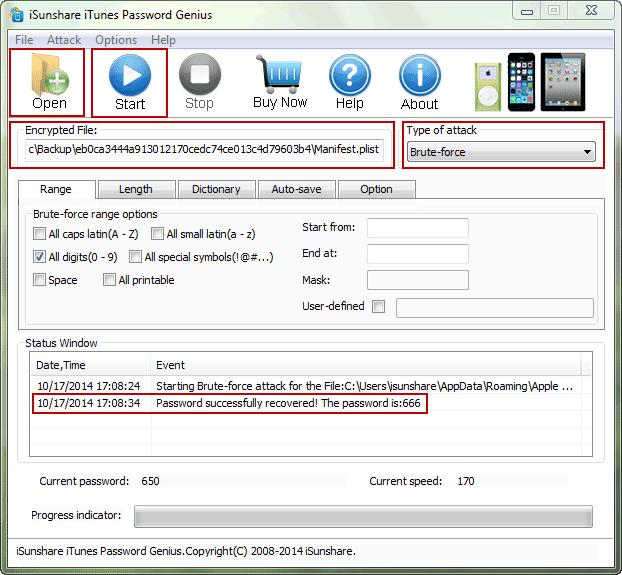 Step 2: Open encrypted backup data in iTunes Password Genius.
Click Open button and then there would be a pop-up window that shows iTunes backups, which are created previously.
Choose one suitable backup, such as the latest backup, and click "OK". This backup will be imported into iTunes Password Genius. Then you can see it in "Encrypted File" box.
Step 3: Choose appropriate backup password recovery type.
There are four types in Type of attack for password recovery, Brute-force, Mask, Dictionary and Smart. Brute-force and Mask are used mostly. However, choose which one depends on forgotten backup password.
How to choose one appropriate type, please see the password attack type settings.
Step 4: Recover encrypted iTunes backup data password.
At last, click Start button is OK after all of things have done. And iTunes backup password is quickly found, appearing in another new pop-up window. Or you can see password in the Status Window.
Part 2: Restore Encrypted Data from iTunes to iPad
When iTunes backup password is recovered, you have gotten the key to encrypted data. So now begin to restore iPad from encrypted backup data in iTunes.
Step 1: Connect iPad to computer and open iTunes.
You can see your iPad in iTunes when they are successfully connected.
Step 2: Click iPad name and choose Summary option.
"Back up" and restore button will be shown in iTunes after you choose Summary option.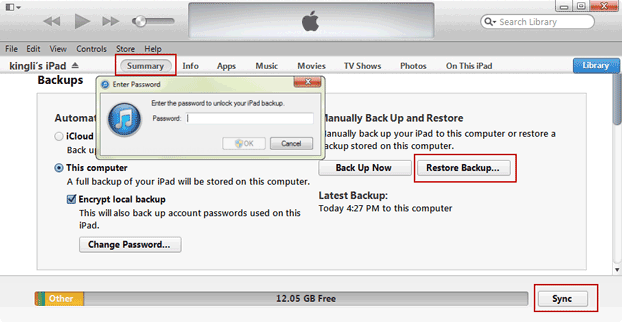 Step 3: Click Restore Backup button and type password to unlock iPad backup.
Wait for iPad restore from backup in about few minutes. When restoration completes, iPad will restart and iTunes will ask you to exit iPad from computer. Now it's your time to use iPad as usual.
From the above introduction, we can see that backup is so important for iPad, especially devices that save important data. So please make a backup for iOS devices usually, which will help us when we face such similar problem. If you think backup is troublesome, why not try to set your iPad sync automatically to computer in iTunes? With the backup and password, or iTunes backup password recovery tool in hand, what else will you be afraid of?
Related Articles:
How to Unlock Locked iPad/iPhone/iPod after Passcode Forgot Easy Way to Recover iPad Mini Forgotten Backup Password