How to Compress .RAR/.ZIP File in Specific Size with WinRAR
Generally, it is not necessary to think of how much the archive would be after compressing a file or folder. However, in some different cases, you would have to make it not larger than specific size.
Why and when we need to compress files or folder into .rar or .zip archive with given size?
When we have to compress a large file and want to save it on CD-drive
When we want to upload a compressed file that is larger than the forum requires
When we want to improve transfer speed of RAR/ZIP file through Internet
Then we can or have to control archive file size, usually by splitting an archive into several volumes with given size.
Steps to compress RAR/ZIP file and split archive to volumes in specific size
Step 1: Select the file or folder you want to compress.
Step 2: Right-click it and choose Add to archive in pop-up context menu.
Step 3: In Archive name and parameters dialog, you can see Archive name, Archive format and compression method under General tab. Confirm the archive name and archive format.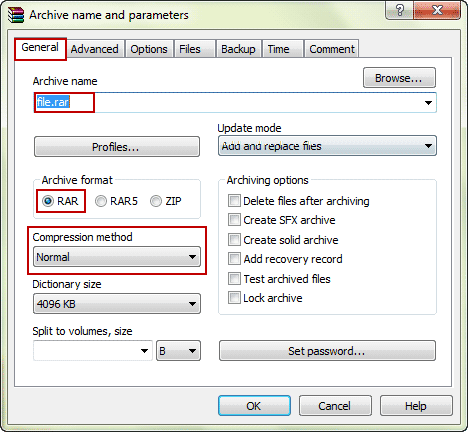 Step 4: Set compression method Normal and specify archive size.
In drop-down list of Compression method, choose Normal. And go to Split to volumes, size option, set archive size and unit to measure the size. For example, type 5 as size and choose MB as measure unit.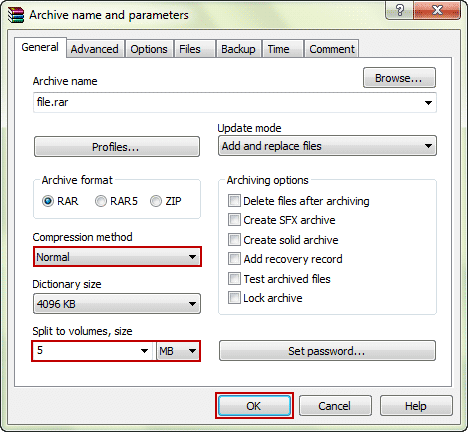 Step 5: Click OK in Archive name and parameters dialog and begins to compress file with above settings.
After finishing compression, you would get several RAR/ZIP archives with the same size like these.
Tips: If you want to decompress the multi-volume archives later on, please put them in the same path and then extract them. Otherwise there would be errors and you cannot decompress archives successfully.
Related Articles:
Remove PDF User and Owner Password with Online PDF Password Remover Two Options to Create Password Protected RAR File in WinRAR