How to Factory Reset Lenovo Thinkpad Laptop When Forgot Password
When forgot Lenovo laptop password, we can reset Windows forgotten laptop password. Or restore Lenovo laptop to factory settings can become another choice.
Factory Reset Lenovo laptop with Thinkvantage Rescue and Recovery software:
All Lenovo Systems are installed with Thinkvantage Rescue and Recovery software, which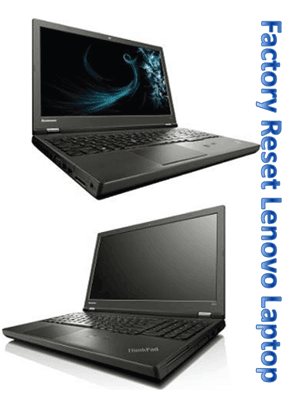 could be used to recover system to factory default settings. If it makes efforts on your Lenovo laptop, that would be better. Prepare Rescue & Recovery Startup Disc to boot Lenovo laptop.
1. Insert Rescue & Recovery Startup Disc into laptop CD drive.
2. Turn on the system by pressing the power button.
3. ThinkVantage Technologies are running and then Rescue and Recovery tool will load from the Recovery Media. Click "Continue" button.
4. You will see a few options to choose from on the following screen. Please click the Restore Your System option on the left. Or click the Full Restore button in the following pop-up window. And you will see a warning message, and click "OK" or "Continue".
5. Select what kind of a recovery you wish to perform. Now make sure that Factory Recovery is selected and click on the Restore button.
6. A warning message about data loss will now appear, click "Yes" or "Continue".
7. Click the "OK" to continue in the pop-up dialog.
8. Restore Factory Contents Wizard will now run. Click Next button to continue.
9. Accept Terms and conditions in the following screen, and click "Next".
10. Click "Next" button to start the recovery.
More detailed information is introduced in http://support.lenovo.com/en_US/detail.page?LegacyDocID=MIGR-70803
Factory Reset Lenovo Thinkpad Laptop with NOVO Key
When your Thinkpad laptop couldn't load Windows system successfully, press NOVO key to enter System Recovery interface when your laptop is closed. And there would be several options for you to choose. Select factory reset.
But it only works when hide partition is not destroyed. If hide partition has been destroyed or laptop hard disk is changed, you need to get other system recovery disc or tool to factory reset Lenovo laptop.
The above is used to restore Windows system to factory settings. If you want to only factory reset BIOS or CMOS for Lenovo laptop, follow the below.
1. Set BIOS
Press F1 to enter BIOS when you power on Lenovo laptop, and then press F9 to restore CMOS to factory default settings. Press F10 to save and access BIOS screen again. Choose "LOAD BIOS DEFAULTS" is OK.
2. Remove CMOS Battery
Open your Lenovo laptop and take down BIOS battery.
All of BIOS settings on mainboard are saved on BIOS chip. And it could run based on battery. Take down this battery and discharge, and BIOS settings would restore to default settings.
3. Set jumper
There are CMOS data remove jumpers on mainboard, go on to do according to the instructions on specification.
Tips:
Factory reset computer or laptop would lose some files. So please backup the important files to another disc on computer or laptop before you run full factory reset.
Related Articles:
How Windows 8 Password Reset with USB Disk How to Restore Inspiron Laptop to Factory Settings without Admin Password