How to Restore Inspiron Laptop to Factory Settings without Admin Password
When there is problem appearing during system running, and system has to be reinstalled, we can choose factory reset laptop or PC. Now in this passage, we will talk about how to restore Inspiron laptop to factory settings without admin password for Windows 7/Vista/8 operational system.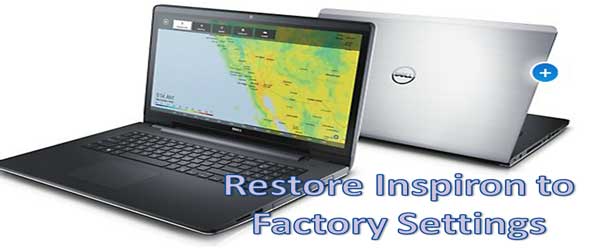 Factory Reset Inspiron Windows 7/Vista Laptop
Before you prepare to factory reset Inspiron laptop, please make sure that, this Windows 7/Vista laptop is still installed with previous Windows operational system, no disk has been changed or destroyed, and you don't have reinstalled Windows system for laptop. Now, begin to restore Windows 7/Vista laptop to factory settings.
Press F8 to access Windows 7 Advanced Options before entering Windows system, and choose Repair Computer".
Select keyboard input method.
If there is administrator password set, type it and press Enter. If not, click "OK".
After you see System Repair option, choose "Dell DataSafe Reduction and Emergency Backup".
Select "Other system backup and more options", and click Next.
Choose Restore My Computer". Click Next.
Select appropriate factory image, and then click Next to begin restore system to factory settings.
Tips:
During the process of laptop factory reset, laptop has to be connected with an adapter. Reboot laptop when factory reset is over.
Factory Reset Inspiron Windows 8 Laptop
When you still could access Windows 8, follow this way to restore Windows 8 Inspiron laptop to factory settings.
Click Settings > Power, hold on pressing "Shift" button and click "Restart". Find Troubleshooting > Dell backup and Recovery.
The system will automatically check whether there is intelligent repair option solving this problem. Once it is over, click Next.
You will see factory image file or one of the backup files. Now we choose factory image file, and click Next.
System will prompt you that backup your file. If there is selection option, select "Yes, backup my personal file". But please prepare an external backup disk. Or choose "No, erase my file", and click Next.
At this step, Windows system factory recovery has been completed.
The above are the situations we could factory reset Inspiron laptop successfully. When do we couldn't restore laptop to factory settings?
The laptop has not been pre-installed with Windows operational system.
The laptop has been pre-installed with operational system, but it has been reinstalled with new operational system.
The laptop disk has been replaced, so there is no pre-installed Windows restore program.
 Related Articles:
How to Factory Reset Lenovo Thinkpad Laptop When Forgot Password How to Reset Laptop to Factory Settings without Disc