How Windows 8 Password Reset with USB Disk
If you can get a USB disk, such as USB password reset disk, or USB boot disk, that would be easy for your to reset Windows 8 password, no matter when you forgot Windows 8 password, or how complex the forgotten Windows 8 password is.
If you have none of these USB disk, you still have chance to get "Windows Password Genius" to burn a password reset disk into bootable USB on another accessible computer.
Note: Two ways to create a Windows password reset disk
Besides USB password reset disk, there are also other kinds of discs that could be used for Windows system recovery or password recovery.
1. For example, Windows USB installation disk could be used to reinstall Windows operational system, so it would also remove forgotten Windows password.
2. Windows system restore disc could restore Windows system to early backup point. At this point, probably you have no password on Windows computer.
3. Or Windows repair disc could refresh Windows system or reset PC to factory settings.
Compare each of them, you will find only password reset disk is the effective and safe Windows 8 password recovery tool, which will reset Windows 8 password without any data loss in short time. So let's begin to reset Windows 8 password with USB password reset disk.
Reset Windows 8 password with USB password reset disk            
Click the Reset Password button on Windows login screen, after you type incorrect password and try to login Windows 8. Insert USB disk into your computer and follow Windows forgotten Password Reset wizard to do. Later, you will be asked to set a new password for this user account. And then finish resetting Windows 8 password and access computer with new password.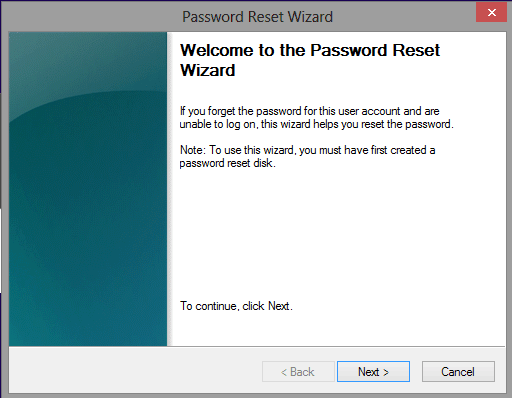 Or if the USB password reset disk is burned by Windows Password Genius, you will need to boot locked Windows 8 computer from USB at first. And then reset forgotten Windows 8 password with Windows Password Genius on locked computer with option "Reset Password".
Related Articles:
Chntpw Doesn't Find Windows after Boot Computer How to Factory Reset Lenovo Thinkpad Laptop When Forgot Password