How to Get Access to Blocked Websites on Laptop or PC
Sometimes, we probably find websites are blocked when we wish to access them. This would make us annoyed if these websites has to be opened immediately and eagerly. So at this time or before this happens, it is necessary to learn how to access blocked websites.
Therefore, the article below introduces some usual ways for unblocking blocked websites.

1. Use Translation Service
Google Translate or Microsoft Translate are simple ways to access blocked websites. Type blocked websites URL in the left side of Translate screen. Then click "translate" to change English pages into English.
Steps to do:
Visit Microsoft Translator or Google Translator. Open Microsoft Translator.
Type the URL of the restricted websites in the left text field. Keep "Translate From" Auto-Detect and "Translate to" English to English. Click "Translate" button.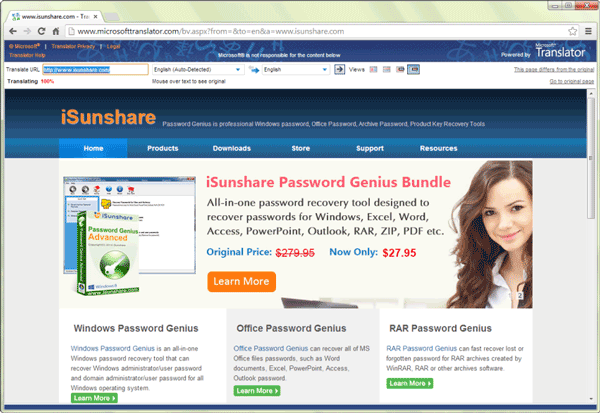 2. Use Proxy Server
Proxy server is a useful tool that creates intermediaries between computer and website you visit.
When you can't visit a blocked site directly, you can ask a proxy server to visit it for you. The proxy displays the blocked website, and allows you to interact with it.
Steps to do:
Go to the website for (providing) the proxy service. Type the URL of the site you wish to unblock, and press Enter.
Browse the restricted site as you normally would. Notice that the address bar of your browser displays the proxy service's domain, indicating that you are browsing anonymously.
3. Use Virtual Private Network
Virtual private network is a secure tunnel which could connect to VPN server. All of communication travels through the tunnel that can be found.  And third parties couldn't monitor it. In this setup, your IP address is anonymized, and you can access blocked websites. VPNs also offer a higher level of security than proxy servers and translation services do.
Steps to do:
Get a suitable VPN tool, install and run it on your computer.
Choose a circuit and connect your PC to VPN server.
You would get a virtual IP address and access to blocked websites with this address.
Compared to other ways possible available for you to access blocked websites, VPN software provides thousands of virtual private network, they help you to enter blocked websites effectively, when other ways couldn't help you.
4. Change URL
Change URL is changing the agreement websites has to abide by when access websites.
Steps to do:
Step 1: Go into your browser.
Step 2: If you use Google Chrome, type the blocked website with http:// in the beginning.
Step 3: Chrome will direct you to a page saying it is blocked.
Step 4: If using another browser, simply just type the website name into the browser, and once you are at the page that says that the website is blocked, just change http:// to https://.
This can be used when there are probably problems on access agreement.
5. Using IP Address instead of URL
Sometimes blocked sites are stored as a list of URLs. Typing the IP instead of URL might sometimes work. In a local computer, doing a ping domain.com command in Command Prompt will return you the IP address.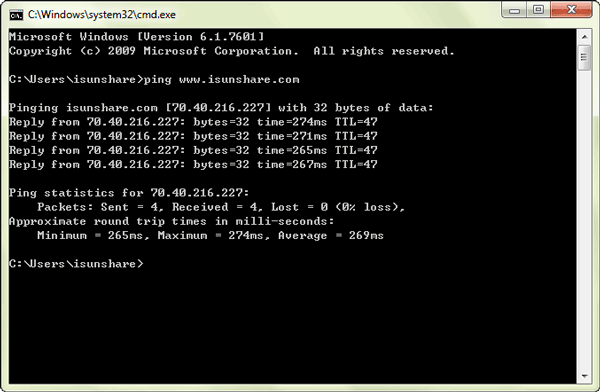 Steps to do:
Step 1: Run CMD in your computer. Click Start, type "cmd" in Run box and press Enter, or press Win + R to open Run box, and type "cmd" to run it.
Step 2: Type "ping www.isunshare.com" in Command Prompt. And instantly its IP address returns.
Step 3: Type IP address in search engine address bar and press Enter.
6. Change IP Address.
By changing your dynamic IP address to a static IP address can help you to unblock sites that are blocked in your locale. If you want to open block sites through this method, follow the procedure below:
Steps to do:
Step 1: Go to Control Panel.
Step 2: Click on the network and internet connection.
Step 3: Click on network connections.
Step 4: Right click on network adapter.
Step 5: Open properties.
Step 6: Click Internet Protocol (TCP/IP) and go in Properties.
Step 7: Change Dynamic IP to Static IP.
Step 8: Enter IP address from latest updated site as IP address do not work after sometime, you can search and can get it online.
Step 9: Enter IP address and then save it.
7. Subscribe to RSS Feed
This might not work for all sites, but if the sites you intended to visit provide RSS Feed, you can subscribe and read it with a RSS reader, or have it regularly send contents to your email.
8. Retrieve Web Pages via Email
Web2Mail is a free service that sends websites you want to read right into your inbox. All you need to do is send an email to www@web2mail.com with the URL as subject title.
What Web2Mail can do?
Read and send email on the web
Receive any web page by email
Browse the web by email
Related Articles:
Sony Vaio Laptop Restore Factory Settings How to Lock Apps on PC with Windows 7