How to Disable iPhone Backup Forgotten Password
My iPhone backup is protected with password. How can I disable iPhone backup password and restore iPhone from backup?
Firstly we have to realize and analyze the situations we face, such as whether we forgot iPhone backup password or not. And then we can take appropriate measures to disable backup password. Even though your iPhone backup password forgot, you still can do it with effective ways introduced in this article.
Generally we would be confronted with these two situations.
Situation 1: iPhone backup password is still remembered
Situation 2: iPhone backup password is forgotten or lost
To Situation 1:
If you still remember iPhone backup password, please disable iPhone backup password by removing the tip of "Encrypt local backup" in iTunes directly. Then you would not encrypt iTunes backup for iPhone when you back up your iPhone with iTunes.

To Situation 2:
If you have forgotten iPhone backup password, recover iTunes backup password for iPhone first, and then remove backup password in iTunes.
Tips: If you have ever realized this problem, at the first time to back up iPhone, please don't tip "Encrypt local backup" option in iTunes and iPhone backup won't be encrypted.
Now, following ways are available to disable iPhone backup password after forgot.
Way 1: Disable iPhone Backup Password in iTunes
If you want to disable iPhone backup password in iTunes, you should know iPhone backup password and then you could change it with a blank one. So it is necessary to find iPhone backup forgotten password now at first.
Part 1: Recover iPhone Backup Password
Then which tool could help you to easily recover forgotten or lost iPhone backup password? iSunshare iTunes Password Genius is undoubtedly a good choice. About how it works to recover iPhone backup password, please go on to read.
Note: This is an example suppose you have Windows computer to recover iPhone backup password. If you need to find iPhone iTunes backup password on Mac, please choose iTunes Password Genius for Mac instead.
First, choose appropriate version according to password characteristics.
If iPhone backup forgotten password is less than 3 characters, choose free trial version is enough. But if it is not, iTunes Password Genius full version is required.
Second, import encrypted iPhone backup into iTunes backup password recovery tool.
After iTunes Password Genius is installed and run on Windows computer, click Open to browse computer and select iPhone iTunes backup to import. It is a file usually called "Manifest.plist".
Once the "Open" button clicked, iTunes backups would appear in pop-up window. Choose the iPhone backup you want to recover password, and click "OK". Besides, you also can click Add File button to browse iPhone backups on computer.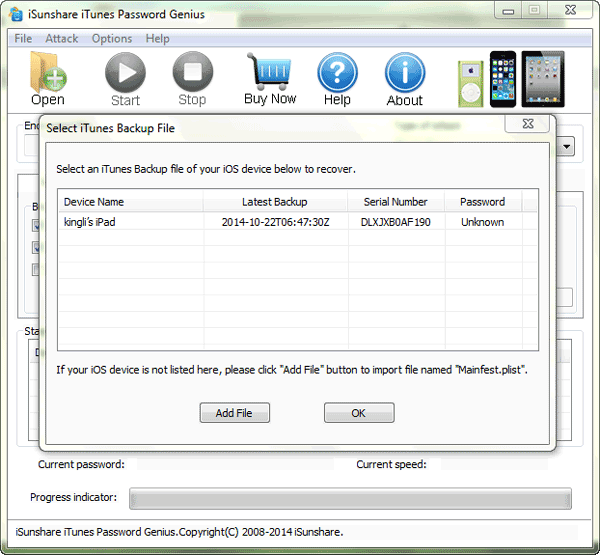 For different computer Windows systems, the backup location is different.
Windows 10: C:\Users\USER\AppData\Roaming\Apple Computer\MobileSync\Backup
Windows 8/7/Vista: User\AppData\Roaming\Apple Computer\MobileSync\Backup\
Windows XP: \Documents and Settings\User Name\ Application Data\Apple Computer\MobileSync\Backup\
Third, set password recovery parameters and recover iPhone forgotten backup password.
Four password recovery types are provided, Brute-force, Mask, Dictionary and Smart. According to probable backup password features, select one appropriate and make detailed settings for it. Then click Start button on toolbar. Such settings would save iPhone backup password recovery time. If you have made right settings, iPhone backup password will be recovered instantly.
Tips: About password recovery detailed settings, please go to see introductions about  password attack type settings.
Part 2: Disable iPhone Backup Password
Once iPhone backup password is found, save it in a text. Now connect your iPhone to computer. Until iTunes opens automatically, and iPhone information displays in iTunes, click "Summary" option, you would see "Encrypt local backup" and "Change Password" option in Backups part.
Uncheck the box "Encrypt local backup" and type iPhone backup password in the pop-up dialog. Now your iPhone backup password is disabled now. When you back up iPhone next time, the backup will not be encrypted automatically until you set a password to protect backup file again.

Or click Change Password button, and set a new password in the pop-up dialog. Click OK at last to confirm iPhone backup original password disabled.
Way 2: Disable iPhone Backup Password by Deleting Description File or iTunes Backup
Even though iPhone backup is encrypted, we still can access iPhone with a passcode or connect iPhone to the computer. So now let's try to delete description file or iTunes backup file to make iPhone backup password disabled on the computer. But this way would lead to iPhone backup data loss.
Description file deletion: Open iPhone, navigate to Settings > General > Description File, and delete description file.
iPhone iTunes backup deletion:
Connect iPhone to the computer, and iPhone information would be shown in iTunes.
In iTunes menu, choose Edit > Preferences > Devices. Select the backup file you want to delete, and click "Delete Backup".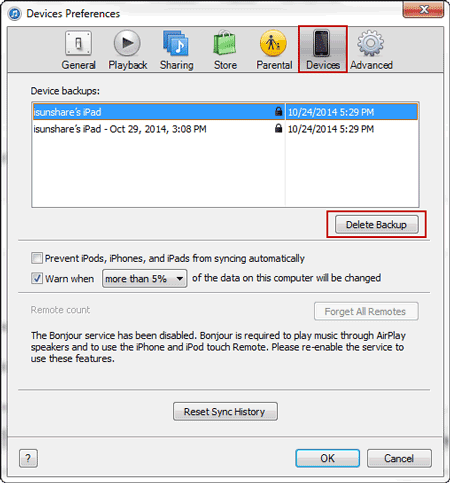 If they couldn't help you, or you don't want iPhone backup lost, please try Way 1, which can guarantee on disabling your iPhone backup password and there is no damage to iPhone or backup. Surely besides these ways, you can also wipe iPhone clean and start iPhone over to make iPhone backup password disabled. But it doesn't seem good to people who want to protect data in iPhone or backup. Fortunately iTunes Password Genius is not the same. It would not only disable iPhone backup password easily, but also keep iPhone backup safe.
Related Articles:
Measures to Prevent Data Loss after Hard Disk Formatting How to Factory Reset iPad with or without iTunes