How to Unlock Locked iPad/iPhone/iPod after Passcode Forgot
I have forgotten iPad passcode, so now it is locked with passcode. How to unlock my iPad or reset iPad forgotten passcode?
First, you have to realize you can unlock iPad after passcode forgot. Second, you can remove passcode by restoring iPad from backup or directly restore it to factory settings. These ways are also available for iPhone and iPod.
Way 1: Restore iOS Device from iTunes Backup
When you have synced iOS device to computer through iTunes, this way will work for unlocking locked iPad/iPhone/iPod.
Step 1: Connect iOS device to computer you can normally sync with.
Step 2: Open iTunes in computer.
Generally, iTunes will open automatically. If not, open it manually. Clicking on your iOS device in iTunes, tabs will appear at the top line of window. Choose Summary, and there will be some options and information about connected idevice.
Step 3: iTunes will automatically sync your iOS device and create a backup. If it doesn't work, click Sync at the bottom right corner of window to make a backup for iOS device.
Now maybe iTunes would ask you to enter passcode. And what can you do is to try another computer that you have synced with. Otherwise, use Way 2.

Step 4: After the sync is completed, restore iOS device.
Way 2: Restore iOS Device by Entering Recovery Mode
If you have never synced iOS device to computer with iTunes, and have no other ways or tools, try this way to get iOS device in recovery mode, and then restore device as a new or from a backup.
Step 1: Let iOS device enter recovery mode.
1. Don't connect your iOS device to any other devices, such as computer.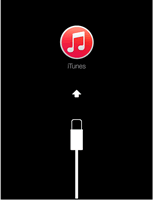 2. Hold down the Sleep/Wake button, and then turn off your device.
3. Press and hold the Home button and plug the device into your computer. If your device doesn't turn on automatically, turn it on. But don't release the Home button.
4. Continue holding the Home button until you see the Connect to iTunes screen.
5. If iTunes doesn't open automatically, open it. And then iTunes will alert you that it has detected a device in recovery mode.
Probably you couldn't enter device recovery mode with above steps. If your device doesn't go into recovery mode successfully, try above again or enter recovery mode with one click using iOSBoot Genius.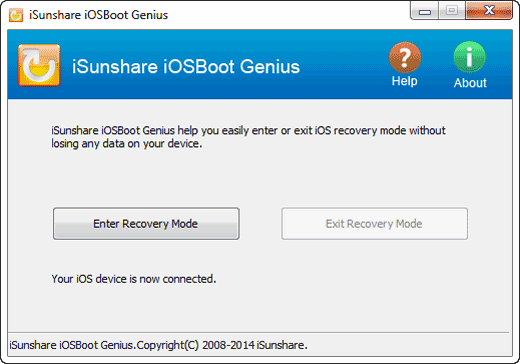 Step 2: Restore device.
After you choose to restore it, all of things will be erased from device. After device restarts, you can choose to set it as a new device or restore it from backup.
This way forces locked iOS device entering recovery mode and unlock iOS device, but you don't need to be worry about any data loss or damage.
Related Articles:
How to Factory Reset iPad with or without iTunes How to Restore Encrypted Data from iTunes to iPad